Steve Smith never intended on Red Green becoming either his alter ego or his meal ticket. The Canadian-born stand-up comic simply needed a bit, so to speak, and went back to his formative years to find it.
The 73-year-old Toronto native smiled as he remembered an old fishing show that aired locally and was hosted by an old codger named Red Fisher.
In the show, the gravelly voiced fisherman sat on a boat in the middle of some anonymous lake and talked about life while waiting for the walleye to bite, which — through the rare reality of television imitating life — seldom happened.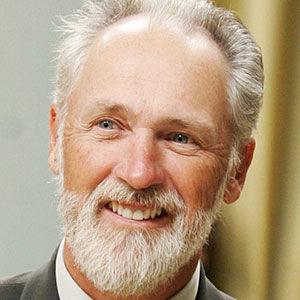 "He wasn't trying to be funny, but I found it humorous," Smith said. "He would write poems and recite them on the air. He had a half-hour show where he didn't catch any fish, which he thought was fine and I found kind of amusing."
And with that recollection, a fella named Red Green came to be.
What started as a two-minute segment of his routine has grown to become Smith's persona. In three decades of being Red Green — be it on the sketch comedy television show that aired for 15 years in Canada or in live performances — the world according to Green, the president of his town chapter of the Possum Lodge, has been well-received by the masses, particularly in the Midwest.
"This is kind of our sweet spot," he said last month about Tuesday's tour stop at the Lied Center for Performing Arts. "I have fond memories of Lincoln. The first time we went there on tour, the Red Green Show had been off the air for five years. We went and we had a huge crowd. I think people like me better when I'm not available.
"That's another life lesson. I'm in demand because of the short supply."
Duct tape fixes all
It's that kind of folksy humor, grounded in Midwestern common sense and held together with duct tape — yes, lots of duct tape,"a handyman's best friend," Smith claims — that has made Red Green an endearing and enduring character, even if the fisherman that inspired the bit didn't necessarily like it.
"I'm sure he wasn't totally flattered," Smith said of Fisher, who died in 2006 at the age of 90. "It's funny, because the imitation has become more famous than the thing it was imitating."
It wasn't that Red Fisher didn't have a following. Smith compared him to a lesser-known Bob Ross, the oil painter who for decades mesmerized millions by transforming a blank canvas into a landscape. But it was more than that. Ross somehow used a soothing voice and a glass-is-half-full outlook on life to turn a 30-minute show that literally consisted of watching paint dry into must-see TV.
But it just sort of happened organically.
You have free articles remaining.
"Red Fisher was a lot like Bob Ross," Smith said. "He wasn't even mildly making an effort to entertain you. It was his job to fill a half-hour. It was your job to be entertained.
"I did the hard part. I made him entertaining. (Fisher) owes me a ton."
Smith laughs as he says that. He knows there's no logical way to explain the success of Red Green. Some would call him corny. In today's in-your-face comedy industry, Red Green is about as cutting-edge as a butter knife.
But his messages are family-appropriate and won't offend many. He won't tell his views on politics — a popular comedy vehicle, particularly in late-night television — but he will tell you those things about which he knows.
"I talk about marriage or a left-hand-thread wheel lug," said Smith, who these days splits his time off the road between Tennessee and Florida. "I know what I am talking about in those things. I have some credibility in those areas. That's what I have to stick with.
"I have never been involved in politics. It will never be a part of my show. I did a show about how things were different in the 1950s. The news was one of them. Walter Cronkite told us what he knew, not how he felt. That's reversed now. Who cares about my opinion? Whatever opinion I give you will be uninformed. How is that helping you?"
Remaining relevant
Here's an interesting fact to anyone claiming that the fast-paced world has left Red Green in the dust: The average age of those who attend his live shows has gone down in each of his four national tours. While there are those who have been fans from the start, he's found a bunch of younger people attending his shows.
"That's really unusual," Smith said. "I think YouTube has a lot to do with that. I get kids coming in who don't realize the show was ever on TV. They only know it from seeing in on the internet."
And therein lies the paradox. This bearded man with a voice and life philosophy that sounds like — and reminds us of — five miles of dirt road has somehow managed to remain relevant in a changing world by cruising in the fast lane of the technology highway.
Red Green has managed to do that without losing who he is or what he stands for. He reminds of us of a simpler time, a world without smartphones, the internet or social media. He brings us back to an era when things moved slower and people communicated face-to-face.
Everyone has known Red Green — or someone like him. Honest and without pretense. Genuine and caring. Maybe a bit quirky, but definitely someone you wouldn't think twice about accepting a ride from.
Red Green is curmudgeonly, but make no mistake, Smith has made sure his act has remained fresh. He is constantly writing new material and makes sure that no two shows are exactly alike.
"It's a brand-new show," Smith said. "You can't do your greatest hits when you're doing comedy. It's not like being a musical group where you do your 10 greatest hits and get out of there. I gotta have 90 minutes of brand-new material."
And that's just the way Smith likes it.
"I'd go nuts if I had to do the same thing each night," he said. "I'm excited about this tour. If I was just doing material that I'd done a couple of years ago, it would be a drag."