By the end of May, Kasidy Devlin will have a Broadway show record — for playing Sir Robin in "Monty Python's Spamalot."
"I've done just under 400 with him," Devlin said from Vermont last week, where he was preparing for a show. "I'm at 398. At this end of this tour, I'll be the longest running Robin in history."
Sir Robin, whose full title is the Not-Quite-So-Brave-as-Sir-Lancelot, is a collector of plague victims who becomes one of King Arthur's Knights of the Round Table, not for his fighting skills, but for his song and dance.
The funny Devlin said he feels that the character is a perfect fit for him.
"I really do, but I never would have cast myself in it," he said. "I saw it on Broadway and I auditioned for it and I got it. Robin and I fit together so beautifully. I was talking to our Patsy and he said, 'It's almost like Robin was written for you.' I don't know if that's a compliment of not. But I agree, we have such similar speaking patterns and I understand the guy so well."
So how does a guy from Pennsylvania end up with the similar speaking patterns as a comic character from a musical set in the 10th century in England?
Some of it comes from Devlin's youth.
"I grew up with Monty Python," he said. "I remember watching the "Holy Grail" film when I was 9 or 10 years old. It was PG-13 or R and I wasn't supposed to get it. But the clerk at the video store said, 'I'm going to give it to you. Every kid should see "the Holy Grail."' When i got my first job at Dunkin' Donuts, my first paycheck went to the VHS collection of 'Flying Circus.' They were a huge influence on me. I got into theater and comedy because of Monty Python."
Now he's met most of the Pythons, including Eric Idle, the man behind "Spamalot."
"Eric is the one I know the best," he said. "He's so sweet. He's so intelligent, so funny and so smart. ... He wrote the entire show and presented it to the Pythons. It's great, they have this agreement where they all have to sign off on it if it's going to have the Python name. He was worried they wouldn't sign off on it. But they did and they've all ended up loving it."
"Spamalot" is largely based on the 1975 film, "Monty Python and the Holy Grail," the troupe's very, very, very irreverent parody of the King Arthur story. In fact, "Brave Sir Robin," which tweaks our not-to-so-courageous hero in song, comes right from the movie, as does Robin's flight from the Black Knight, who King Arthur chops into pieces.
But the musical isn't just the movie brought to stage with some songs.
"It's definitely its own thing," Devlin said. "Ultimately, that's why I think it works. It's essentially a musical version of 'Holy Grail,' but it adds elements of Python's whole body of work — 'Life of Brian,' 'The Meaning of Life,' the TV show — and there are other elements in there are that unique to this show."
One element that does carry over from the film is that all the actors (and a couple actresses), save those who play King Arthur and the Lady in the Lake, play multiple parts.
"I do the Eric Idle role as Sir Robin," Devlin said. "I do some Michael Palin. I'm one of the castle guards, the dead collector, Sir Robin, Brother Maynard, which was Palin.
"There are literally times when I'm about to go on stage and I have to look down to see what I'm wearing to know who I'm playing. I wish the audience could see what's going on backstage. It's chaos. You come on stage really dignified, then it's these costume changes, wigs flying around. It's very intense back there and, if you're not part of it, it's probably funny."
The current "Spamalot," Devlin said, is a very good one, something he knows from seeing the original Broadway run and performing on tour twice.
"When it's best I think is when they understand the understated Python humor," he said.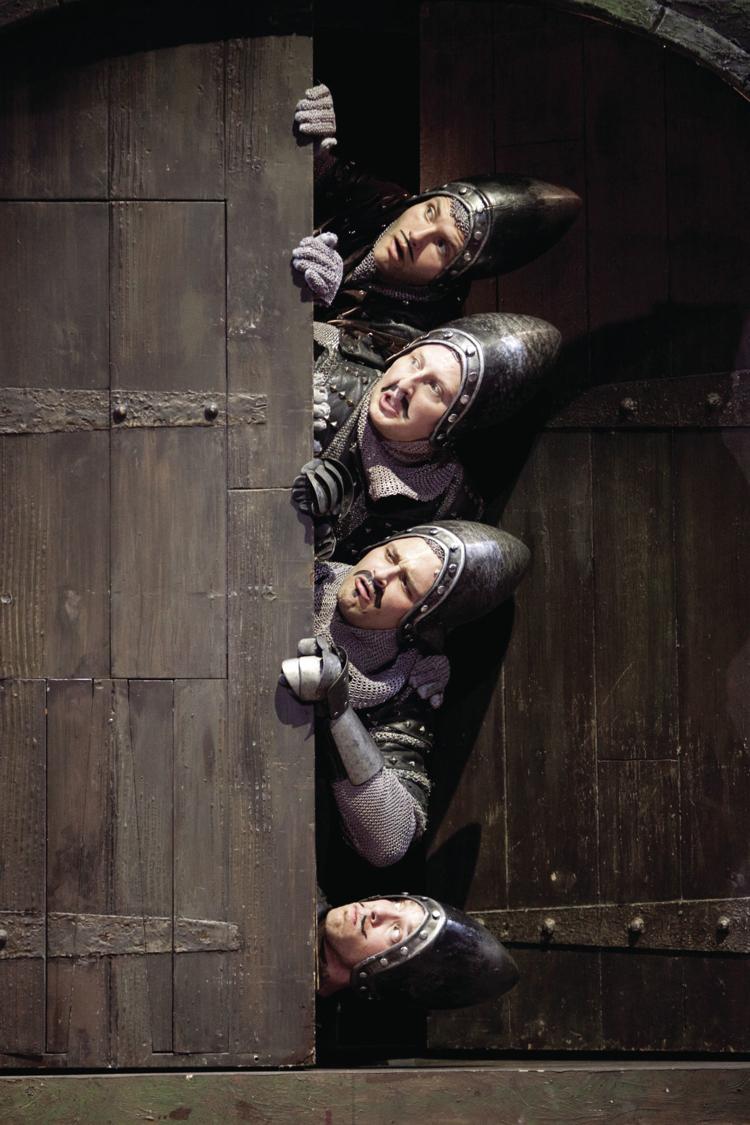 "This show is definitely hard to do," Devlin said. "You have to trust the material and not do too much with that. Every single one of those guys were solid actors. John Cleese, when he was outrageous, he was never over the top. He's almost like a Shakespearean actor. We've got Shakespearean actors, actors that don't do comedy.
"You've got to trust the character. Even though they're fighting a rabbit, which is really ridiculous, we have to treat it with a deadly seriousness. I got to work with Mike Nichols on this before he passed. His mantra was: 'You are not funny. It's the material that's funny. You can never know you're in a comedy.' That's really when it works."
Following his first stint in "Spamalot," Devlin joined the touring company of "Camelot," then jumped at the chance to rejoin the Python show when it hit the road again.
"The company stopped touring, not because it wasn't selling. It had played everywhere, twice," Devlin said. "I like to think about this tour as a big reunion tour. There are a lot of people in the cast who were in it before. It's fun to come back with a production that still feels fresh and the audiences still love."
Devlin clearly loves playing Sir Robin and all the Python fun in the musical. But he said he has a different view of the character than might be seen by the audience as it doubles up with laughter.
"I feel bad for him, how much he has to suffer each night," Devlin said. "For Robin, the show is a harrowing experience. Everyone else is in 'Spamalot.' Robin is in 'Les Mis.'"