A raucous rock-paper-scissors tournament had students forming larger groups as the contest taking place on the soundstage in the Johnny Carson Center for Emerging Media Arts narrowed down to just a few competitors.
A floor below, workers laid rubberized flooring in a glass- and mirror-walled dance studio, preparing for Tuesday's arrival of dance students, who will share the University of Nebraska-Lincoln's technology-filled, state-of-the-art building at 13th and Q streets with the new Emerging Media Arts program.
The rock-paper-scissors game was part of a class, "Games, Play & Performance," that 33 students are taking in the first semester of the program.
In that class, they'll learn improvisational theater -- "you have to say 'yes and'" ... and say it creatively, said Megan Elliott, the center's founding director. "That is what we are about, 'yes and.'"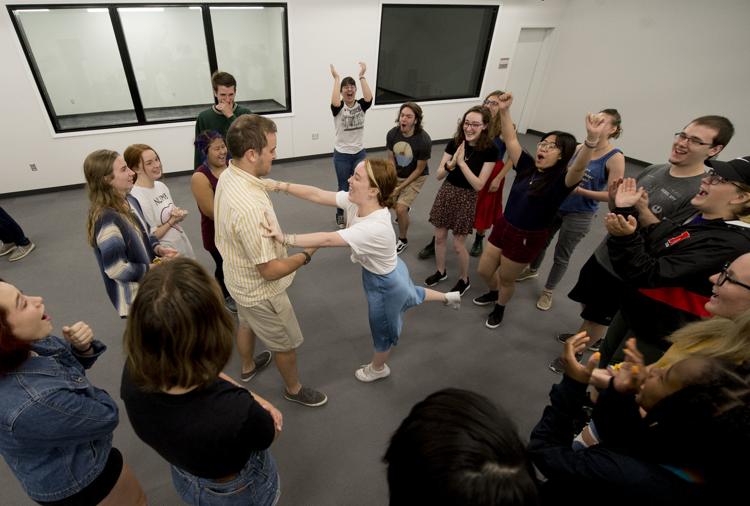 And they'll have to learn a magic trick in honor of Johnny Carson, who, in the late 1940s, worked his way through NU by doing sleight of hand performances.
That tribute also acknowledges the $20 million gift by the Johnny Carson Foundation that was the anchor contribution in the creation of the $57 million center that's part of the Hixson-Lied College of Fine and Performing Arts.
So what is Emerging Media Arts?
"Emerging media is technology," Elliott said. "Media arts is creativity. Some examples are virtual reality, virtual production, sonic arts, experience design, games and animation."
In fact, the Emerging Media Arts Bachelor of Fine Arts program will have eight emphasis options that students will choose in Year 2.
They are: virtual production (3D modeling, animation, motion graphics); immersive and interactive media (games, VR, AR, XR, apps); story (writing for emerging media arts); experience design (designing projects that synthesize the virtual and the real); sonic arts (sound design); sensory media (physical computing, wearable technologies); data and art (generating art with AI, data and the internet of things) and cinematic arts (filmmaking).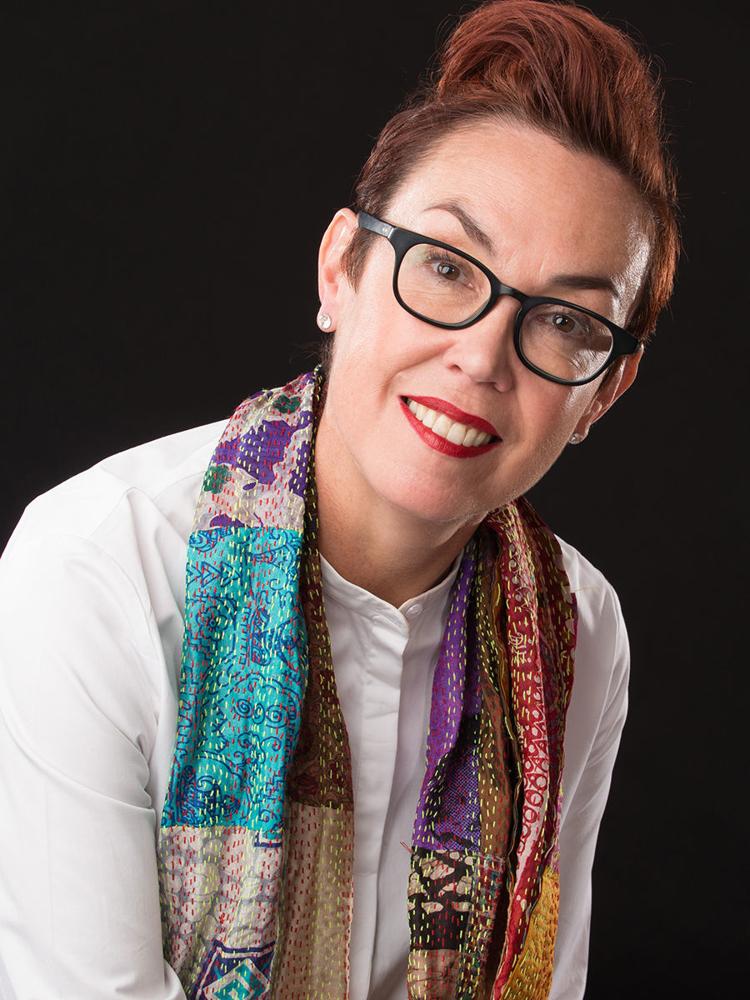 "Our goal is for students to land the job of their dreams or raise money to start the company of their dreams right out of school," said Elliott, an Australian who has been tagged as one of the "leading 50 women for the future," and the co-founder of X Media Lab, a media and entrepreneurship program she brought to 14 countries and 22 cities around the world.
But those jobs won't necessarily be in a form of entertainment -- be it movies, games or animation. Nor will they necessarily be in California, Texas, New York or other high-tech centers.
The Emerging Media Arts students will be required to take what Elliott called a "deep dive" into another discipline into which they can apply their creativity and skills. And in today's world, those jobs could be as easily located in Lincoln as anywhere.
"It's possible to have a VR company in Nebraska, but it's not entertainment," Elliott said. "It could be in architecture, animation, precision agriculture. We are an industry building industry."
To create the new center, the old Nebraska Bookstore building was stripped to its bare walls and floors and recreated with design ideas taken from places like the Stanford Design School, MIT and Pixar, which was one of the stops on a center planning trip to California two years ago.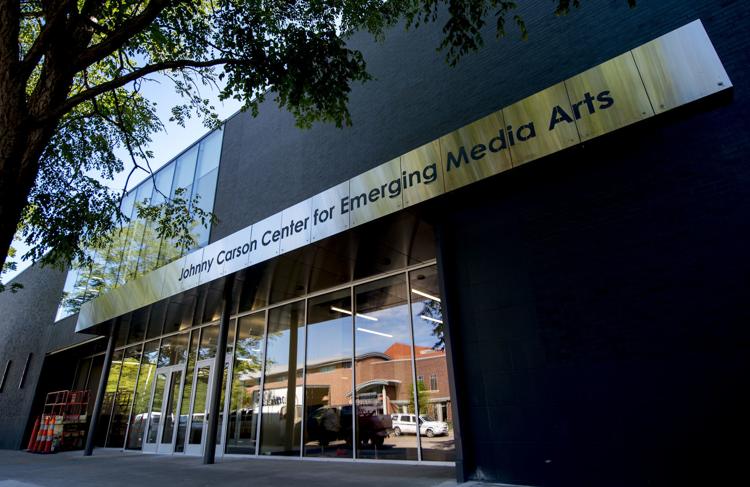 The result is a building in which nearly everything -- tables, chairs, high-powered computers -- is on wheels, so it can be arranged to fit the needs of the moment, set inside open rooms inspired by MIT's Building 24.
"It's a very raw building," Elliott said. "It's quite raw so if students want to nail something into the wall to further their creativity, they can. It's raw, encouraging creativity and flexibility."
That concept can best be seen in the large space that takes up about half of the building's first floor. A giant video screen hangs from a second floor landing. But beyond that, everything can be moved about. Hanging from the ceiling are dozens of cords bringing electricity and providing data hookups throughout the room.
"We're keeping it really flexible so it can be adapted," Elliott said. "It's a learning space. It's a making space. It's an exhibition space. It's a conference space. It's going to host the Chancellor's tailgate before the Wisconsin game. Having things flexible and providing as much power and data as we can everywhere, we've future proofed it pretty well."
At the north end of the building is the new studio, where the dance department will move from its outdated space in Mabel Lee Hall.
"It's really exciting for us," said Dance Department chair Susan Ourada. "People can see us here all the time. We'll be doing First Friday performances. ... Where we came from is circa 1960 something, it's basically a gym. Here, we'll have two studios, and with them we're going to expand our offerings in dance."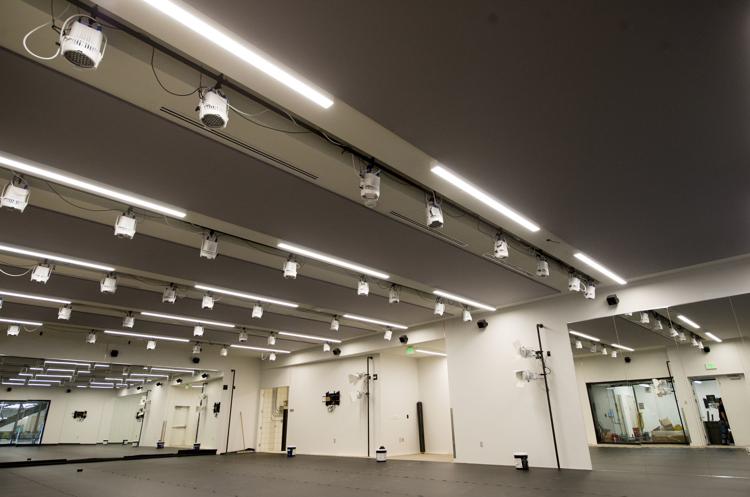 Dance, part of the Glenn Korff School of Music, and Emerging Media Arts are both part of the fine and performing arts college, something of a tenuous connection. But the programs are likely to collaborate, Ourada and Elliott said.
"We know the dancers are going to be front and center in what the emerging artists are doing," Ourada said.
"We call dance embodied media," Elliott said. "A lot of the most interesting work I've seen is emerging arts based on and engaged with dance."
Two of the new emerging arts faculty members have a background in dance or have worked with dancers in the past.
On the second floor is a computer lab, specced out with equipment from HP.
The computers are the most visible evidence of the center's designation as an HP Campus of the Future.
Nebraska is the first program in the Big Ten to partner with HP, giving the center access to the latest high-tech equipment. Other HP/Educause campuses include MIT, Harvard University's Graduate School of Education, Yale and Dartmouth.
Work is continuing inside the center. A second-floor sound studio and recording booth, for example, are empty, awaiting the arrival of a mixing board and other equipment. And there's 10,000 square feet of space in the building's basement that is available for future expansion.
That may be needed as the center's enrollment continues to grow. From the initial cohort of 33, the center plans to add 40 to 50 students a year, hitting an enrollment of 150 to 200 by its fourth year.
Stay up-to-date on what's happening
Receive the latest in local entertainment news in your inbox weekly!