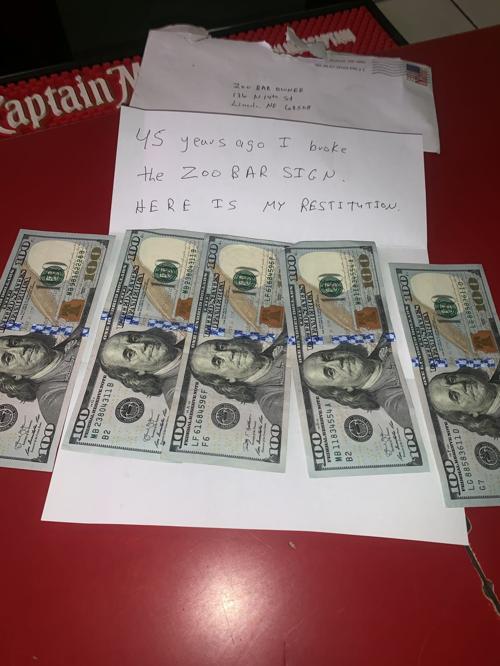 Zoo Bar owner Pete Watters got a shock while opening the mail Wednesday afternoon.
"The bar was open, there were some regulars there and I was opening the mail at the bar," Watters said. "Handwritten letters stand out anymore and I get some strange letters once or twice a year. I thought it was one of them. I opened it and there was some cash in there. I figured, 'OK, somebody wants a T-shirt mailed to them. There were five $100 bills and a note."
The note read: "45 years ago I broke the Zoo Bar sign. Here is my restitution."
Most of those in the bar got out their phones and took pictures of the cash and the note, getting a laugh out of the unexpected windfall.
"It was kind of amusing, then I thought about it," Watters said. "Then I thought about it and it got to me. Somebody's trying to do something with their life and make things right. At first, it was this weird, amusing, funny thing. This is serious to somebody."
That somebody remains unknown. There was no signature on the note or return address on the envelope.
Nor is it known exactly what sign was broken or when.
The Zoo Bar booked its first band in 1973 and its first national artist, Chicago bluesman Luther Allison in September 1974 — 45 years ago. But veteran regulars don't recall a large neon sign in the bar back then nor any kind of breakage.
Josh Hoyer, the Lincoln soul singer, who has played the Zoo dozens of times over the years and has booked shows at the club, proposed one solution to the mystery of the sign.
"Bet it meant to read 4-5 years ago," Hoyer posted on Facebook. "I remember that night, but don't remember who did it."
That may be, but Watters said it will be impossible to know what sign was broken and when if the anonymous donor doesn't come forward.
"There's no explanation for it," he said. "It (45 years ago) was before my time. We've had signs get broken by accident. But I don't know what sign the person broke and probably will never know."
Stay up-to-date on what's happening
Receive the latest in local entertainment news in your inbox weekly!