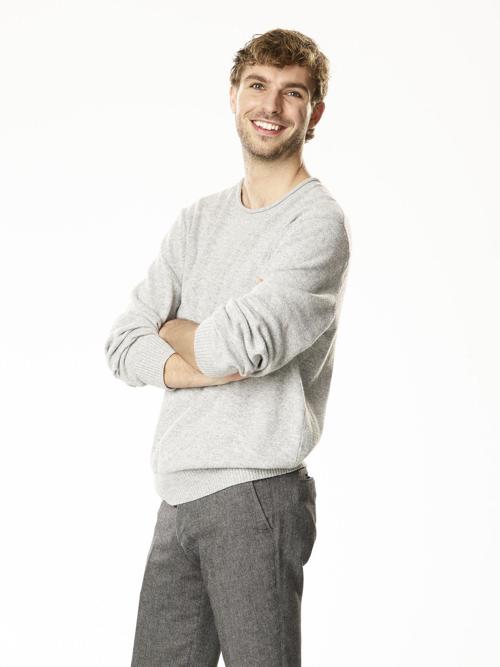 Sam Stacy was back in Lincoln on Tuesday night, watching himself on "The Voice."
In doing so, the singer/songwriter, who now lives in Los Angeles, got to experience his blind audition for the four coaches from a new, long-distance perspective — visually, geographically and in time.
"I was in the hotel from early July through mid-September," Stacy said. "It was pretty crazy to see it that long afterward. And to see what they used. There were hours of interviews cut into 15-second snippets. I knew how I sang. But I didn't see everything when I was singing."
Playing acoustic guitar, Stacy sang James Taylor's "Fire and Rain" to the panel, sitting with their backs to him.
"Once I knew that was the song I was singing, I knew there were about two chair-turning points in it," he said. "I knew if I didn't get them in the beginning, I'd have to wait a little. I didn't get them early. I waited and waited and when I hit the high point of the second chorus, Kelly (Clarkson) turned. l looked over, saw her and thought, 'Thank God, I got somebody.'"
Then Blake Shelton and Gwen Stefani turned their chairs, followed, after a delay, by John Legend.
Each of the coaches praised Stacy's singing, and the warmth of his voice. But Shelton went in a slightly different direction in making his pitch to be Stacy's coach.
"I'm good friends with James Taylor," Shelton said. "I just wanted to be sure I could believe you. My job as a country singer is to make people believe me. I sing songs about going to prison. Believe it or not, I've never been in prison."
Legend bowed out, giving Stacy three coaches from which to choose.
"Blake, you're a wild card," Stacy said on the show. "I don't know what your coaching style is like. I kind of want to figure it out. Let's do it."
With that, Stacy joined Team Blake, setting him up for more appearances on "The Voice."
Stacy was clearly thrilled to have made the cut, but didn't appear as excited as his three brothers, who watched the audition from Lincoln.
"They Zoomed in and talked to me before I went out, they got to watch it and talked to me after," Stacy said. "(NBC) didn't use any of us talking. But they were really excited and happy for me."
Stacy, 27, got to "The Voice" via a musical journey that took him to Iowa, back to Lincoln, then California.
A 2011 Lincoln Southeast High School graduate, Stacy moved to Mount Vernon, Iowa, to attend Cornell College, where he got a degree in economics.
"I was doing the economics thing, but still playing a lot of music," he said. "I started gigging in college, reaching out to play wineries, coffee houses, places like that. Then, after graduating I came back to Lincoln. I got a job at Nebraska Bank of Commerce doing credit analysis."
"Since the bank job had day hours, I started gigging around Lincoln, playing country clubs, private parties and staff. After thinking about it, I decided to make the jump, move to L.A. and make music full-time."
That was in 2017. And, he's been able to make a living doing music. He's done session and production work for friends, filled in in bands and, after some work to build up a network of contacts, played about three times a week in small venues, pre-COVID.
He got his shot on "The Voice" thanks to an invitation from the show's casting agency.
"I don't know if they saw me at a show in L.A. or how they heard of me," Stacy said. "I just got a Instagram message from a random person saying 'Do you want to audition for this?'  There are thousands of people that try to audition. I didn't have to go somewhere, stand in line or do any of that stuff. I got lucky."
In joining Team Blake, Stacy became the third singer with Lincoln ties to make it to the battle round of the popular NBC-TV singing contest, joining Josh Hoyer, who was on Team Blake in 2017, and Hannah Huston, who was a preschool teacher in Lincoln when she made it to the finals of "The Voice" in 2016.
"I've never played with Hannah, but I've played a little with Josh at the Zoo Bar, just jamming," Stacy said.
He doesn't know the next time he'll appear on "The Voice" — "they tell you the Friday before when your episode is going to be on."
He'll be in contact with the show — the public voting segments have yet to occur and can't be taped in advance. At the same time, he'll be continuing to pursue his musical career, which should get a boost from "The Voice."
"I think the increased visibility is the main thing," he said. "It's getting your voice heard by more people. Some of it might be finding your sound. But most of it is getting your sound out, getting people to hear you that would never have heard you any other way and seeing where that can take you."
Stay up-to-date on what's happening
Receive the latest in local entertainment news in your inbox weekly!