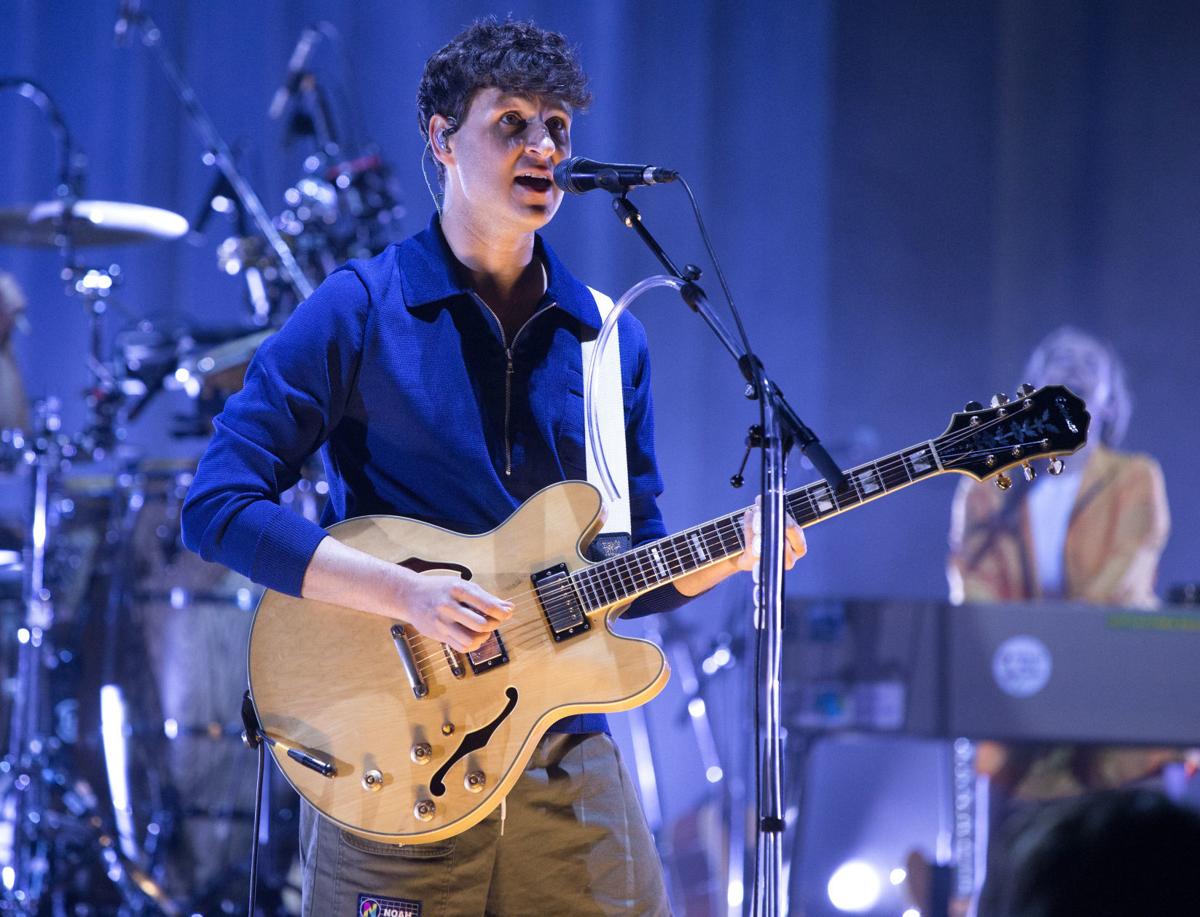 Vampire Weekend will make its Lincoln debut next year when it comes to Pinewood Bowl for a Sept. 27 show.
That show is near the end of a just-announced run of 29 dates in 2020 in support of "Father of the Bride," the album the Ivy League indie rockers released in May. The announcement of the 2020 tour, which kicks off next May in Maine, came during Vampire Weekend's Madison Square Garden concert Friday.
Vampire Weekend will continue its current tour through early January, playing dates in the U.S., Mexico, Europe and Australia, then take five months off touring before the 2020 summer run.
The set list at Friday's sold-out Madison Square Garden show included 32 songs from across the band's career that began at Columbia University in 2006. Taking its name from a short film that vocalist Ezra Koenig had worked on, the band mixed indie rock with melodies and beats lifted from Afro-pop.
Its self-titled album debut, released in January 2008, was one of the year's indie rock sensations, hitting the top 20 of the album charts. In 2010, "Contra" debuted at No. 1 on the Billboard 200 chart, generated a pair of hit singles with "Horchata" and "Cousins" and earned a Grammy Award nomination.
You have free articles remaining.
Vampire Weekend earned its Grammy for 2013's acclaimed "Modern Vampires of the City," a darker, moody experimental album that put the group on the cutting edge of contemporary rock while again topping the charts.
Then Rostam Batmanglij, who played keyboards, guitar, percussion, did programming and backing vocals and, most importantly, produced the first three albums, left the band.
Koenig, bassist Chris Baio and percussionist Chris Tomson decided to keep Vampire Weekend going, recruiting four new members to handle guitars, percussion, keyboards and backing vocals. In May, the band released "Father of the Bride," an album that broadened the band's musical approach beyond the Afro beat-punk combination to include elements of country, prog, psychedelia and techno.
Like its predecessors, "Father of the Bride" debuted at No. 1 on the Billboard albums chart, racking up the top "sales" of any rock album to that point in 2019. Sales are now calculated based on sales of physical product — albums and CDs — and streams.
A support act for the Pinewood Bowl show has not been announced.
Tickets for the show range from $39.50 to $79.50 and go on sale Friday at 10 a.m. Tickets will be available at ticketmaster.com and by phone at 800-745-3000 Friday. Tickets can be purchased at the Pinnacle Bank Arena ticket office beginning Monday.