The first time Chris Stapleton came to Pinnacle Bank Arena, he and his three-piece band were huddled in the center of a runaway that was set up for headliner Eric Church, then nearly stole the show with a mesmerizing set of songs from his debut album, "Traveller."
When he returns to the arena Friday, Stapleton won't be crammed on a small stage to play for 45 minutes. Now a full-fledged country star, Stapleton will play as long as he wants on the big stage designed for his "All American Road Show" tour that's making up dates that were scheduled for 2020.
"We're really glad to have him come back as a headliner," arena manager Tom Lorenz said. "He was so impressive before. It seemed like during the pandemic, he was everywhere on YouTube, a lot more people were exposed to his music. It's great to have him at Pinnacle Bank Arena, finally."
Stapleton comes into Lincoln after receiving a handful of Country Music Association award nominations, including male vocalist of the year and for album of the year for "Starting Over," and single and song of the year for its title cut.
The best country album of 2020, "Starting Over" showcases Stapleton's wide range of styles -- ballads, honky-tonkers, Southern rockers and bluesy shuffles -- and hits on classic classic country themes, from love songs like "When I'm With You" to "Maggie's Song," about his dog and the album closing "Nashville, TN," a reflection based on the impact of his rapid rise to fame.
A Kentucky native, who moved to Nashville in 2011 to be a songwriter, Stapleton has penned more than 200 songs that have recorded by dozens of other artists, including George Strait, Luke Bryan, and, most notably Adele, who did his "If It Hadn't Been For Love" for her "21" album.
She'd heard the song on her tour bus, where the driver was playing an album from The Streeldrivers," the hard-charging bluegrass band fronted for three years in the late 2000s before he signed a record deal in 2013.
"Traveller" was released a couple weeks before his first arena appearance and shot to the top of the charts -- not just country, but the Billboard Top 200 albums chart. The triple-platinum disc of traditional country songs was named the top country album of the last decade by Billboard.
And it, and a CMT crossover appearance with Justin Timberlake, rocketed Stapleton to arena-headlining stardom.
In 2017, he released the Grammy-winning "From A Room: Volume 1" and followed that with a tour that wrapped up at Omaha's CHI Health Center a couple days before his second record of that year, "From A Room: Volume 2" was released.
A rambling two-hour plus celebration, that Omaha show included some dramatic departures from the standard set list -- like AC/DC's "You Shook Me All Night Long" done as a straight country song. But it was also a typical live performance by Stapleton.
The burly, bearded Stapleton never moves far from his microphone during his shows, the biggest ventures are to pick up another guitar. Nor does his band going tearing around the stage. And his shows aren't production extravaganzas.
"It's all about the music, not flash on the stage," Lorenz said. "In the same year, we've had Jamey Johnson (at Pinewood Bowl) and now, Chris Stapleton. Those two guys approach it in the same way. We're here to play these songs, here they are. And they're great."
They're, in fact, great enough to earn Stapleton a nomination for the CMA's highest honor, entertainer of the year.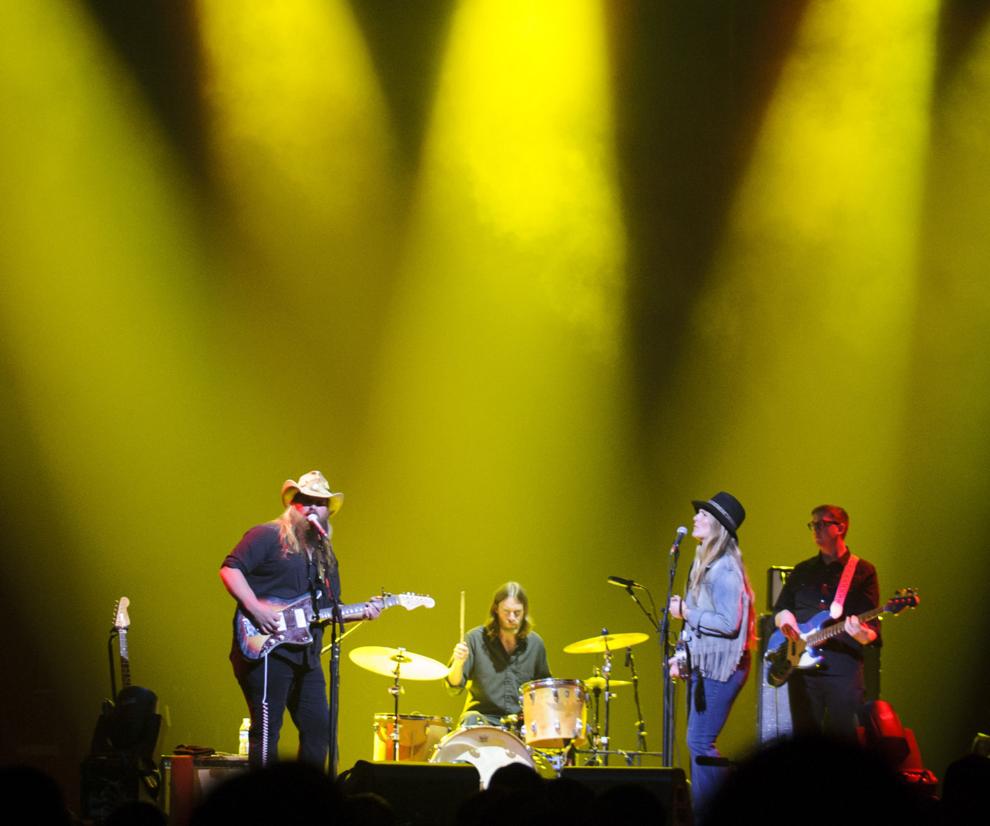 Stapleton, who broke through in part because of his opening slot on the Church tour, is paying that forward as well, rotating support slots for some of most highly regarded upcoming country or country adjacent artists.
Friday night, those artists will be Southern rock 'n' rollers The Marcus King Band and the English country soul singer Yola, who was nominated for four Grammy Awards last year, including the genre-spanning Best New Artist. Is playing Sister Rosetta Tharpe in Baz Luhrman's upcoming movie about Elvis Presley and just released her second album "Stand for Myself."
So, the advice is, don't skip the openers Friday. They could very well replicate Stapleton's eye-opening performance from six years ago. But they're not likely to steal the show from today's voice of true country music, who is, at last back in Lincoln.
Photos: Eric Church in concert
Check out photos from country star Eric Church at Pinnacle Bank Arena on Wednesday night.
Reach the writer at 402-473-7244 or kwolgamott@journalstar.com. On Twitter @KentWolgamott