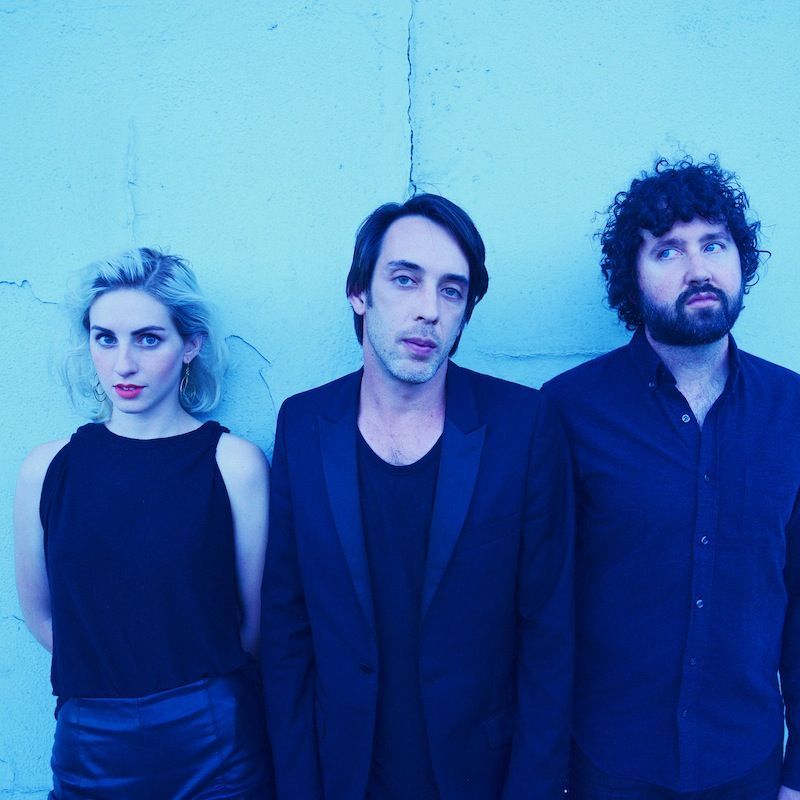 Before Dan Boeckner reunites onstage with Wolf Parade at a string of festival dates this summer, he's finishing a tour in support of the first full-length release, "Blue Wave," of his latest band, Operators. Filled with more synth and beats than any of his previous projects, Operators remains a laptop-free zone. The three-piece, featuring Boeckner, drummer Sam Brown and multi-instrumentalist Devojka, is just up the road at the Reverb Lounge in Omaha March 30. 
For the most part, Boeckner said in a phone interview, an Operators show is an Operators show. But a few Handsome Furs songs have made their way into some sets of late. And a few years back, some Wolf Parade fans crashed the party.
"We played in Toronto a couple years ago, and the guys from Japandroids got up and we played a couple Wolf Parade tunes and that was fun," Boeckner said. "At that point, I didn't know that Wolf Parade was going to get back together and play shows. We were talking about it, but it wasn't a certainty. We got up and played, and Brian (King) and Dave (Prowse) wanted to play 'Shine A Light,' so we'd played that and a couple other songs."
Wolf Parade is getting back together this year. While fans will get a chance to hear tracks off the band's seminal record, "Apologies to the Queen Mary," and well-received follow-ups "Expo 86" and "At Mount Zoomer," Boeckner said the group didn't reform just to play the hits again.
"We needed to get together and write songs, because we're not done yet," he said. "We're not done making Wolf Parade music."
Boeckner took some time before the Omaha show to talk in depth about saxophones, living half our lives online and how they merged in the title track on Operators' "Blue Wave." The album gets released April 1. There's a link to get tickets to the Reverb Lounge show and to a selection of area shows, as well as a playlist featuring tracks from all the performers, below this interview.
Ground Zero: I was gonna start with a selfish question. Are you going to bring a saxophone on tour?
Dan Boeckner: (Shoot) man. We have a good friend who's a very accomplished saxophone player who's going to be doing this for the LA show and the San Francisco show and the San Diego show. But other than that, I don't know.
It'll be good. I wish we could bring a sax player on the entire tour.
GZ: It sounds great when it slips in on "Blue Wave."
GZ: I can't say that I knew for sure it was coming the first time I listened to it, you know?
DB: Yeah, the element of surprise. There's definitely like the "Careless Whisper"-style vibe on the middle section of "Blue Wave." I did the sax arrangements with this guy Joseph Shabason, he played on all the Destroyer records, you know? He's on "Kaputt" and the last (record). And man, that guy is just a phenomenal musician.
So when we were recording "Mission Creep" and "Blue Wave," these really tight sax harmonies, he'd just go in and get in front of the microphone and it took him like three takes to get it perfect. It was amazing just watching him do it. We went over it, arranged the part, he went in -- just a total professional. Except for the fact that -- he rarely screwed up, but if he did, there'd just be this ----ing stream of obscenities coming through the microphone.
DB: Total professional, playing the parts perfectly. And then he'd miss a note and he'd be like, "$#@* my @#@. $*@# this. $*#&% it." I was just like, holy (heck) this guy's intense!
GZ: And it's such a smooth instrument. Who knew?
DB: Yeah, he's a serious sax man!
GZ: I don't profess to have an encyclopedic knowledge of all your projects, but I don't recall hearing saxophones in your music before.
DB: I think this is a first. You know, actually, I think there's some saxophone playing on a Wolf Parade song called "Fine Young Cannibals" off our second record. Arlan (Thompson) plays sax. And when Wolf Parade started, he used to play MIDI saxophone on a couple of songs. He had like a MIDI saxophone controller. Yeah, that's how pro we were.
GZ: You've talked in interviews about how Operators is the most dance music-centric band you've been in. I would say that that instrument kind of goes along with it.
DB: Yeah, yeah, I was sax-averse for a while.
DB: I was. I always kind of related saxophone to the some of the worst aspects of '80s music that I heard when I was a young child. Kind of late '80s era of music where all the guys from the '60s completely lost any sort of morals or values that they had, and sonically it was kind of reflective of that. It was kind of a hollow period for pop music, not for underground music or hip-hop or dance music, but definitely for pop music. The sax always kind of sat in that world for me. But then lately, I don't know, I just thought the songs needed it. (Laughs.)
GZ: There's a line in "Blue Wave" that goes "On the screen again, amplify my heart and tell me I'm the only one." There's a lot of screens you could be referring to in 2016 and I was wondering what drove you to write about that and the idea of amplifying the heart.
DB: Well, I mean "Blue Wave" the song is really about, it's about what I think is like a new form of -- it hasn't been totally classified yet -- like a new form of un-quantifiable depression, you know? That comes from living half in meatspace -- this is not a new idea by any means -- it's more of a reality that everybody lives with now, not just a concept. But it's a reality that kind of snuck up on everyone.
DB: A life lived half in meatspace, and half on screen. And the line about amplifying the heart is ... there's a lack of emotional content in communication, you know?
GZ: And there's that feeling of, I need doses of attention.
DB: Yeah! And to convey any kind of strong emotion, you have to double-down on how you communicate it. You have to put it in all caps. If you're angry about anything, you have to be violently angry about it. If you love something, you love it more than anything in the whole world. It's the depression that comes along with re-posting a photo and just writing the word, "THIS!" Exclamation mark, in all capitals. "THIS!" That eventually is gonna hollow you out inside. (Laughs.)
And that's how we have to communicate now. And it's not a technophobic song by any means. It's just talking about, how do you be a real person in that environment, you know? And if you're already depressed, how do you deal with that? How do you convey that? How do you dig yourself out of that when you're communication is limited or when a lot of your communication is done this way?
GZ: And it makes it more notable that you're going to come play this dance record in a pretty intimate venue. I've read a couple times about it being super-important (to you) to make a connection during these shows, even if it drains you emotionally as a performer to do that over and over again.
DB: Yeah, that's really important to me. I need to be able to do that to feel good about what I'm doing, to feel good about going on the road and making money off of art. I need to be able to present this in a way that's going to be able to connect with people.
And it's weird. This year, I'm going to have a total dichotomy between playing ... the upper-level Operators shows on this tour would be 900 to 1,000 capacity, you know? But then, I will leave that tour at the end of April and I'll go play for 35,000 people with Wolf Parade, you know? (Laughs.) I need to be able to do both effectively.
All these shows are important to me, but it's the ones that are 200-300 capacity that that's where you build your muscles as a performer, I think. They're the scariest I think, too. People talk about playing in front of big audiences like it's intimidating. But I think it's more intimidating to play for like a medium-sized room or a small room. Because you're right down there on the floor with people. You can't be above them or put on any airs.
This week's Pre-shuffled playlist features: