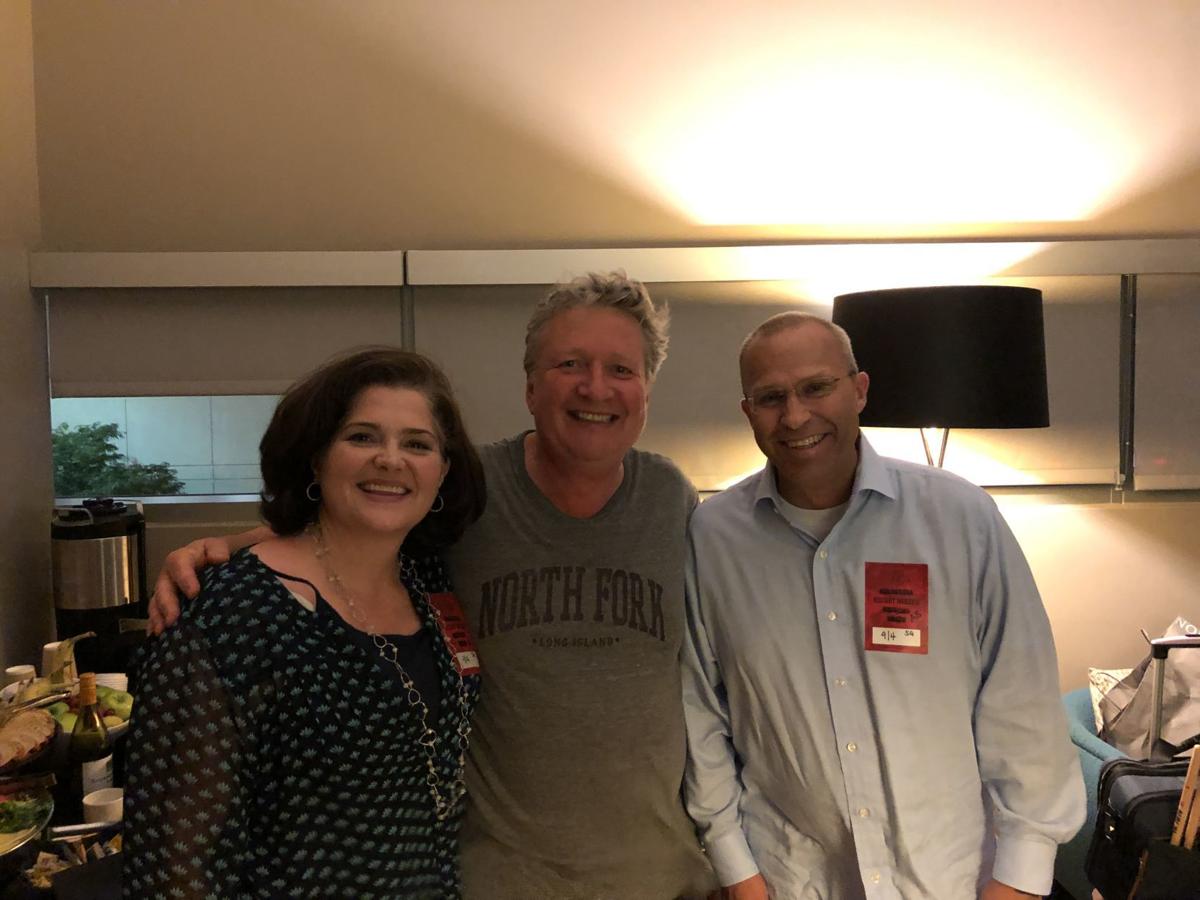 I'm not a qualified concert reviewer, so this isn't a concert review.
But if I was, I'd tell you that last week's Squeeze concert in Omaha's Holland Center was the event of a lifetime. The British band -- led by composer/lead singer/lead guitarist Glenn Tilbrook and lyricist/singer/guitarist Chris Difford -- displayed the showmanship and chemistry of 47 years performing together and the energy, excitement and gratitude of newly minted rock stars.
The 100-minute set was built mostly around their phenomenal string of records from the late 1970s through the early '90s, and it got our mostly 50-something-year-old rear ends out of our seats for most of the night.
"Tempted" and "Hourglass," two of their biggest U.S. hits, got creative re-interpretations without robbing them of their nostalgia. Clever instrumentation gave every member of the band a chance to shine, but the biggest applause came for Tilbrook's guitar virtuosity and the special spots in songs where Difford's distinctive, deep voice rumbled under the melody. 
Not that this is a concert review, of course. That's business, at least for concert reviewers. For me, the night was personal in the best way music can be.
Way back in late 1994, the woman who would become my wife visited my little bachelor hovel. Allison Hawes was on a job interview at the newspaper where I worked, and I volunteered to entertain her. We'd stopped by my place to pick up Fritos for a newsroom chili feed. My wife remembers names and dates. I remember junk food.
My décor back then would best be described as mid-century thrift store dumpster. But I had an enormous music collection. I was trapped in that awkward cassette-to-CD transition. For our youngest readers, that means we kept music in either small plastic rectangles or on shiny flat circles.
Allison later told me that when she saw my collection of Squeeze albums, she knew I had good taste. That's lucky, because nothing else about my home or life at that point screamed "good taste." She told me that she'd seen them live. Twice. I was smitten.
She got the job. I found her an apartment near mine, and 15 months later, we were married. That was 23 years, four moves, four kids, two bouts of cancer (me both times) and four more Squeeze albums ago.
Long before Allison came along, though, Tilbrook's soaring vocals singing Difford's very British lyrics were telling the story of my younger years -- good times and bad choices -- blaring from the boom box in my college dorm. Squeeze and I got older together. Their songs took on subjects like loneliness, loss and the little joys (or lack thereof) in everyday life. And I took on those subjects, too.
As music goes -- and it's a huge part of my life -- theirs has meant a lot to me for a lot of years. Which brings me back to last week's concert.
The press release came just a smidge late to get a preview story into Ground Zero, but being a big Squeeze fan, I figured I'd ask if the publicist could get a message to the band, just a thank-you note for four decades of great music.
Lee Runchey, vice president of Chrome PR and the North American publicist for Squeeze, did one better -- much, much better. She called and asked if my wife and I would like to attend the concert and maybe -- but no one can make any promises -- meet the band.
That's how, around 11 p.m., after one of the best shows I've ever seen (opening act KT Tunstall was fantastic, too) I found my wife and me waiting to go back into a real rock star dressing room.
A sweaty, smiling Glenn Tilbrook greeted us. You know how a little kid sitting on Santa's lap waits, frozen for a moment, deciding whether to laugh or cry? That was me.
His was a voice that helped me through late nights, long drives, bad news, good news, even that cancer stuff. And now that voice wasn't coming through a speaker. It was right in front of me.
I'd spent the previous few days scouring the internet and relistening to every album, trying to come up with the deepest, most thought-provoking question ever asked of Squeeze. All I could muster in the moment was "Thanks. Really, thanks."
Tilbrook and drummer, Simon Hanson, seemed in no hurry to shove us out the door. Maybe they wanted to see if I could manage a complete sentence. My more composed wife asked a smart question about vocal stamina and remembered to get a couple photos. They offered us a nibble of the post-concert spread, but I was pretty sure I'd just barf it back up right there on the spot.
As Allison and I walked out into the night, I didn't feel bad for choking (figuratively only, thankfully). I had, after all, done exactly what I set out to do. I got to say thanks -- for a lifetime of music and a brilliant concert. Not that this was a concert review.
Stay up-to-date on what's happening
Receive the latest in local entertainment news in your inbox weekly!