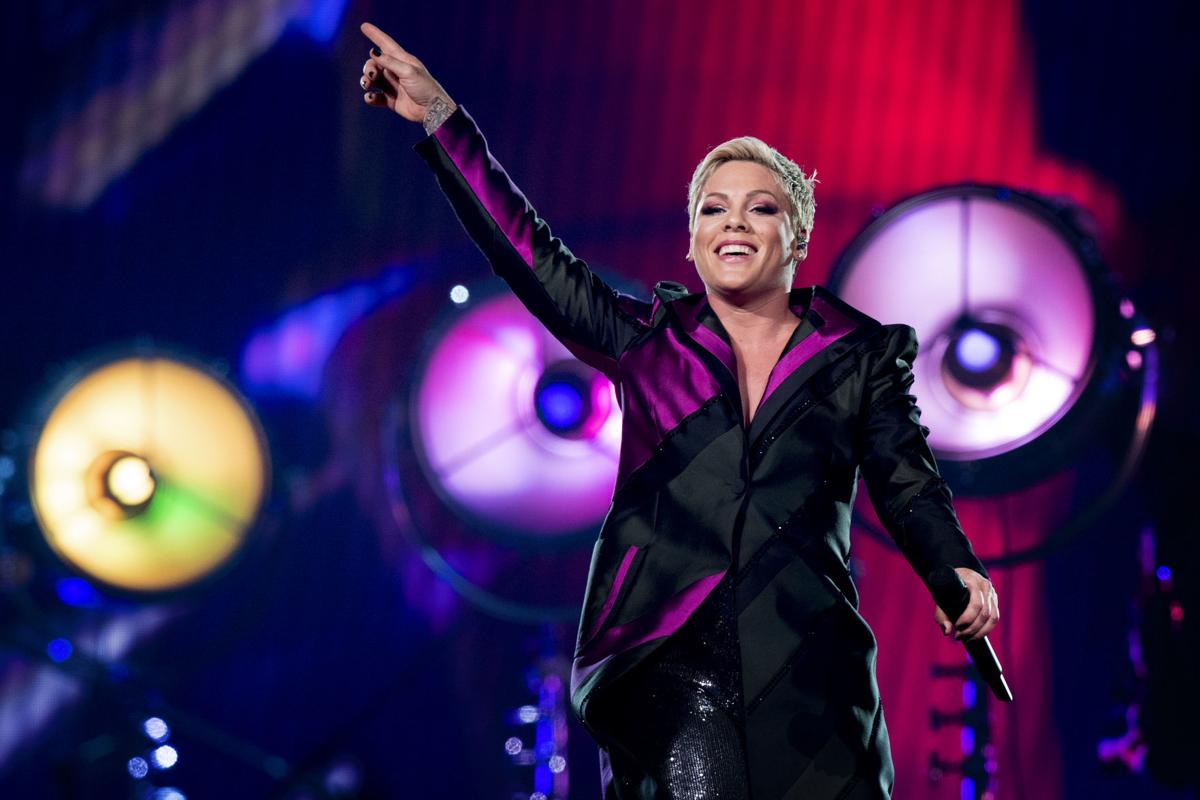 OMAHA -- Pink broke into laughter Tuesday night at the end of "For Now," breaking the spell that had been woven by an emotional "What About Us" and then, the anthem ballad.
She didn't find the song funny. She'd blown the ending.
"If I ever get that last part right, it's a total accident," she told the 15,500 that filled every seat in the CHI Health Center.
The crowd, however, didn't seem to mind -- and probably didn't notice the vocal flub that may have been the most notable misstep in an otherwise perfect pop show.
Since she made her Pinnacle Bank Arena debut in November 2013, I've maintained that she sets the standard for pop concerts -- eclipsing the likes of Katy Perry, Lady Gaga, Taylor Swift and Lorde.
After seeing her "Beautiful Trauma" tour for the second time, that's still the case -- which is saying something given that Tuesday's show, in terms of setlist and production, was nearly identical to her March 2018 Pinnacle Bank Arena outing.
The Lincoln appearance was one of the first shows on a two-year international tour that has gone on for so long that Pink has released a new album, "Hurts 2B Human," which, coincidentally hit No. 1 on the charts Tuesday.
Pink did two songs from the new record -- replacing her cover of Nirvana's "Smells Like Teen Spirit" with "Hustle," a 1940s-jump-meets-modern-pop number that she said makes her want to jitterbug and substituting "Walk Me Home," a bit of a country-tinged stomp for "I'm Not Dead."
She also updated one of the videos that is shown between songs -- to accommodate her multiple costume changes and likely to let her catch her breath. Informally titled, "Women Are Strong," the video with narration from the proudly feminist Pink included new pictures of prominent women, including Rep. Ilhan Omar and Sen. Kamala Harris.
So why are Pink's shows so great?
You have free articles remaining.
First, she uses every trick in the arena show book and makes them uniquely her own: spinning on straps above the stage, a la Cirque du Soliel multiple times, blasting pyro during "Just Like Fire," punching a giant inflatable of Eminem in the face during during "Revenge," and taking a stripped-down version of the band -- guitar, cello, upright bass and drums -- to the front of the runway and perching on a stool for an "acoustic" "Barbies."
And, contrary to many arena shows, including some by rock bands, there are no loops, backing tracks, autotune or any other audio tricks deployed during the show. Pink — and a pair of backing vocalists -- sing everything, no matter the physical exertion she's undertaking during the song.
So she missed a phrase pick-up when she was being rolled over while dancing on "Tiny" and blew the ending of "For Now."
And she interacts with the audience at the most personal of levels, accepting gifts, like a stuffed sloth, talking to little girls, hugging people who have come to the show hurting and chatting away.
"Willow (her daughter) is underneath the stage, giving the sloth a haircut," she said about 30 minutes after she got the toy. "My child has no chance of being normal. It's great."
As usual, the crowd went wild when Pink strapped herself in and went soaring and tumbling high above the floor on "So What," the night's penultimate song.
But the person who was having the most fun Tuesday was Alecia Beth Moore, aka Pink.
Smiling broadly, laughing into the mic at times, slapping hands with audience members along the stage and joking with her band members, she was having a blast -- even refusing to be upstaged by Willow, who came out tumbling during the set-ending "Raise Your Glass."
That's also why her shows are so great -- she's a real person, an entertainer who loves putting on a show and connecting with her audience. And she does it better than anyone.
Lincoln's most requested musical acts: