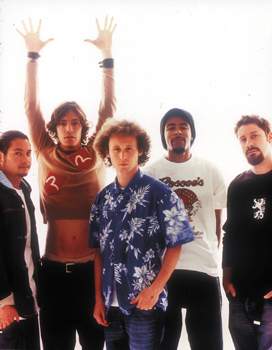 In a recent interview with the British music magazine Kerrang!, Incubus lead singer Brandon Boyd said he accepts the fact that his group had probably worn out its relevance and couldn't expect to sell hundreds of thousands of records like it could a mere four years ago.
That sentiment came before the release of the band's latest album, "Light Grenades," and something tell me Boyd might be wrong about his modest prediction.
In that same interview, Boyd said he feels like some of the pressure to produce hit records is off Incubus and the band can zero in on more artistic ventures.
That sentiment is spot on.
"Light Grenades," the sixth album by the California-based modern rock group, won't be remembered as Incubus' most significant or most innovative album, but it's certainly the band's most cohesive and thoughtful album to date.
Per usual, the album's first single, "Anna Molly," strikes as run-of-the-mill rock radio fodder. It's not bad at all — it's just not great.
That's typical for Incubus, however. B-siders like "Dig," "Light Grenades" (the song) and "Rogues" represent the best of Incubus' writing this time around, finding a healthy balance between angular guitar, funk bass, turntable sampling and the space-age sound effects that make up Incubus' signature style.
But the most important revelation on "Light Grenades" is not in lyrics or music, but in the sense of maturity that oozes from the sound and production of the record. After almost a decade, Incubus finally has refined the rambunctious, unhinged displays of sound from earlier days into a more melodic and masterful style. The band has graduated from the school of nu-metal to something resembling real musicianship.
And for those of us who appreciated what seemed like a true band among a sea of Limp Bizkit posers and Korn imitators just five years ago, it feels good to know that band hasn't wavered in its individualistic march for quality and meaning in Top 40 music.
Stay up-to-date on what's happening
Receive the latest in local entertainment news in your inbox weekly!