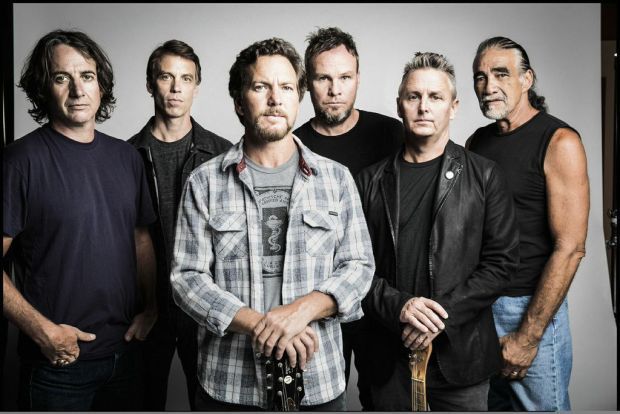 On Thursday, Pearl Jam will play Pinnacle Bank Arena.
To get ready for that show, here's a look at the Seattle-rooted grunge rock outfit by the numbers:
0 -- Number of times Pearl Jam has played Lincoln. That will change to 1 Thursday.
4 -- Drummers for Pearl Jam before Matt Cameron joined the band -- Dave Krusen, Matt Chamberlain, Dave Abbruzzese, Jack Irons.
5 -- Members of Pearl Jam -- singer Eddie Vedder, guitarists Stone Gossard and Mike McCready, bassist Jeff Ament and drummer Matt Cameron.
10 -- The jersey number of former Oklahoma Sooner and New Jersey Net, Atlanta Hawk and Golden State Warrior Mookie Blaylock. The first incarnation of Pearl Jam was named Mookie Blaylock. Pearl Jam's first album "Ten" took its title from the guard's number. "Ten" sold 13 million copies.
14 -- Number of shows Pearl Jam is playing in October. Lincoln's will be the fifth show on the tour that is packed around a pair of weekend appearances at the Austin City Limits festival and ends with two-day, two-show The Bridge School Benefit Concert in California. Three of the Pearl Jam shows have sold out.
18 -- Number of Pearl Jam albums. Ten of those are studio albums, the most recent of which is 2013's "Lightning Bolt." All of Pearl Jam's studio albums have debuted in the Billboard Top 5. Five are live recordings, and three are compilation/greatest hits albums.
24 -- Years since Pearl Jam was formed by Ament, Gossard and McCready, who then recruited Vedder and Krusen. Pearl Jam was signed to Epic Records and released "Ten" in 1991.
69.50 -- The price of all tickets for Pearl Jam's Pinnacle Bank Arena concert. Some tickets are still available for the show, but they're going to be in the arena's upper reaches. The uniform price meant that tickets sold from the floor upward, filling the arena like water going into a bowl.
200,000+ -- Members of Pearl Jam's Ten Club
950,378 -- Number of copies of "Vs," Pearl Jam's second album, sold in its first five days of release in 1993. That one-week sales record stood for five years before being eclipsed by Garth Brooks' "Double Live" in 1998. "Vs." has been certified at seven times platinum by the RIAA -- that translates to 7 million copies sold.
32,000,000+ -- The number of Pearl Jam albums that have been sold in the United States. The worldwide sales total is more than 60 million.