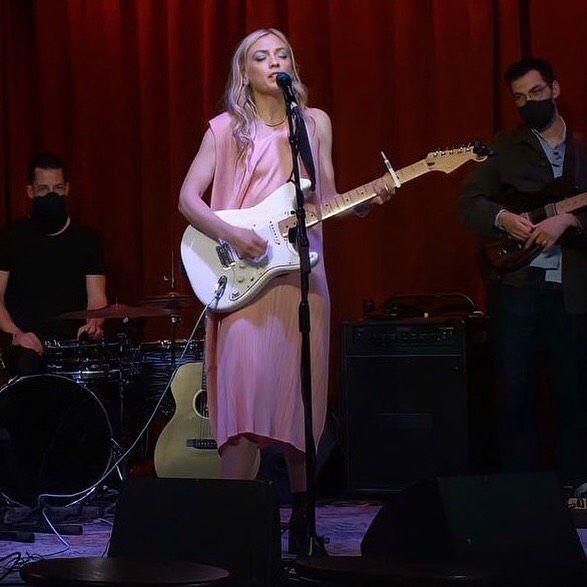 Emily Kinney feels like she's coming out of hibernation.
The 35-year-old Nebraska Wesleyan graduate, who starred in "The Walking Dead," is, after a year, getting back to work on her dual careers: acting and music.
"I just started auditioning again," Kinney said from her Los Angeles home last week. "I'm so excited. It feels like people are starting filming again. And I've got a show Saturday at Hotel Cafe."
That show, livestreamed from one of L.A.'s prime music venues, provided a preview of Friday's release of "The Supporting Character," the Wayne native's third album.
An impressive collection of alternative pop songs, "The Supporting Character" opens with "Omaha Hotel," a song Kinney wrote after attending the funeral of her uncle back in her home state.
Reflecting on memories — "I'm sure this place was greener when I was little" — while crying in church, Kinney explores her life choices in the song by singing about missing the births of babies and the weddings of family members, while seeing relatives grow old. Then comes the bridge:
"I stepped away for a minute, sat on the steps.
"I stepped away for a few years.
"I straightened my dress.
"If I said I regret leaving, I'd be lying
"And this place in dying.
So begins an autobiographical album that explores family and memory on the catchy "Genetic Makeup," the trauma of Hollywood's requirement that actresses be "Skinny" and balancing acting and relationships on the title cut.
"All the songs on the record are about examining my life through the career path I've chosen," Kinney said. "All the exciting things that happened, things that are unique to me, the challenges, the relationships. They're different stories, but they're through the lens of being an actor and an artist."
Produced by Benjamin Greenspan, with Kinney playing guitar and singing, "The Supporting Character" was largely completed before the pandemic hit.
"It was supposed to be released in 2020, that was the original plan," she said. "When the pandemic started, we kind of pumped the brakes ... I released 'Easy' (the album's first single), then we started to work with Julian Records. We wanted to release it in a way that could get some attention. I feel like it's a good time to put it out now."
In a way, "The Supporting Character" grew out of Kinney's childhood, where her beautiful singing voice was recognized early and often.
"I was the Lions Club state singing champion when I was 9," she said. "I was at every talent show and county fair, singing Mariah Carey or some musical theater song.
"I did play piano and I did write a lot of little poems when I was a kid. I'd mostly just sing them to my mom. I did write some songs in high school, but I didn't start taking it seriously until I moved to New York City."
That was in 2006 after Kinney graduated from NWU with a theater degree.
She made her Broadway acting debut shortly after the move, appearing in the play "Spring Awakening," then the next year in "August: Osage County." She landed a one-off part on "Law and Order: SVU" and had a recurring role on Showtime's "The Big C" before she was cast as Beth in "The Walking Dead" in 2011.
Killed by the zombies in 2015, Beth, who sang on the show, set the stage for Kinney's musical career. After a stint on the Showtime "Masters of Sex" series, she released her debut album "This is War" in 2015. Her second album, "Oh, Jonathan," was released in 2018.
Even though she wasn't working last year, Kinney didn't disappear from the screen, appearing in a recurring role in the Netflix series "Messiah" and playing a single mother opposite Breckin Meyer in the film "The Enormity of Life," which debuted on Apple TV and Google Play on Tuesday.
So, if forced to choose, would she pick music or acting?
"I get that question a lot," Kinney said. "Acting, people kind of have to choose you. I am always making music and it feels like I can steer that ship a little more. With acting, someone has to hire you, cast you. So when I get the opportunity, I want to act.
"So I guess in that sense, I'd choose acting. But I like that music is always going to be there for me, like my little baby."
Kinney doesn't get back to Nebraska much anymore. Her family has moved to Colorado and she's planning a trip to Colorado Springs later this spring.
"I haven't been back since (the 'Omaha Hotel' funeral) and I don't know when I'll be back there again," she said. "But I have to go on tour. I have to play live shows. I don't know if it will be this year or when it will be. And I want to come back to Lincoln when I do."
Reach the writer at 402-473-7244 or kwolgamott@journalstar.com. On Twitter @KentWolgamott