Michael Bublé, the first Pinnacle Bank Arena performer, will return to Lincoln for a March 23 concert celebrating the arena's fifth anniversary.
Bublé gave the arena's first concert on Sept. 13, 2013. That afternoon, his rehearsal of Frank Sinatra's "You Make Me Feel So Young" was the first song performed in the arena — to an audience of crew members and a few arena staffers.
"This is going to be fun," Bublé said after that song. "This sound is nice. This is a beautiful, beautiful building."
The anniversary concert was announced Thursday morning by City Councilman Carl Eskridge and arena manager Tom Lorenz. A short video from Bublé talking about his return was shown during the news conference.
"Hey Nebraska, it's Michael Bublé here," he said on the video. "I'm truly so excited to come back after five years to celebrate Pinnacle Bank Arena's five-year anniversary. I'll see you March 23."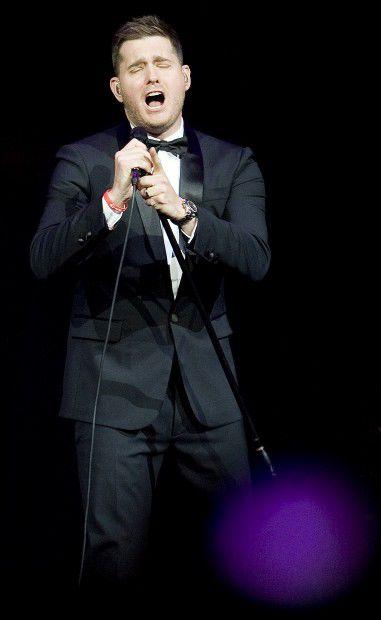 The tour that will bring Bublé back to Lincoln will stop in 27 cities, with Lincoln included on a list of the nation's major metropolitan markets. The tour will open in Tampa, Florida, on Feb. 13, stop at New York's Madison Square Garden on Feb. 20 and end at L.A.'s Staples Center April 2.
Bublé will release "Love," his eighth album, on Nov. 16. Every fuil-priced ticket purchased for the tour includes a CD or digital copy of the album.
"Love" and the tour are a return to music for the Grammy-winning singer, who took two years off to care for his now 5-year-old son Noah, who was diagnosed with cancer, and to spend time with his wife, actress Luisana Lopilato, sons Elias and Noah and baby girl Vida Amber Betty, who was born in July.
"I became the strength to somehow pull us and lift us," Bublé said on James Corden's "Carpool Karaoke" last month. "When they got it out and chemo was done, I just fell. My wife picks me up.
"He (Noah) is 5 years old now and I say to him, Spider-Man is amazing but they are fake, they are not real. You are my hero, you are my superhero."
Noah is now cancer-free and in remission, and Bublé has resumed his career with August shows in Dublin, London and Sydney, where he performed for more than 150,000 fans.
Bublé, who turned 43 in September, began singing in British Columbia nightclubs at age 16 while working as a commercial fisherman. Influenced by his grandfather's collection of jazz records, Bublé became a traditional pop/jazz singer, won Canadian talent contests and released three independent albums before nearly abandoning music to pursue a career in journalism.
But a gig singing at the wedding of the daughter of former Canadian Prime Minister Brian Mulroney changed Bublé's life. He was introduced to David Foster, who agreed to release the singer's self-titled album on his 143 Records, a Warner Bros. distributed imprint.
Bublé's major-label debut was a hit in Canada but didn't register strongly in the United States. However, after a campaign that got his music wider exposure, his 2005 followup, "It's Time," hit No. 7 on the Billboard charts, sold 3 million copies in the U.S. and Bublé was on his way to arena-level stardom.
Bublé, who placed four consecutive albums at No. 1 on the Billboard charts and saw his last release, 2016's "Nobody But Me," rise to No. 2, has sold more than 60 million albums worldwide.
In the course of his recording career, Bublé has moved from traditional big-band, jazz/swing standards to Vegas lounge-style versions of pop and soul favorites and his own songs that are rooted in 1960s mainstream pop.
Tickets for Buble's Lincoln concert go on sale to the public at 10 a.m. Nov. 19. Tickets will be available at the arena ticket office, ticketmaster.com and by phone at 800-745-3000. Ticket prices have not yet been released.
14 things performers say about Lincoln and the arena