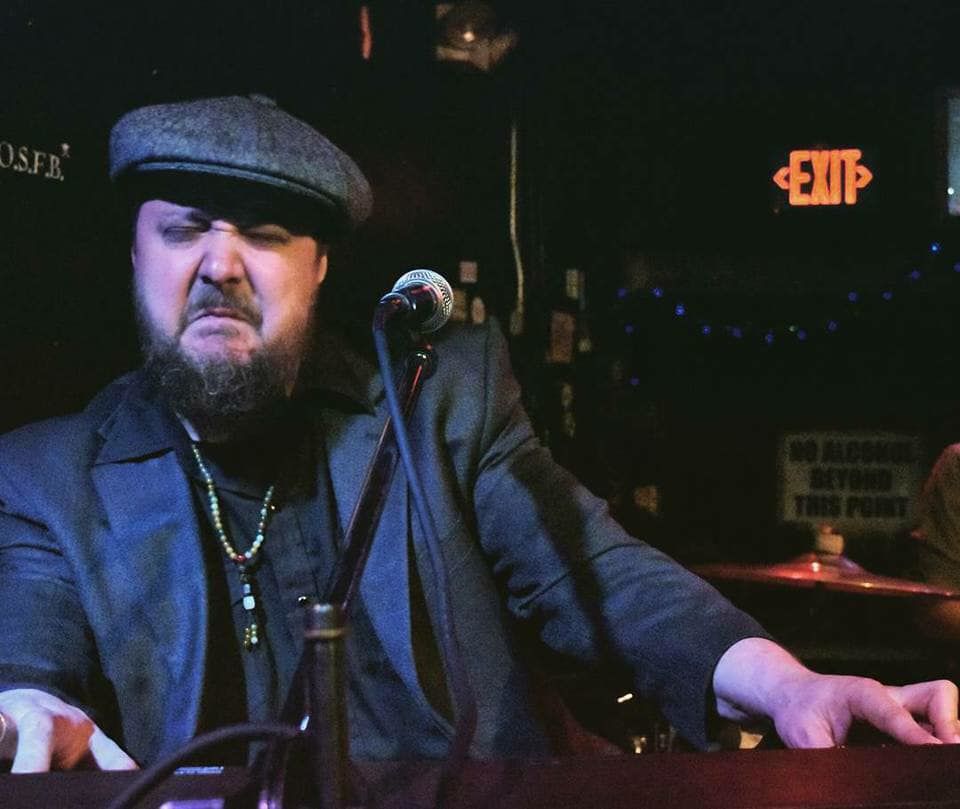 About 9 p.m. Saturday, Josh Hoyer turned on the camera, walked to the keyboard he had set up in his basement and began to play his first livestream concert ever.
The Lincoln soul singer, who leads the band Josh Hoyer and Soul Colossal, had, like all professional touring musicians, lost all his scheduled shows to the coronavirus pandemic and was on Facebook, doing a basement show for the chance to perform, for tips — sort of like busking on the internet.
Welcome to the new world, where live music can coexist with social distancing and self-quarantines.
For about an hour, Hoyer performed a set of the songs he's recorded with his band over the last eight years, including his best known "Time for Love" and "Love Song," the ballad he wrote for Soul Colossal guitarist Benjamin Kushner, who battles cancer daily and is at high risk these days.
"I miss my bandmates," Hoyer said. "And I've really missed being able to go out and play for you all."
As Hoyer performed, the comments and hearts bubbled up on the screen:
"Needed this on so many levels," wrote Betsy Beverage.
From Leah Blair: "Nice to hear something amazing like this with everything that is going on."
Livestreaming is a way for local musicians — silenced by the recommendation that no more than 10 people gather in any one place, which has caused virtually all bars and live-entertainment venues to close their doors — to once again be heard.
On Saturday night, those who listened in appreciated the effort.
"Bravo my friend," wrote Scott Boyer. "This is actually pretty damned cool. People can talk all they want and I can still hear Josh."
But make no mistake, it wasn't lost on the at-home audience that this was a money-making venture. And most were fine with that.
Gary Schmanke got to the heart of the matter by writing that, "Since the door cover and drinks are much cheaper in this venue, please tip the artist … a lot."
Hoyer, who lost $3,000 in canceled shows last week, made up for some of that loss with the tips he received via Venmo and PayPal and sales of merchandise. He didn't have an exact figure Sunday, but he said all the money he received will be split equally with his bandmates.
"There's a lot of people hurting," he said. "I'm not trying to make this all about me. But I did get some help, which I'm really thankful for and the guys got some help, which they really can use."
It was also cathartic for all involved -- Hoyer and his audience -- to be playing again. In this time of uncertainty, the music provided a respite, some semblance of normalcy.
As he got to "Liberator," the band's anthem, Hoyer quipped, "Put your singing clothes on. We're at home, maybe you should take them off. We can do anything we want."
Then he ended the night with a handful of covers, putting more soul than The Eagles displayed for their entire career into "Take It to the Limit" and, somehow appropriately, on multiple levels, "I Shall Be Released."
"I really felt the spirit, man," Hoyer said Sunday. "I didn't know how it would feel to do that. I've never done anything like this, in an empty room by myself. But I saw people signing in and the comments once in a while, and I didn't feel as alone as I thought I might."
And Hoyer's show made those who are spending their days isolated in their homes come together, creating a virtual community.
"That's what my dad said last night — 'You did something really good for the community,'" Hoyer said. "I didn't think of that before or while I was playing. But if I did, it's good. We need to come together and support each other."
Local musicians Vince Ruhl, Charley Morris and Chris Steffen began conceptualizing a local music project that combined livestreaming with a handful of internet platforms last year when it launched the Basement Creators Network last year.
Several months before we'd ever heard of a virus spreading through China, they launched the BCN, which showcases a local band each Wednesday night for a live concert performed from the comforts of a studio basement.
"We want to help Lincoln's music scene," Ruhl said last July.
Those online shows, performed on a night that didn't interfere with the live music shows at Lincoln's downtown venues, proved to be ahead of their time. Now several musicians are following that trend.
On St. Patrick's Day, The Bottle Tops did an impromptu livestream that was aimed at raising some money for musicians other than itself, along with the venues it plays that have now been temporarily shuttered.
The band's raised $520, which it's distributed to local businesses and to other musicians, and similarly gave out money received from their Sunday night livestream.
Mike Semrad of The Bottle Tops hasn't been financially hurt by the virus spread as much as others. He has a marketing company that is still operating, and his wife Kerry works at a local radio station.
"We're not getting hit by this like Josh and Will Hutchinson and other people who lost all their income," he said. "So what I'm trying to do at this point — give to the Zoo Bar, give to Duffy's, their employees and give to the musicians who really need it."
The Facebook counter bounced between 200 and 250 throughout Hoyer's hourlong performance. That's not a precise count of how many people watched. It simply measures how many devices were connected to the livestream at that time.
That's a far cry from the 100,000 who watched Luck Reunion's "Til Further Notice" show Thursday night. Of course, that had worldwide publicity — it included performances by Nathaniel Ratecliff, Jewel, Paul Simon with his wife Edie Brickell, and Woody Harrelson, Neil Young, Orville Peck, Shovels and Rope and, of course, the Luck Reunion host, Willie Nelson and his sons.
"Til Further Notice" is one of the largest, if not the most-seen livestream of those that have popped up in the last week. But the big name show used the same format as the local livestreams — musicians in front of a camera in their studios or living rooms.
Leave it to Thirst Things First to do something completely different.
Saturday afternoon, the Lincoln pop punk band hosted a "town hall," which was produced by Matty Sanders in The Oak Den, his home studio, mixing a song while TTF leader Mikey Elfers looked on via Skype.
Reach the writer at 402-473-7244 or kwolgamott@journalstar.com. On Twitter @KentWolgamott  
Concerned about COVID-19?
Sign up now to get the most recent coronavirus headlines and other important local and national news sent to your email inbox daily.