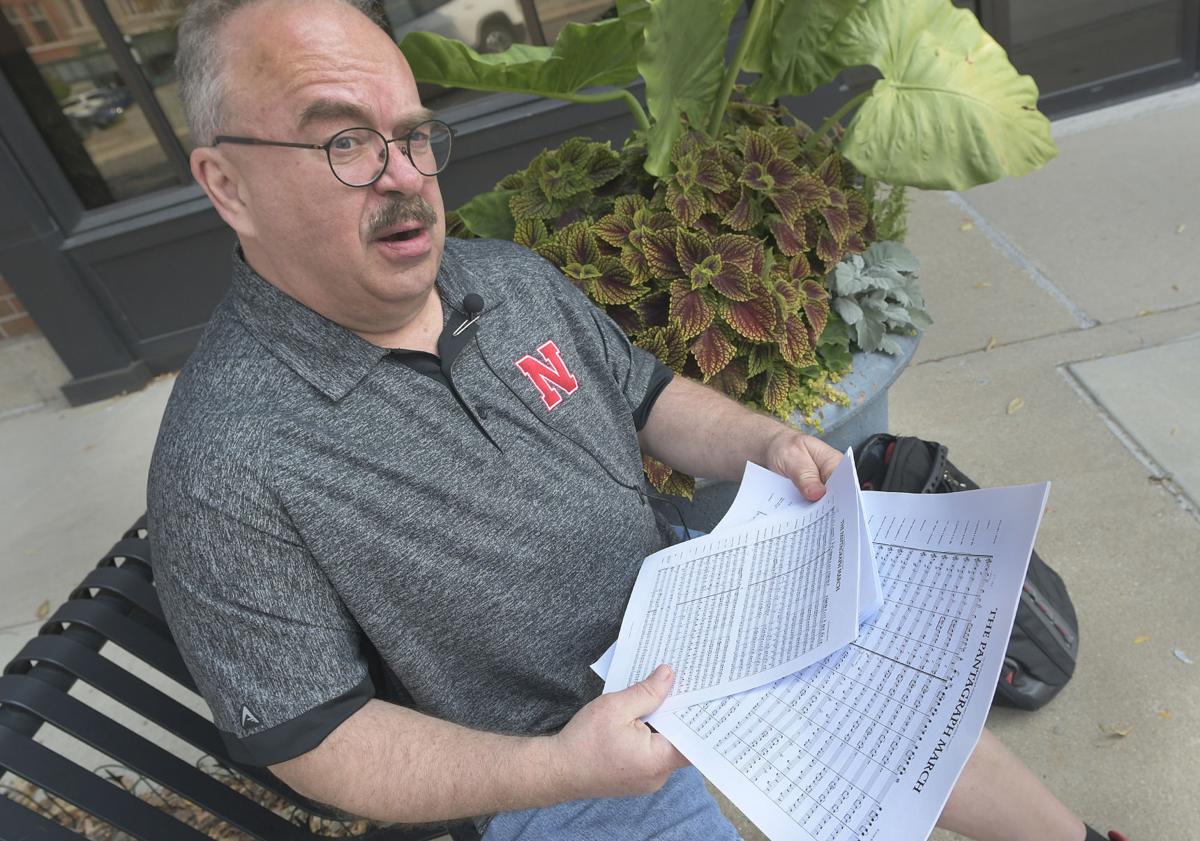 In 1889, John Philip Sousa wrote "The Washington Post March," starting a turn-of-the-century craze that saw hundreds of newspaper marches written for the municipal brass bands that would perform them on town bandstands.
Some 131 years later, the Lincoln Journal Star now has a march, courtesy of composer Kevin Kaisershot, who penned the piece that connects it with other papers that have marches, like the Kansas City Star, Chicago Tribune, Dallas Morning News, The New York Times, St. Louis Post-Dispatch and Louisville Courier-Journal.
"The Lincoln Journal Star can now add its name to the list," Kaisershot said. "It's the most recent newspaper march that's been written. I just wanted them to be able to add their name to that list of prestigious newspapers that are still in existence, to have a march."
Becoming a paper with a march puts the Journal Star in a tradition that audibly connects the past, when newspaper editor cards were distributed in the same manner as baseball cards, with 21st century newspapering, said Journal Star editor Dave Bundy.
"As much as journalism is changing every day, what we do is part of a legacy," Bundy said. "And a newspaper march puts that legacy into sound. This is a special honor for the Journal Star."
The "Lincoln Journal Star March" is the third march that Kaisershot has composed for Lincoln. The first, written in 1980, was to commemorate the 100th anniversary of the marching band at his alma mater, the University of Nebraska.
The second, "The Cougar March," was written for Culler Middle School in 2017.
"I went to Culler for all of seventh grade," Kaisershot said.
Born in Dickinson, North Dakota, Kaisershot moved to Lincoln in 1963, when his father got a job in the university's Business Education Department. He attended Huntington and Riley elementary schools as well as Sacred Heart and St. John's before the family moved to Bloomington-Normal, Illinois, when his father got a position at Illinois State University.
Kaisershot returned to Lincoln in 1975 to study music education, student teaching with the Lincoln High Marching Band in 1979.
In 1980, he and his wife returned to Illinois where, after teaching high school for two years, they each earned master's degrees in music from Illinois State, Kevin's in trumpet performance. In 1984, the Kaisershots moved to Aurora, Illinois, where Kevin spent 31 years as music director and director of bands at Aurora East High School, before retiring in 2015.
"I've written four newspaper marches," Kaisershot said. "The four are places where I've spent a great deal of time in my life."
The first of his newspaper marches was written in 1996 to mark the 100th anniversary of the Aurora (Ill.) Beacon News, the second for the Dickinson (N.D.) Press, in 2001.
Earlier this summer came "The Pantagraph March" for the Bloomington-Normal (Ill.) newspaper.
After finishing the Pantagraph score, he found himself still in music-writing mode and made the decision to move on to the Journal Star march.
Written this summer, "Lincoln Journal Star March" was digitally recorded by Kaisershot using the music performance program NotePerformer. COVID-19 restrictions prevented it from being played and recorded by an actual band.
"With the situation we're in, you can't distance 50 people in a room," Kaisershot said. "You couldn't do it on the biggest soundstage. You'd have to do it in Pershing Auditorium, and then it wouldn't sound right."
Opening with a trumpet and woodwind flourish, the "Lincoln Journal Star March" is traditional, hearkening back to the turn of the 20th century with themes repeated by multiple instruments in standard march tempo.
"It's totally original," Kaisershot said. "Stylistically, it's plugged into that bygone era. I'm still an old-fashioned, traditional writer. I'm not looking for the new sound. It sounds good to me. I like the way it turned out. I hope everybody else will, too."
In fact, Kaisershot said, he considers the "Lincoln Journal Star March" to be the best of his newspaper marches.
"I wanted to make it my best one and, truthfully, it is the best one," he said. "That's where I spent the best years of my life so I wanted it to be the best.
"I have a deep connection with Lincoln dating back to 1963. You can take the boy out of Nebraska. But you can't take Nebraska out of the boy."
That connection was recognized two years ago when Kaisershot was honored with an Alumni Achievement Award from the University of Nebraska-Lincoln's Hixson-Lied College of Fine and Performing Arts.
"As a conductor and clinician, Kaisershot has become well traveled throughout the Midwest. Internationally recognized as a composer/arranger, especially of music for trumpet and brass," Hixson-Lied wrote in announcing his award. "His music has achieved critical acclaim."
Kaisershot's music has been performed not only in the United States, but also in other countries, including Japan, Korea, Canada, Mexico, Denmark, Switzerland, England, Norway and Germany.
Marches have fallen out of fashion. The Nebraska band march, Kaisershot said, has never been performed in Nebraska, and marches are rarely heard at football games and parades.
"Not many college bands play marches anymore (or) even at large high schools," Kaisershot said. "If they do, they relegate playing marches to their lesser bands. That's hard to understand. They are the staples of the marching band's existence. It's like English teachers saying, 'We're not going to study Shakespeare.' You're dismissing the basis for your existence."
Kaisershot hopes the "Lincoln Journal Star March" will get a proper debut, perhaps from the Lincoln Municipal Band next summer.
"I'll send them the parts," he said. "It would be great if the municipal band can perform it live versus a computer-generated recording. It would be great if it could be played in Lincoln."
11 memorable Nebraska songs
Bruce Springsteen 1982 Nebraska
Ole Rasmussen & His Nebraska Cornhuskers
Grand Funk Railroad - We're An American Band
Greater Omaha by Desaparecidos
Roy Orbison 'Cheyenne'
I Shall Be Free No. 10
Justin Bieber Omaha Mall Live
Zac Brown Band - Colder Weather
Sawyer Brown: The Nebraska song
Reach the writer at 402-473-7244 or kwolgamott@journalstar.com. On Twitter @KentWolgamott