The 28th season of Jazz in June will feature a jazz-funk sextet from New Orleans, a Brazilian music ensemble with a Lincoln guitarist, a trumpeter whose music touches on hip-hop and a British saxophonist with Afro-Caribbean roots -- the latter two rising on the international jazz scene.
That's an eclectic mix for the four concerts that will take place in the Sheldon Museum of Art sculpture garden each Tuesday in June.
"It's a combination of stuff," said Jazz in June coordinator Spencer Munson. "It's all a little different, but all jazz in some form."
Jazz in June 2019 will be begin with:
Tuesday -- Naughty Professor. This New Orleans-based jazz-funk sextet is known for its adventurous recordings and horn-charged, high-energy live performances. Weaving together complex, inventive compositions with loose improvisation, the band honors its hometown's jazz, R&B and brass-band traditions while looking to the future. Naughty Professor has performed with the likes of Galactic, Snarky Puppy, Victor Wooten, Rebirth Brass Band, Fitz and the Tantrums, The Revivalists, Big Sam's Funky Nation, Papadosio, George Porter Jr. and The Soul Rebels.
"Starting the festival out with a bang, I thought the New Orleans jazz-funk band was the way to go,": Munson said. "They have the same agent as the Rad Trads, who really went over a couple years ago. They/'ll be fun."
June 11 -- Evening in Brazil. The Evening in Brazil ensemble is a group made up of university professors from around the country, including guitarist Christopher Neale, director of research at the University of Nebraska's Daugherty Water for Food Global Institute and a native of Brazil. The ensemble debuted in 2009 at Utah State University, playing music from the bossa nova movement. Evening in Brazil had been booked to play Jazz in June in 2014 but saw the show scrubbed because weather.
"It was more than a rainout," Neale said. "It was a tornado warning. At the time, the backup for a rainout was the Sheldon and the Sheldon is surrounded by glass. The tornado warning came out that morning and the organization cancelled. According to Martha Florence, who was the coordinator at the time, we are the only band in the history of Jazz in June to be cancelled. So we're elated to be able to come back and play.
""We play bossa nova music, sambas. We do play some contemporary Brazilian stuff. The core is the jazz bossa nova style. We'll be playing a lot of (Antonio Carlos) Jobim songs that people will recognize, like 'The Girl from Ipanema."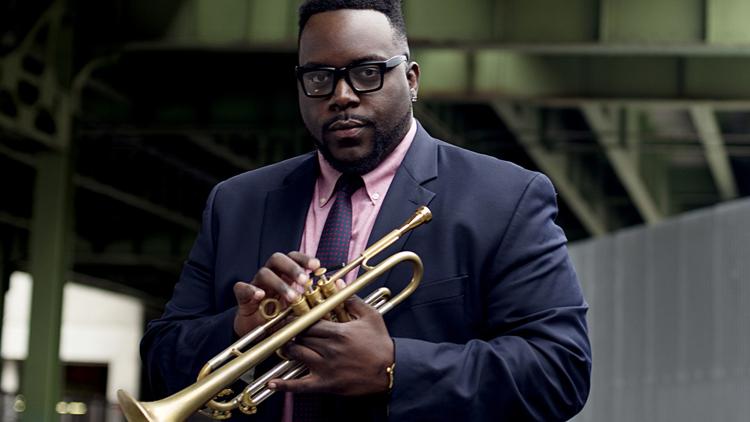 June 18 -- Marquis Hill Blacktet. Award-winning trumpeter, composer and band leader Marquis Hill is a jazz musician with a bent toward soulful post-bop whose latest music has blended hip-hop, R&B, soul and blues with jazz, creating a beat-conscious music in which Louis Armstrong and Miles Davis meet Kendrick Lamar, Sly Stone and George Clinton. The Chicago native took first place in both the 2012 International Trumpet Guild's Jazz Improvisation Competition and the 2013 Carmine Caruso International Jazz Trumpet Solo Competition. In 2014, he won the prestigious Thelonious Monk Institute's International Jazz Competition.
June 25 -- Nubya Garcia. Garcia is a London-based tenor saxophonist and composer who is one of the leading forces in the resurgence of jazz-influenced sounds in the United Kingdom. Raised by Caribbean parents, Garcia's afro-tinged jazz has made her a key component in a string of new and established groups — including work with Moses Boyd, Congo Natty, the Maisha sextet and Nérija septet. One of the stars of South By Southwest 2018, Garcia landed her "When We Are" on NPR's list of the top 100 songs of the year.
 "The last two are artists I've been tracking for the last couple years that I got to see in New York in the last year," Munson said. "Everything just worked out to bring them. They were on tour and they just fell into place with the dates.
"We always try to bring big names that are right on the cusp. I'd like to bring Grammy-winning big names, but they have a higher price point."
Each of the concerts, which draw thousands of people to the west side of Sheldon, at 12th and R streets, will begin at 7 p.m. and run about two hours with an intermission. The concerts are free, with a $10 per family suggested donation.
The Rhythm Club, Jazz in June's membership program, supports the booking of the artists and education programs and helps keep the concerts free. Members will receive VIP seating and meet-and-greets with the artists. For more information on the Rhythm Club, go to jazzinjune.com.