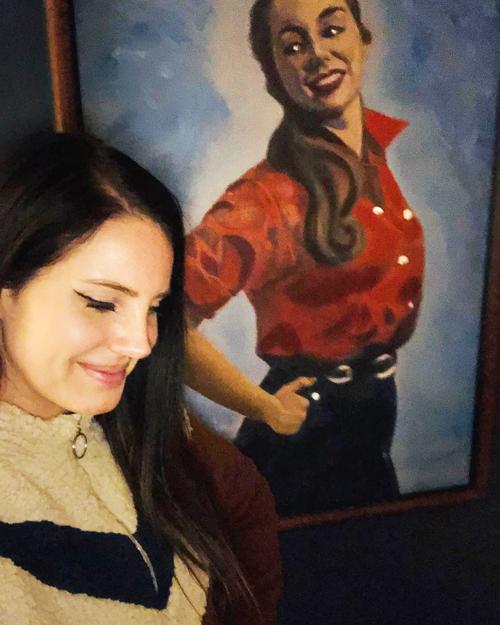 Back in November 2019, Lana Del Rey spent a night at the Graduate Hotel, stopping in Lincoln between dates in Denver and Sioux Falls, South Dakota, on her "Norman F***ing Rockwell" Tour.
Hitting the streets of the Haymarket, the acclaimed pop crooner and Alexandria Kaye, a backing singer and dancer, stopped at 3 Daughters Boutique, where Del Rey bought a cowboy hat and sherpa jacket that can be seen in Instagram photos she posted.
Those pictures included a tour of her Lincoln hotel room, a handful of shots with fans, and a short video of her writing in a journal — "thank you to everyone in Lincoln, Ne. who said hi."
The Lincoln stopover clearly stuck with Del Rey, who played Omaha about a week after her Lincoln stop. In December, she sent out a couple end-of-tour tweets that included this recollection:
"Can't tell you how special the Midwestern leg of the run was, every day was sweet like cinnamon …
"Especially Lincoln Nebraska where we were laid over for the travel day, didn't even get to play but had so much fun and you showed us so much love, every single day was so interesting and special."
She has now commemorated that stop in "Not All Who Wander Are Lost," a song from "Chemtrails Over the Country Club," the album she released Friday.
Appropriately a song about being caught up in thoughts while on the road, "Not All Who Wander Are Lost" opens with this verse:
"I've been wearing the same damn clothes for three damn days. /
"Lincoln, Nebraska's got me in a haze. /
"The thing about men like you is you got a lot to say
Lincoln is one of at least a dozen cities referenced on the 11-song album. Some, such as  Orlando, Florida, are in songs about the music business. Others, such as Tulsa, Oklahoma, provide the setting for a story song, while a bunch of California references explore moving on, physically and emotionally.
But none of the others appear to have the personal connection that Del Rey brings with her Lincoln reference.
"Not All Who Wander Are Lost" joins a handful of songs that name Lincoln.
Most recently, the late John Prine sang about "Egg & Daughter Nite, Lincoln, Nebraska, 1967" on his 2018 album "The Tree of Forgiveness."
Zac Brown Band's 2010 song "Colder Weather" is set in a truck stop outside Lincoln. Sawyer Brown's 1997 "The Nebraska Song" tells the story of Husker quarterback Brook Berringer, and the title cut of Bruce Springsteen's 1982 album "Nebraska" tells the story of spree killer Charles Starkweather "from the town of Lincoln, Nebraska."
11 MEMORABLE NEBRASKA SONGS
Reach the writer at 402-473-7244 or kwolgamott@journalstar.com. On Twitter @KentWolgamott