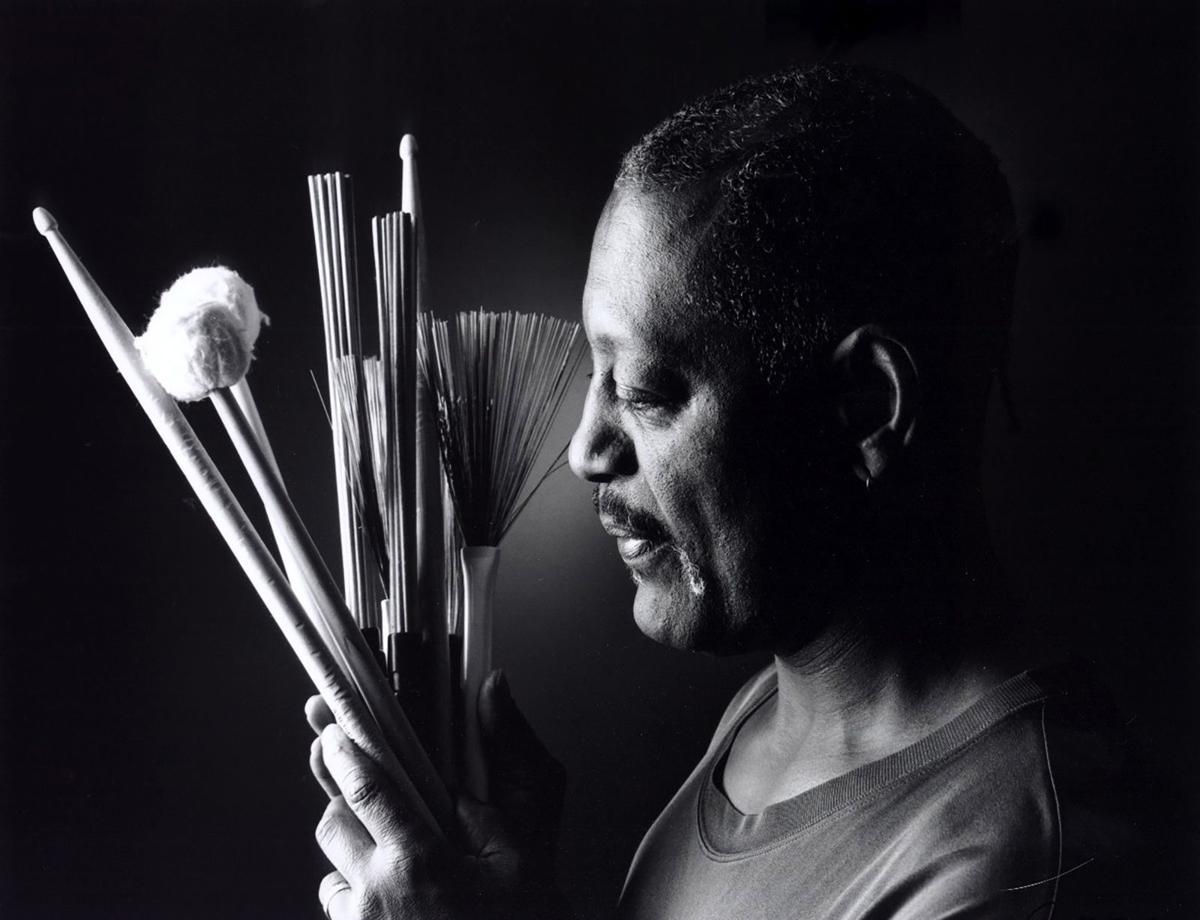 On Thursday, he'll become Dr. Victor Lewis.
One of the top jazz drummers in the world, the Omaha born-and-raised Lewis will receive an honorary doctorate from the University of Nebraska-Lincoln, where he studied in the early 1970s before moving to New York to begin his career.
Calling in Tuesday from his home, Lewis said, he's honored by the doctorate, but from the first moment said it wasn't just for him.
"This acknowledgement is one that means something to me because it represents my peers, who grew up like me and have a little bit of clout," Lewis said. "Ed Love and all those cats, man, we grew up in the same generation. We've been cheerleading for each other forever. They decided I need to be acknowledged.
"You know that saying 'It takes a village to raise a kid?' I like to say I had a great village to raise me. It overwhelms me, this acknowledgement I'm getting. I can't say it's all on me. It gets to who raised me -- it starts with family, mentors, the scene at the University of Nebraska, my peers."
For Lewis, the son of a saxophone-playing father and pianist/vocalist mother, his growth began at 10 when he started studying cello. Two years later, he switched to drums. By 15, he was playing professionally.
Then he came to Lincoln, where he joined his high school classmate Love, Mannheim Steamroller's Chuck Penington and other aspiring musicians, like his roommate, trumpeter Don Gorder, who's now the head of the music business/management program at the prestigious Berklee College of Music.
"I skidded into the University of Nebraska an innocent, well-bred, middle-class African American with a clean slate, just trying to get to what I saw was my mission in life," Lewis said. "The University of Nebraska presented me with a bubble of learning and a bubble from racism, which was a real important thing."
The music school was also where Lewis realized how much he had to do and how far he had to go to reach his music goals.
"The first thing I say to young students is, OK, it's important for all of you to remember that everybody, no matter what inspired you, no matter what skills you've got, everybody started off a chump," said Lewis, who teaches drums and coaches jazz chamber groups at Rutgers.
"If you have the vision of what's going to wake you up in the morning, then it's on. You have to get busy. There's no birthright to anything. Prowess does not have a birthright. Prowess is blood, sweat and tears."
Lewis left Nebraska in 1974, moving to New York where he performed with top jazz artists, including Woody Shaw, Carla Bley, David Sanborn and Dexter Gordon. He was a member of the Stan Getz Quartet from 1980 to 1991. By the late 1980s, he had built himself a busy career as a freelancer, touring and recording with artists like Kenny Barron, Art Farmer, J.J. Johnson, Mike Stern, John Stubblefield, Grover Washington Jr., Gary Bartz, Bobby Hutcherson and Bobby Watson.
Aside from performing, Lewis is a composer and has featured his compositions on his albums, "Family Portrait," "Eeeyyess!," "Know It Today, Know It Tomorrow" and "Three Way Conversation."
"Simply put, Victor is a legend," said Paul Haar, director of Jazz Studies in the Glenn Korff School of Music. "Perhaps the greatest and most versatile of the living jazz drummers. He has played with everyone — from Stan Getz and Dexter Gordon to Woody Shaw and J.J. Johnson. What makes him special as drummer is his versatility. Some people specialize in fusion or traditional jazz. Victor plays it all, and he does more than play the various rhythmic styles. He adds a color to the ensemble that would not be the same with any other drummer. This gift to feel the music and to make it three dimensional is what made Stan Getz build his tours around Victor's availability.
"If I were to list my five favorite 'desert-island' recordings, Victor would be playing drums on at least four of them. He is a legend all over the world, but he is an Omaha kid and a Nebraska native who is coming home. In the jazz world, his stature is equal to other great Nebraskans like Johnny Carson, Dick Cavett, Ted Kooser, Fred Astaire, Henry Fonda, and others."
Nebraska, Lewis said, was the perfect place for him to grow up -- and leave, because he had to make it in the jazz world -- a quest that, in the end, is about far more than just getting to play.
"It starts off with an ambition, then you start seeing if you can make a living from it -- there's competition," Lewis said. "If you get over the hump of making a living at it, then you can see the big picture, you can get past the paradiddles and scales and open your heart and play for the people. If I play and it has an effect on people, to me, this is five stars in Downbeat.
"I've been in New York for 42 years now, I've played with all the cats. They know this -- if you get in the magazine, it might get you more gigs. But at the end of the day it's not about playing for money or notoriety. It's not about the hype. If you play, if you're committed to raising the vibe on the planet, hopefully, this is the magic."
Lewis will, hopefully, be bringing some of that magic to Kimball Recital Hall Thursday when he joins the UNL Jazz Orchestra on five pieces he has written -- "Hey it's me you're talking to," arranged by David Sharp; "Eeeyyess," arranged by Greg Simon and "From the Heart," "Un-til" and "I wanted to say," all arranged by Andrew Janak.
"When I go back to the ceremony, the main thing is it's going to be another gig," Lewis said. "I have to play my best. Forget fame, forget accolades, it doesn't mean anything unless you move people, that's what we have to do. Our job is to raise the vibrations of humanity on the light side as opposed to the dark side. When I realized that, I started playing better."
Before he performs, however, Lewis will receive the honorary doctorate and, like some long-winded Oscar winners, he's ready to have the plug pulled on his acceptance speech.
"Just me running down the list will reach the cutoff," Lewis said. "From Denny Schneider to Chuck Penington and on and on, there's a whole bunch of cats who left an imprint on me, who got me here to receive this acknowledgement I'm getting."