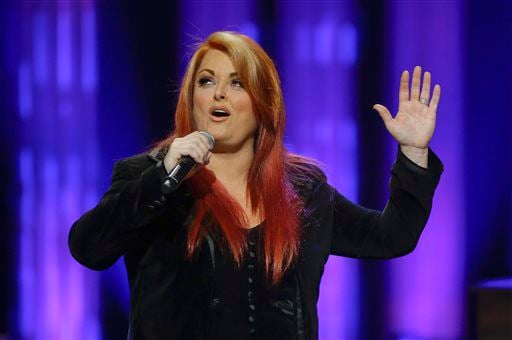 It's beginning to sound a lot like Christmas in Lincoln
Ten holiday shows from national touring artists, like Wynonna Judd, and local ensembles like Lincoln's Symphony Orchestra and the choirs of the University of Nebraska-Lincoln, will be performed in downtown venues from Wednesday through Dec. 18.
Dec. 4-5 -- Jim Brickman: A Christmas Celebration, the Rococo Theatre. The biggest selling solo piano artist brings his holiday show on the road for the 22nd year.
Dec. 6 -- Big Band Holidays: Jazz at Lincoln Center Orchestra with Wynton Marsalis, Lied Center for Performing Arts. Acclaimed trumpeter Wynton Marsalis, debuts in Lincoln his popular holiday show, featuring soulful, big band versions of holiday classics like "Jingle Bells" and "Joy to the World," along with special guest vocalists.
Dec. 8 -- Welcome All Wonders, Newman Center, 16th and Q streets. Five choirs from the University of Nebraska-Lincoln combined for the annual holiday event. The University Signers, Chamber Singers, Varsity Chorus (men), University Chorale (women) and the All-Collegiate Chorus will be joined by brass percussion and pipe in two performances of familiar carols and carols from around the globe. The 3 p.m. and 7:30 p.m. performances are free.
You have free articles remaining.
Dec. 8-- Deck The Halls, Lincoln's Symphony Orchestra, Lied Center. The LSO's annual holiday celebration will include seasonal hits, like "Sleigh Ride" and "The Nutcracker" with dancers from Chase Dance and Dancing Beyond Limits bringing holiday music to life and a special performance by hand bell choir Bellisimo.
Dec. 11 -- Wynonna & The Big Noise; Rockin' Roots Christmas, Rococo Theatre. Country singer par excellence Wynonna Judd, aka the female Elvis, brings her band, The Big Noise, to Lincoln for the first time for a show that will mix holiday classics done rockin' country style along with some material from the Judds and her solo albums.
Dec. 12-15, 19-21: The Holiday Cabaret, Nebraska Repertory Theatre, Temple Building. The Rep's annual holiday celebration, presented 10 times over the two weekends before Christmas, will feature holiday music performed by favorite Rep performers, emerging artists and special guests.
Dec. 13 -- Home for the Holidays: Hannah Huston with special guests Salem Baptist Choir, Rococo Theatre. Hannah Huston, the Lincoln preschool teacher who finished third on NBC's "The Voice" in 2016 returns to the Rococo for her annual holiday show, featuring her takes on holiday classics and her two original Christmas songs, "Believe in Christmas" and "Christmas Blues." This year, she'll be joined by Omaha's Salem Baptist Choir.
Dec. 14-15 -- The Nutcracker Ballet, Lied Center for Performing Arts. The Lincoln Midwest Ballet Company will present its 35th annual production of the holiday classic, "The Nutcracker." The ballet features about 200 student dancers from southeastern Nebraska in a performance that also features a live orchestra and professional guest artists.
Dec. 17 -- A Very Postmodern Christmas, Postmodern Jukebox, Lied Center. This holiday tour will feature PMJ's rotating retro collective of show-stopping vocalists, dancers and instrumentalists mashing up timeless holiday classics along with some of today's pop hits in the "vintage" styles of 1920s hot jazz, doo wop and Motown.
Dec. 18 -- Lorie Line Celebrating Christmas: 30th Anniversary, Rococo Theatre. Minneapolis pianist Lorie Line, who has been doing holiday shows in Lincoln for decades, will celebrate 30 year of touring with a show that features new music and "the best of the best" from past years.
Tickets for the Lied Center and Temple Building shows are available at the Lied box office, liedcenter.org and by phone at 402-472-4747. Tickets for the Lincoln Symphony Orchestra are available at lincolnsymphony.com. Tickets for the Rococo Theatre shows are available at rococotheatre.com and by phone at 402-476-4467 from 10 a.m to 5 p.m. Monday through Friday.
Reach the writer at 402-473-7244 or kwolgamott@journalstar.com. On Twitter @KentWolgamott