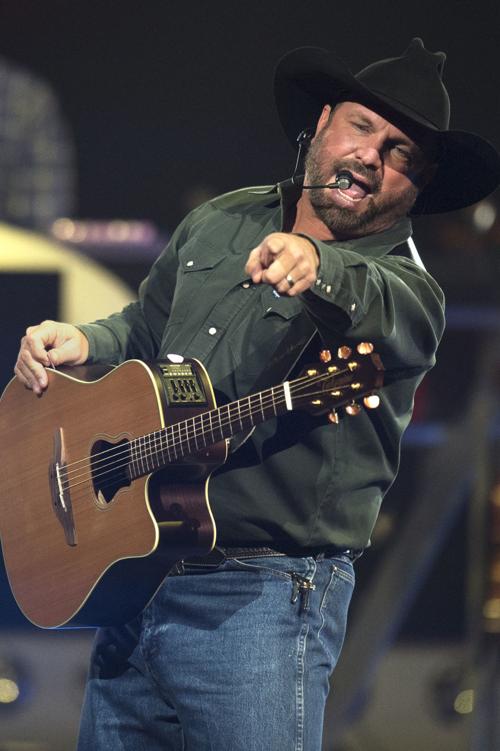 Garth Brooks is coming back to Lincoln on June 27 — at least on the big screen.
The Lancaster Event Center is one of 300 "drive-ins" across the country where Brooks' concert will be broadcast at dusk.
"As soon as we heard about it, we thought, 'We can do this,'" said event center managing director Amy Dickerson. "We're going to have it in the grandstand area we haven't even opened up yet. We're flying in two big screens and a concert sound system."
With a capacity for 800 cars, the event center will be the largest Nebraska venue for the drive-in concert. It's also slated to show at the Twin Creek Cinema in Bellevue, the TK-Starlight Drive In in Neligh and locations in western Nebraska.
Brooks announced the "World's Largest Drive-In Concert" on "Good Morning America" last week.
"They're going to run it just like a regular concert, but this is going to be all over North America, one night only," Brooks said. "We are excited because this is a reason to get out of the house, but at the same time you get to follow all the COVID rules from every individual state and you get to have fun and stay within the guidelines of social distancing … we're calling it 'social distancing partying.'"
At the event center, that social distancing will take place in three ways. 
Those who arrive early can grab "lawn chair group seating," walking in from a nearby parking lot to choose a square, painted on the asphalt parking lot for each group. The squares will be 6 feet apart.
Those who park in the lot, which will be filled first-come, first-served beginning at 6 p.m., can have lawn chairs near their vehicle, or, in the case of pickups, on the vehicle.
The final option is in-vehicle seating. That will allow for maximum social distancing, and the comfort of air conditioning, Dickerson said. The concert will be broadcast by closed-circuit FM radio.
Gates will open at 6 p.m.
Because it's a space with plenty of room, the event center, unlike most locations, will be bringing in food trucks and holding a pre-show party that will feature a local country band.
The food trucks will serve from 6:15 to about 10:30 p.m. Bar service will be available from 7 until showtime, which is likely to be about 9:15.
The cost is $100 per car, with six people allowed in each vehicle. Tickets for the drive-in concert, at all locations, are on sale at ticketmaster.com/garthbrooks.
Dickerson is excited to turn the event center into a "drive-in" and to bring the show to a venue that has lost most of its scheduled events, including the National High School Finals Rodeo, to the pandemic.
"I love that he's kicking off a new concert experience this way," Dickerson said. "It really helps us as a nonprofit fairgrounds. The power of Garth."
Photos: Garth Brooks in Lincoln in 2017
Reach the writer at 402-473-7244 or kwolgamott@journalstar.com. On Twitter @KentWolgamott  
Stay up-to-date on what's happening
Receive the latest in local entertainment news in your inbox weekly!