Shortly after 8 p.m. on Jan. 13, Eric Church stepped up to a microphone at Pinnacle Bank Arena, strapped on his guitar and kicked off his "Holdin' My Own" tour with "Mistress Named Music," the first of more than 2,000 songs he'd play on the tour over the next five months.
On May 27, Church ended the tour at Nashville's Bridgestone Arena, capping more than 200 hours of music in front of more than 900,000 fans with, appropriately, "Holdin' My Own."
Friday, the two songs will be released on a 45 rpm record, a "special gift" from Church to his fans on Record Store Day.
"It's a great idea, putting the first song he did on the A side and the last song he played on the B side," said Les Greer of Lefty's Records. "I've been getting calls about it."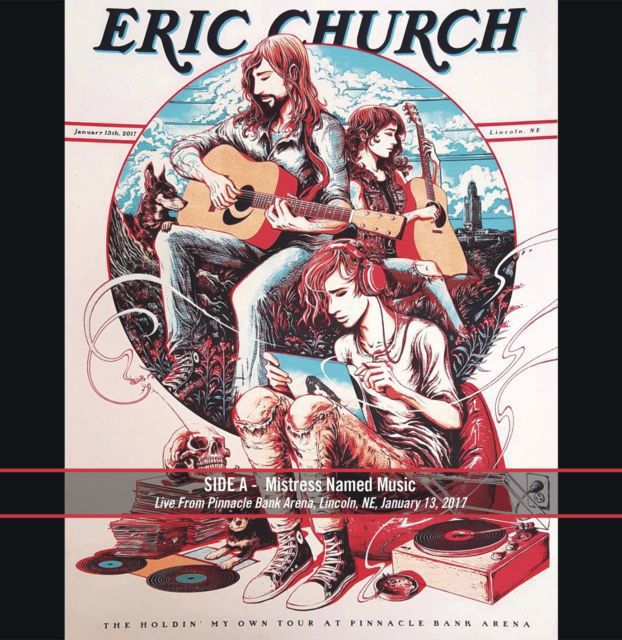 Those calls were aimed at finding out if Lefty's Records would have any of the Church singles. "Mistress Named Music" is a Record Store Day exclusive release. That means that it is pressed in a limited amount and won't be repressed and reissued later.
That limited amount is 2,500, of which only 15 have come to Lincoln.
Backtrack Records has 10 copies of the single. Lefty's has five. Lincoln Vintage Vinyl did not receive any of the records. Black Circle Records is not participating in Record Store Day, which coincides with Black Friday.
Both Backtrack and Lefty's will open at 7 a.m., the earliest time allowed by Record Store Day organizers.
While Backtrack owners said they didn't know if the Church singles would be snapped up in the first 10 or 15 minutes, as will releases from the Grateful Dead and Paul McCartney, they didn't expect them to last long.
Such a limited supply means that the 14,700 people who attended the Church concert in January have a 1 in 1,000 chance of getting the vinyl souvenir of the show in Lincoln.
The single will also be available at Homer's Music in Omaha, which reports it has "plenty" but did not provide a number. It opens at 10 a.m. Friday.
"Mistress Named Music" is one of the most in-demand of the Record Store Day releases and is being resold on the internet before it officially becomes available. The single, priced at $10, was being offered for $33 to $85 Thursday.
The local store owners advise those who want a single not to immediately go online and pay three to eight times the prices for the disc.
"I wouldn't do anything right away," Greer said. "Sometimes there are leftovers at the distributors you can still get. And there are some places, like Homer's, that might have overstocked and will have them for sale."
Backtrack Records will try to order copies of the single after Friday. Lincoln Vintage Vinyl will attempt to get some copies next week. Lefty's has at least one more copy coming in at a later date.
"Mistress Named Music," on which Church and his band were joined by a choir from Omaha North, is the first live recording from a Lincoln venue to be released nationally by a major artist since 1985.
That's when Merle Haggard brought a 36-track recording truck to town to capture his Nebraska State Fair show at the Devaney Sports Center on tape. Parts of that show were released on the album "Amber Waves of Grain."
"Mistress Named Music" is the third recording released from the January concert, but the first available as a physical product.
In August, Church released the first installment of "61 Days of Church," a playlist of live recordings taken from each of the venues he played on the tour. "Like a Wrecking Ball," a song from the first set of the three-hour concert in Lincoln opened the playlist, followed by "Two Pink Lines" from set No. 2. The playlist is available through all major streaming services.
Those songs will be available on vinyl when the limited edition "61 Days of Church" boxed set ships next month. That set, now available for pre-order, will be comprised of 122 songs on 15 albums. It sells for $445.
The Church songs aren't the first performances from Pinnacle Bank Arena to be nationally released.
In May 2016, Carrie Underwood released the video for her song "Church Bells" that was shot at the arena in March of that year. Underwood performed the song twice, back-to-back, to obtain the video.
The Church songs also might not be the last live 2017 performances from Pinnacle Bank Arena to be nationally released. During the last of his five concerts in Lincoln last month, Garth Brooks told the audience the show was being recorded for a live record.