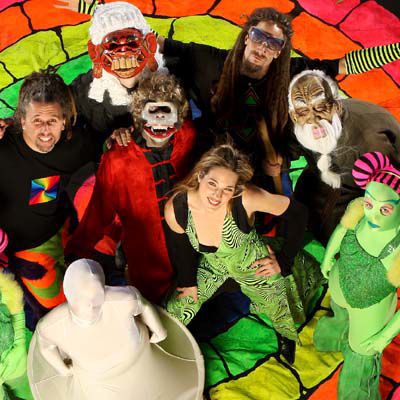 Fifteen years ago, HighLucyNation booked one of first shows at the Royal Grove, jump-starting a decade and a half of bringing electronic music artists and jam bands to Lincoln and Omaha and building the local scene.
Saturday night, Dustin Dorhman's production company will celebrate that landmark anniversary by throwing a big party at the venue where HLN got its start.
"We'd done a couple shows before that, but on Oct. 9, 2004, we did our first big show at The Royal Grove," Dohrman said. "It was a band called Diver. So it's exactly 15 years and one month to the day. It's cool to bring things back to where it began."
Dohrman put HLN together with some partners after attending a couple festivals -- a jam band affair in Minnesota and an electronic music gathering in Kansas City.
"I just didn't see any of those elements around here," Dohrman said. "We got the hair-brained idea of getting together with a couple DJ's around here — Travis Black was one of them — and doing some dance events."
Getting the word out on the shows 15 years ago was far different challenge than promoting shows today.
"It all came from that era, where you didn't have the internet telling you about everything," Dohrman said. "You basically trusted your friends or you got a flier. That kind of blissful ignorance of not knowing what you're getting took us down this rabbit hole that's now part of the local music scene."
HLN began promoting shows by local DJ's and bands, then brought in a succession of touring artists, landing its first big headliner on May 16, 2007, when Bassnectar, the electronic music producer, played at the Chatterbox, a small, now-defunct club located under the O Street viaduct.
"It was literally the last show at the Chatterbox," Dohrman said. "We had to go get a generator at the last minute to power the sound system. The existing wiring in that building wasn't capable of powering the sound system. We sold the place out and there was no liquor being sold. At that time, it was a pretty big deal. We found out that people wanted to come out for the music."
In 2007, HLN brought Ooah, one of the three members of The Glitch Mob to town and in 2008, a hot new electronic artist who called himself Pretty Lights made his first Lincoln appearance at Box Awesome, the club that followed the Chatterbox.
"I had just started touring," Derek Vincent Smith told the Journal Star in 2011. "My drummer, my manager at the time, drove me from Colorado to Lincoln in a Subaru to play that show."
Two years later, Pretty Lights played the Bourbon Theatre and, in 2010, Pershing Auditorium.
That progression in the size of venue and audience is evidence not only of Pretty Lights' rapid rise in the EDM world but of development of the local electronic music/dance scene that HLN has spearheaded since its inception.
You have free articles remaining.
In those 15 years, Dohrman has brought dozens of shows to Lincoln and Omaha and worked on many, many more.
"I'd say I've been involved with — I'd boldly guess — 500 events, if not a little more," Dohrman said. "It's not just been events I've brought in. I've worked on other events, doing lighting or arranging things or doing some promotion. It's not just about my business, I'm interested in growing the whole community.
"Sometimes that means helping the competition. But I feel like we're too small of a market to get into the territorial stuff."
A decade ago, HLN booked WookieFoot, now one of the biggest acts on the summer jam band festival circuit, for the first time.
Saturday, the freaky, flashy Oregon-based outfit that can range in number from seven to 40 will bring its theatrical show and teetering mix of reggae, rap and rock to headline the HLN party.
WookieFoot will be the final performer on the main Royal Grove stage where it will be preceded by the progressive reggae outfit Indubious.
A second stage will be headlined by EDM producer Michal Menert. But there are literally dozens more support artists that will perform Saturday, including 3fee, Buzz Junior, Dreamanfest, Hammersaw, Head Change, Jason Buckner and John Patrick.
But the HLN15 is about more than just the music. Live painters will work throughout the evening scattered throughout the club. They'll include Krystleyez, now an in-demand festival painter, who Dohrman brought to Lincoln for the first time to make her visionary artwork during the 2009 Bassnectar Bourbon Theatre show.
The Grove's top floor will feature "near-silent" disco, that will add a pair of 18-inch sub woofers to the 50 headphone units worn by the dancers. "You'll get the high end in the ears and the low end kick in the chest," Dohrman said. "
There'll be food from The Smoke Lab, Wonton Joe's and vegan offerings from Clean Slate Food Co. and vendors Nova Scopes, BLISS - Creations of Love, Opal and Vervain, Sober Tribe and Fluxo Livre.
And to punctuate the night that will begin at 6 p.m. with music starting at 7 p.m., there will be a fireworks show somewhere in the 10 p.m. range.
Tickets for Saturday's extravaganza are $20 advance, $25 day of show. Advance tickets are available at HLN15.eventbrite.com.
"We'll have a ton of artists and musicians at The Grove," Dohrman said. "For $20 admission, I don't think I've seen anything out there that covers the space we do. This isn't about making money. Sure, money is important for my business.
"But this night is about the community, bringing the people out for the music, the lights, the feeling of friendship and community we get through going to the concert. ... People are thanking me for what I've done. But I really should be thanking them for coming out and building the scene. This is a way to that — and to have some fun."