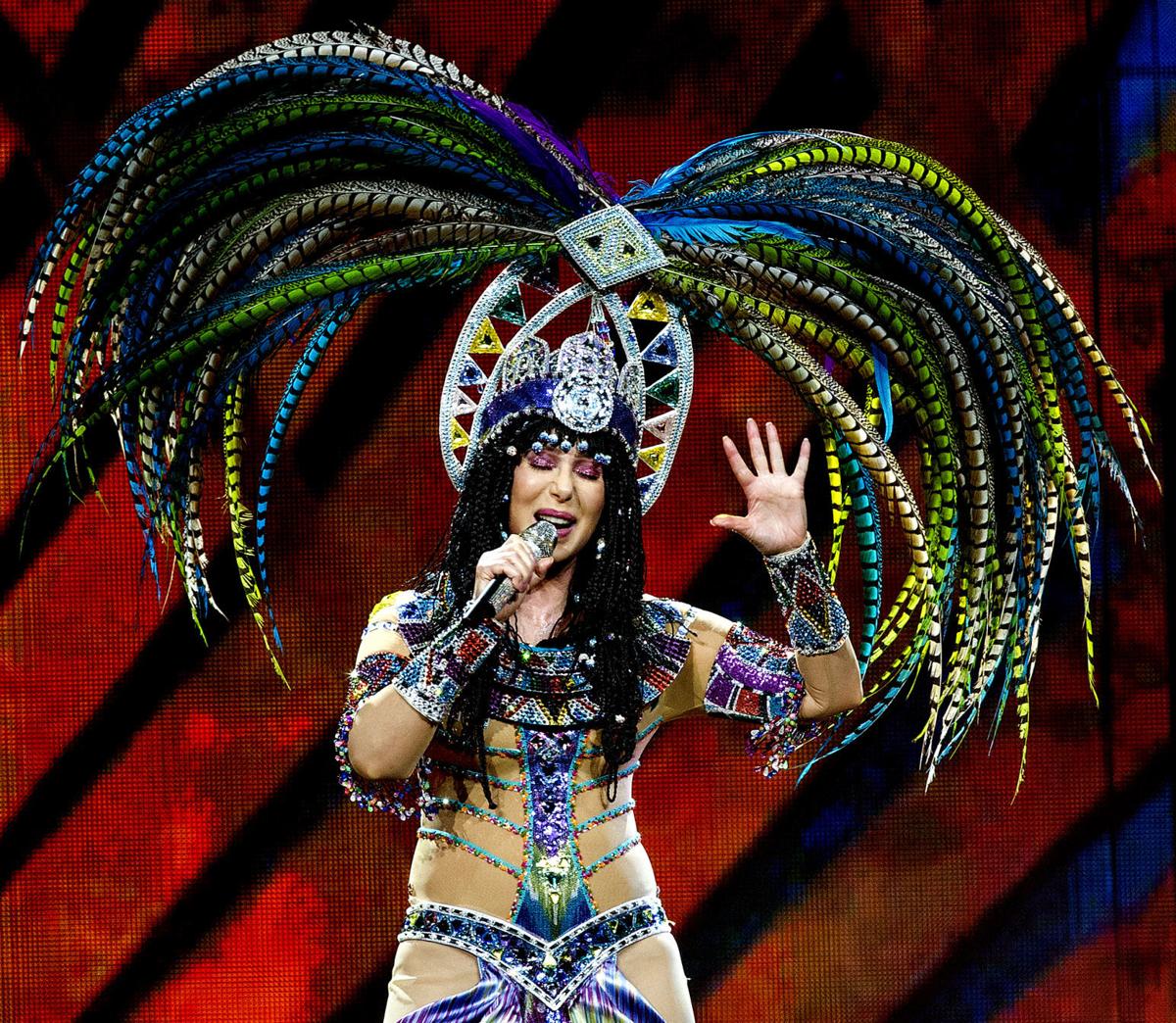 OMAHA -- Cher claims she's reluctant to reveal her age.
"I hate to tell people how old I am," she told the 13,000 that filled Omaha's CHI Health Center on Tuesday. "Everyone always claps. I don't know if it's because I'm still alive or I can still get into my costumes."
Then she proudly proclaimed she was 73 -- jumping the gun by about a week. Her birthday is Monday.
That, as she predicted, brought cheers from the audience, as did her proclamation that she's making the point and staying on the road to inspire other women -- be they young in believe-in-yourself and accomplish-your-dreams fashion, or older, telling them to "kick some ass."
Then, it was back to the show -- a Vegas-style extravaganza that has kept Cher on a never-ending "farewell" tour for close to a decade.
Clocking in at a fast-paced 90 minutes, the production featured a dozen dancers, a Cirque du Soleil-style aerial bit, a giant prop elephant that Cher rode onto the stage in "Gayatri Mantra" and a bunch of film clips drawn from her movies and her take on Elvis' "Heartbreak Hotel."
Cher was backstage changing during the film clips and Cirque bit -- she had seven costume and wig changes (her "hair" covered the range from bright red to blonde to deep black) during the main set -- and was, therefore, only on stage for about 1 hour. And 10 minutes of that included the monologue in which she talked about her age -- and turning 40 -- 'I was about to do 'Moonstruck.' Nicky (Cage) was 21 and I was 40 and I looked better."
The longest stretch in which Cher didn't leave the stage was a three-song mini-set of ABBA songs -- "Waterloo," "SOS" and "Fernando." After all, she has a new album to hype, "Dancing Queen," a collection of ABBA songs inspired by her appearance in last year's "Mamma Mia!: Here We Go Again," her first movie in nearly a decade.
You have free articles remaining.
That's another mark that she's an old-school pro's pro -- working new songs in with old favorites, staying current 54 years after her first hit.
The ABBA trilogy replaced '70s hits like "Gypsies, Tramps and Thieves" and "Half Breed" in the set, which was otherwise very similar to that performed at Pinnacle Bank Arena five years ago.
The production, however, has dramatically changed, including the costumes and dancing and the part of the show where Cher sang to and with the late Sonny Bono, who now sounds like a chipmunk as her vocal range has deepened, in the '60s smashes "The Beat Goes On" and "I Got You Babe."
Now for the big question -- to steal an old audio-tape advertising slogan -- "Is it live or is it Memorex?"
I'm happy to report that, for the most part, it's live. There were some audible tracks here and there -- and I'm sure the songs that played during the dance segments when she was offstage were recordings.
But most of the time, Cher was singing and singing well, her contralto still packed with emotive power and her command, honed by decades on stage, unmatched. That stands in sharp contrast to many of today's pop divas, 50 or so years younger than Cher, who do more lip-syncing than singing.
There was similar recorded magic coming from the band -- a saxophone solo appearing out of nowhere here, a bass guitar coming through the speakers when there was no bassist on stage, etc.
But that didn't matter to the crowd or impact the performances, some of which -- the slinky, sensuous "Welcome to Burlesque," the jumping early rock 'n' roll of "The Shoop, Shoop Song (It's In His Kiss)" and the anthemic set closer "If I Could Turn Back Time" -- were simply great from all involved, dancers, band, backing singers and especially, the star of the show.
Cher apparently enjoyed the show as much as the audience, tweeting "CONCERT WAS COOL TONIGHT" about three hours after it ended.
That's good to hear -- a consummate entertainer who still gets a kick out of what she does at age 73. And I'm guessing the same will be true at 74, 75, 76…