Breaking Benjamin and Five Finger Death Punch will bring a giant helping of hard rock to Pinnacle Bank Arena on Thanksgiving Eve.
The two bands, on a co-headlining tour, will close out the arena's 2018 concert year Wednesday with an assault that will range from melodic riff-driven rock to screamo metal.
Here's what you need to know about the show:
History
Breaking Benjamin is no stranger to Nebraska, having opened a pair of shows at Pershing Center in 2006 and 2007, then regularly playing Omaha/Council Bluffs, most recently headlining a Sokol Auditorium show in 2017, and even playing Grand Island.
But those incarnations of the band have been very different. Formed in 2001 by guitarist/singer Benjamin Burnley, the first Breaking Benjamin lineup saw its 2002 debut album, "Saturate," go gold behind the single "Polyamorous."
Albums two, three and four went platinum and generated hits like "The Diary of Jane," "Breath" and "I Will Not Bow." Then the band fractured in 2010 with, after a legal battle, Burnley retaining the Breaking Benjamin name and putting together a new lineup.
Breaking Benjamin Mach II returned in 2014 with the album "Dark Before Dawn" and recently released "Ember.
Five Finger Death Punch, a Pantera-influenced heavy metal band from Las Vegas, was formed by Hungarian guitarist and songwriter Zoltan Bathory in 2005 and released its debut in 2007. It broke through with its second album, "War is the Answer," in 2009.
Since then, the band has released five studio albums, all of which landed in the Billboard Top 5, and sold more than 12 million albums.
In the last few years, the band has been in a lawsuit with its former label over the end of its contract and its new deal with Rise Records, while frontman Ivan Moody committed himself to rehab and the band toured with a substitute singer.
Moody has returned to the band, and Five Finger Death Punch released "And Justice For None" in May. It debuted at No. 4 on the Billboard Top 200 album chart.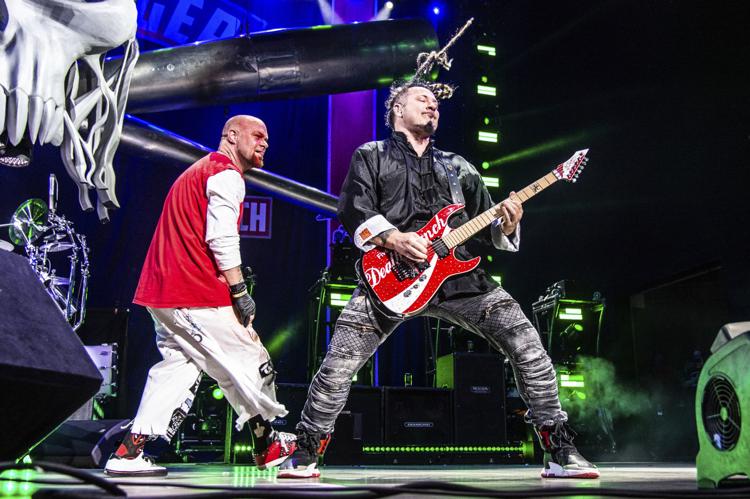 Last in Lincoln
Breaking Benjamin played Pinnacle Bank Arena in February as the primary support for Avenged Sevenfold. That concert drew about 9,400 people.
Here's what we said about them then:
"For the first two bands of the evening, Welsh metalcore specialists Bullet for My Valentine, which toured through a 35-minute set, and Breaking Benjamin, who followed them for an hour, Pinnacle Bank Arena felt like Pershing Center writ large — hard-rock bands playing to about 3,000 more people than the old city auditorium held."
Journal Star records do not show that Five Finger Death Punch has ever played Lincoln.
The Show
Breaking Benjamin and Five Finger Death Punch have been rotating their performance slots on the tour, with one band closing the show one night, the other the next night. The performance order for the Lincoln show is not yet known.
Breaking Benjamin has been playing about 15 songs in its hour-plus set, while Five Finger Death Punch has been playing about 13 in the same time period
The Openers
Bad Wolves, a Five Finger Death Punch discovery, and From Ashes to New will open the 6 p.m. show with 30-minute and 40-minute shows, respectively.
Tickets
Tickets for Wednesday's show are $25 to $89.50, and are available at the arena ticket office, ticketmaster.com and by phone at 800-745-3000.