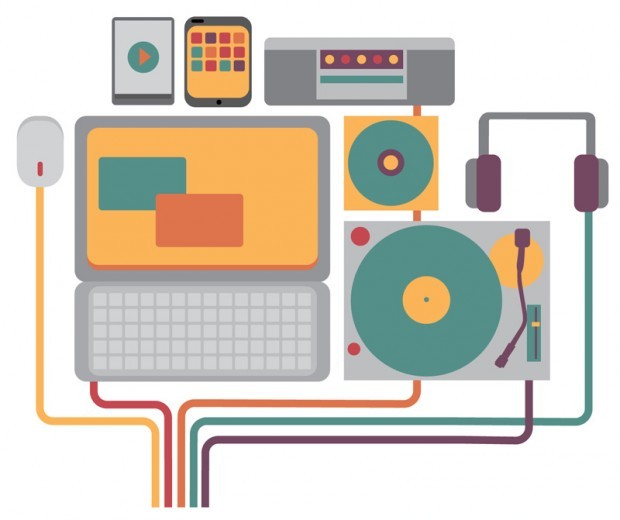 With the constant slew of technological possibilities smacking up against us daily, there's no one right way to do anything anymore. This is nowhere more pronounced than in the discovery and consumption of music.
With many of our eyeballs and ears attached to a computer screen half our waking hours (and attached to our smartphone-supercomputers the rest of the day), there are countless -- legal -- ways to live our aural lives.
Here are a few of them. This is by no means a comprehensive list -- because, again, the possibilities are nearly endless.
Listening to Music
MOG: Perhaps the best way to listen to music right now. For $5 a month, you get unlimited access to (just about) any song you can think of. Log onto MOG, launch its streaming player and chow down on the sonic buffet. There's no song cap.
Even cooler is MOG's mobile app. For $10 a month, you can pack your mobile device with as many songs as it can hold, so you can listen to the music even when you're outside a coverage area.
Napster: The infamous peer-to-peer file-sharer has caught up with the times. Napster's model is pretty similar to MOG's. For $5 a month you get unlimited access to songs on the site's player; for $10, you get mobile access. Two differences from MOG: The plan allows you to download 60 free MP3s over a year (good), but the mobile app caps the number of songs on your mobile device to 100 at a time (bad).
Rhapsody: This popular choice for streaming music has pretty much identical subscription plans and features as MOG and Napster. However, Rhapsody only allows subscribers to load music onto one mobile device unless they buy the monthly $15 high-end plan.
Grooveshark: This free streaming service is pretty great but doesn't offer quite the level of selection as the aforementioned sites. On Grooveshark, users can stream and upload their own songs to the site. VIP membership, which gets you access to its mobile app, is $3 a month or $30 a year.
Discovering New Music
iTunes Genius: Apple's algorithmic feature in iTunes is one of the most-used ways of getting new recommendations.
Pandora and Last.fm: Two other popular options. Both free services ask you what music you like and then make radio stations based on your tastes. I've found droves of new music I love through Last.fm's "similar to this artist" feature.
Hype Machine: This site aggregates all the songs uploaded to music blogs around the web. So instead of checking out hundreds of sites to see what's new and hip, go to this one-stop shop.
TasteKid: Love this quirky little site. Type artists you like into the search bar, and it not only recommends other music, but also movies, TV shows and books. For instance, I typed in Bright Eyes and was told I would like Cursive and M. Ward as well as the movies "Rushmore" and "Brick" and the books "On the Road" and "Fight Club." Which is accurate.
We Are Hunted: This site offers a web-driven playlist of the 99 "most-emerging" songs every day. It draws from what people are saying about music on blogs, social networks and forums and compiles a mix of the hottest tracks. It's Billboard for hipsters.
Shuffler: Pick a genre you like and Shuffler shoots you around the Web randomly from music blog to music blog, where songs stream automatically. It will take you down some interesting paths.
TheSixtyOne: This austere streaming site is as refreshingly no-BS as it gets. Upon arriving, you'll be greeted with a random song and photo of the artist playing. As the song streams, different photos, facts and MP3 offers of the artist pop up on the screen. Don't like the track? Skip to the next. The music is generally uploaded by independent musicians.
Listening to Music Before It's Released
Several sites stream a new crop of upcoming albums weekly. Here are a few good ways to try before you buy.
On their MySpace.com pages, bands will often upload their albums sometimes weeks in advance.
NPR First Listen also streams upcoming albums weeks in advance, usually adding several entries a week. Go to www.npr.org/music and click on "First Listen" under the "Features" tab.