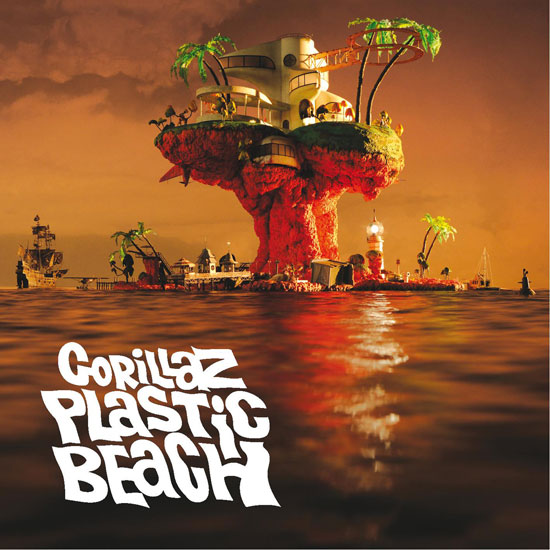 Gorillaz, "Plastic Beach": There's no instant hit like "Clint Eastwood" on "Plastic Beach," the third album from the cartoon quartet Gorillaz. But it's nonetheless the most captivating and satisfying record yet from the pop culture amalgam constructed by former Blur leader Damon Albarn and cartoonist Jamie Hewlett.
The electro/hip-hop/soul/pop bubbles and simmers in some of the tightest, most melodic songs the Gorillaz have produced. The record's world-falling-apart concept, about a place built from the junk of civilization that has floated to the South Pacific, actually works - if you care to pay attention to such things.
Among the collaborators this time are soul legend Bobby Womack, who goes up against Mos Def's rhyming on the '70s-rooted "Stylo," Snoop Dogg rapping on the title cut, and, most impressively, Lou Reed's unmistakable "singing," combining a chorus of harmonies over a hip-hop beat on "Some Kind of Nature."
There are songs that sound like they come from the synthesized '80s ("On Melancholy Hill"), chilled-out electronica and sweet pop ballads, all smartly produced. Be sure to check out the Gorillaz Web site to get the group's full impact. But you don't have to see the cartoons to dig "Plastic Beach." Grade: A
Jimi Hendrix, "Valleys of Neptune": Given the tons of music available from him, it's mind-boggling to remember that Jimi Hendrix released only three studio albums during his short lifetime. Forty years after it was recorded, "Valleys of Neptune" is No. 4.
Made up of a dozen previously unreleased tracks cut in 1969 and early 1970, "Valleys of Neptune" contains Hendrix's final work with the original Jimi Hendrix Experience. It also has his first efforts with bassist Billy Cox, in which he aimed for a new, more expansive sound.
The record revisits some signature songs, such as "Stone Free," "Fire" and "Red House," all in new versions. It finds Hendrix exploring the blues on Elmore James' "Bleeding Heart" and its propulsive followup "Hear My Train A Comin'" and distinctively covering "Sunshine of Your Love."
By now, there's nothing all that "new" to be discovered about Hendrix. But his guitar playing remains as fluid, flashy and innovative as ever, and the disc reveals a band and an artist in the throes of change.
This one isn't the place to start with Jimi - for that go with the reissues of the first three albums (the newly remastered re-release of "Axis Bold As Love" sounds fabulous). But if you're a Hendrix aficionado, "Valleys of Neptune" is a must have. Grade: A