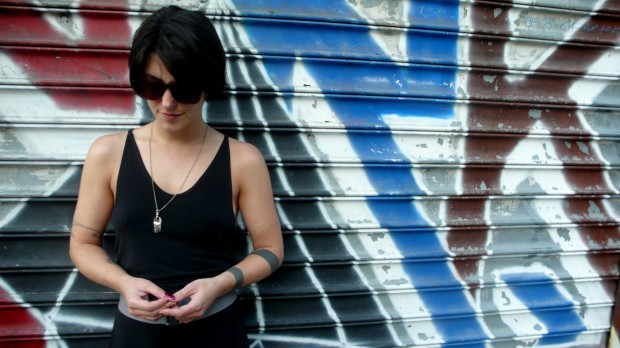 Singer/songwriter Sharon Van Etten was on tour when someone showed her a video of The National and Bon Iver covering her song "Love More" at a concert. 
She promptly "freaked out," she said. You can't ask for much more validation than two of the biggest acts in modern music singing your song.
In the giant pool of female singer-songwriters, Van Etten offers raw, ragged emotion with a robust sound centering on a haunting voice that Van Etten was once reluctant to share. She'll perform Monday in Omaha.
Van Etten's career in the music industry precedes her role as a performer. A New Jersey native, Van Etten studied music production in Murfreesboro, Tenn., dropped out after a year, ran a small concert venue, moved back to New Jersey, saved some money, moved to Brooklyn and started working as a publicist for the label Ba Da Bing.
She was writing music and performing by this point, but she didn't tell Ba Da Bing.
"I didn't want them to think I was angling for anything," she said. "I just wanted to learn how the industry worked."
When her boss finally saw her play a show, "He yelled at me: 'Why didn't you tell me? This is what I do.'"
So Van Etten headed into the studio with Ba Da Bing, the result of which was her 2010 sophomore album, "Epic," a full-band-backed and bigger-sounding record than her voice-and-an-acoustic-guitar debut. "Epic" scored raves and a lot of new fans for Van Etten, including, of course, The National and Bon Iver.
After she saw the video of the bands covering her song, Van Etten's friends egged her on to get in touch with The National and ask if they'd want to collaborate on some songs. 
The National responded. And eventually Van Etten started making music with them.
Van Etten spent February opening for The National on its European tour. She sings backup on The National's new single, "Think You Can Wait," from the "Win Win" soundtrack. And, as soon as her tour winds down, Van Etten and National founding member Aaron Dessner are heading into the studio to make her third album. 
"I've been really lucky," she said. "I don't know what I did to deserve all this stuff. I'm not going to question it."