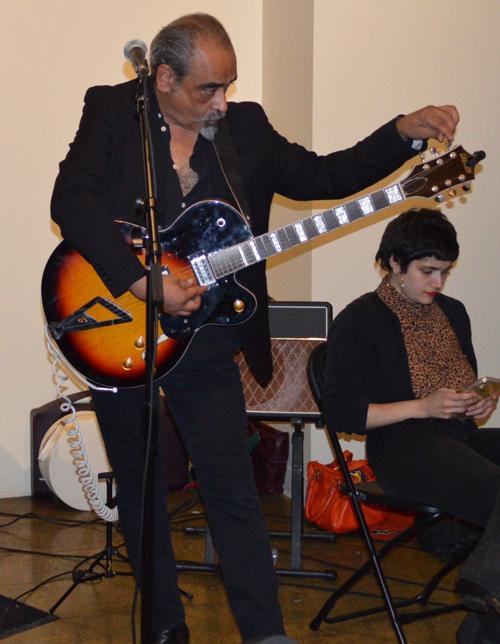 Over decades of attending South By Southwest, Lincoln Calling and Lincoln Exposed -- all of them multi-venue fests that offer dozens to hundreds of bands a night -- I've learned to make a plan before heading out for the night.
Unlike SXSW, where the venues can be miles apart and many of them filled early, Lincoln Exposed has its four venues within a block of each other, and it's usually possible to get into every show -- some of them, however, are packed.
So here's my plan for Friday -- it's also a set of recommendations. And, as always, it will change before the night's over.
If I get an early start, it'll be at Jack Hotel, Zoo Bar, 6 p.m. Part of the KZUM's Birthday Party showcase, Jack Hotel brings some fine folk and Americana, excellent songs delivered on guitar, fiddle, dobro and bass.
If I'm not out by 6, I'll start the night -- this one's for sure -- at Slow, Pioneers, 1867 Bar, 7:40 p.m. I've not seen them yet, but the word is that Slow, Pioneers deliver some well-crafted psychedelic Americana -- which sounds very good to me.
Laughing Falcon, 9 p.m. Bodega's Alley. I was at Fuse Recording when Laughing Falcon was working on songs for a new EP or album. Now, I want to hear the Tom Petty tribute and other new songs at full volume from the heavy rockers.
Gerardo Meza and the Dead of Night, 10 p.m. Bodega's Alley. My 2019 Lincoln Exposed discovery put out one of the best local recordings in a good while with their self-titled debut last year. Their sound is tough to put in a category, mixing '60s pop, desert music and a little country. But it sure is good.
Thirst Things First, 10:40 p.m., Duffy's Tavern. It's showtime from the always entertaining punk pop who late last year released a fine cover of The Cars' "I'm Not The One" in honor of the late Ric Ocasek. We'll see what Lord Boot, J.O.R.D. and the rest of the oil-swilling outfit have up their sleeves Friday.
FREAKABOUT, midnight, Bodega's Alley. It's been awhile since I've seen FREAKABOUT -- and I'm pretty sure it was a short set, maybe opening for someone. Anyway, it's always great to catch powerhouse vocalist Cortney Kirby and the seriously rockin' band.
My Saturday's not as locked in -- the last night of the four-night fest has a tendency to go sideways.
But I'm aiming at catching Floating Opera and its chamber pop at 6:40 p.m. at 1867, the garage rock of Death Cow at 8 p.m. at Bodega's Alley, the garage punk of Histrionic at 10 p.m. and the joyous Emily Bass and the Near Miracle at 11:40 p.m. at Duffy's -- and who knows what else.
Reach the writer at 402-473-7244 or kwolgamott@journalstar.com. On Twitter @KentWolgamott  
Stay up-to-date on what's happening
Receive the latest in local entertainment news in your inbox weekly!