Mary Kerrigan was giddy with excitement about filming parts of "Nomadland" in Nebraska, her home state.
Clowning around with a few Oscars after Sunday night's awards ceremony was darn amazing, too.
"I am a little worried that this is the peak, and it is all downhill from here,'' she joked in a phone interview from Los Angeles.
Kerrigan is one of two Westside High School graduates who played a role in the making of the independent film that won Oscars for best picture, best director in Chloé Zhao and best actress in Frances McDormand.
Kerrigan, 27, was the first assistant director and unit production manager. Maddie Pflug, 26, was a set dresser. They were part of a crew of 25 — instead of the usual 200 or so for a Hollywood movie.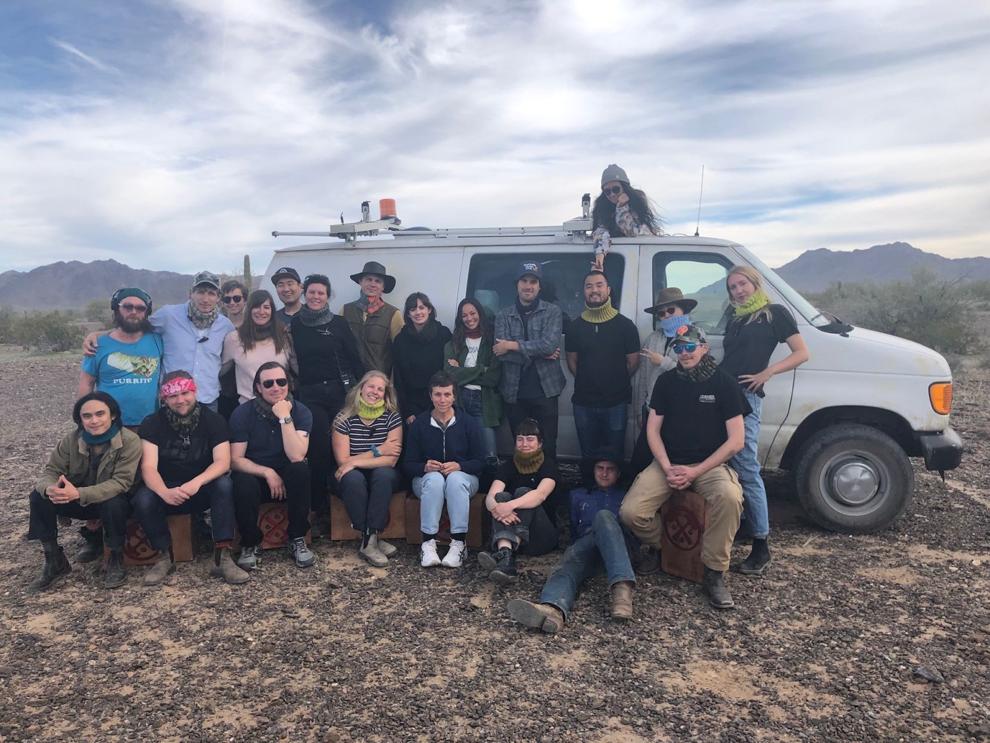 "My job was unique on this project because of the nature of the story," Pflug said. "My job was focused on supplementing the already existing environment with the necessary dressing to not only look good on camera, but to help tell Fern's story in the most realistic way."
Scheduling and safety are Kerrigan's first priorities, followed by a million other things that could pop up during a day's work.
The director is in charge of the creative elements of the film, and the assistant directs the logistical elements.
"It is a very complex job," she said. "You're trying to keep the logistics and more technical things off the director's plate. You handle all the problems no one else wants to solve and try your best to keep the team's morale high."
Kerrigan loves it. "Nomadland" was her seventh feature film, and she was headed to Mississippi on Monday night to work on another project with actor Morgan Freeman.
Pflug has worked on all kinds of projects, from TV shows to commercials to movies.
After graduating from Westside, both women attended school in New York. Kerrigan went to New York University, and Pflug studied at the School of Visual Arts in Manhattan. They stayed close.
Having a good friend on the shoot made the hectic moments of production more fun.
"We're super lucky to do 'Nomadland' together," Kerrigan said. "It's always a way better experience when you get to do it with friends."
Pflug is now in New York working on a show for HBO created by Julian Fellowes of "Downton Abbey" fame. "The Gilded Age" is set in New York in the 1880s.
Like McDormand's character in the movie, Kerrigan said she's a nomad, traveling the country as she works on different films. She has a storage locker in L.A. and travels often between there and New York.
She considers Omaha her home base when she has down time. Pflug said that before the coronavirus pandemic, she tried to visit every season.
It was a dream come true for both of them to be part of an Oscar-winning movie, although neither were there for the awards ceremony. Pflug didn't even catch it on TV.
"I don't have cable. I wasn't able to watch. I found out from congratulations texts," Pflug said. "It's so exciting. I'm so happy for everyone who worked on this project. It's such an exciting thing to be a part of and to get the recognition that it deserves."
Although she was in Los Angeles, Kerrigan didn't attend the ceremony because of COVID-19 restrictions. Producers Dan Janvey and Mollye Asher brought their Oscars to a party afterward.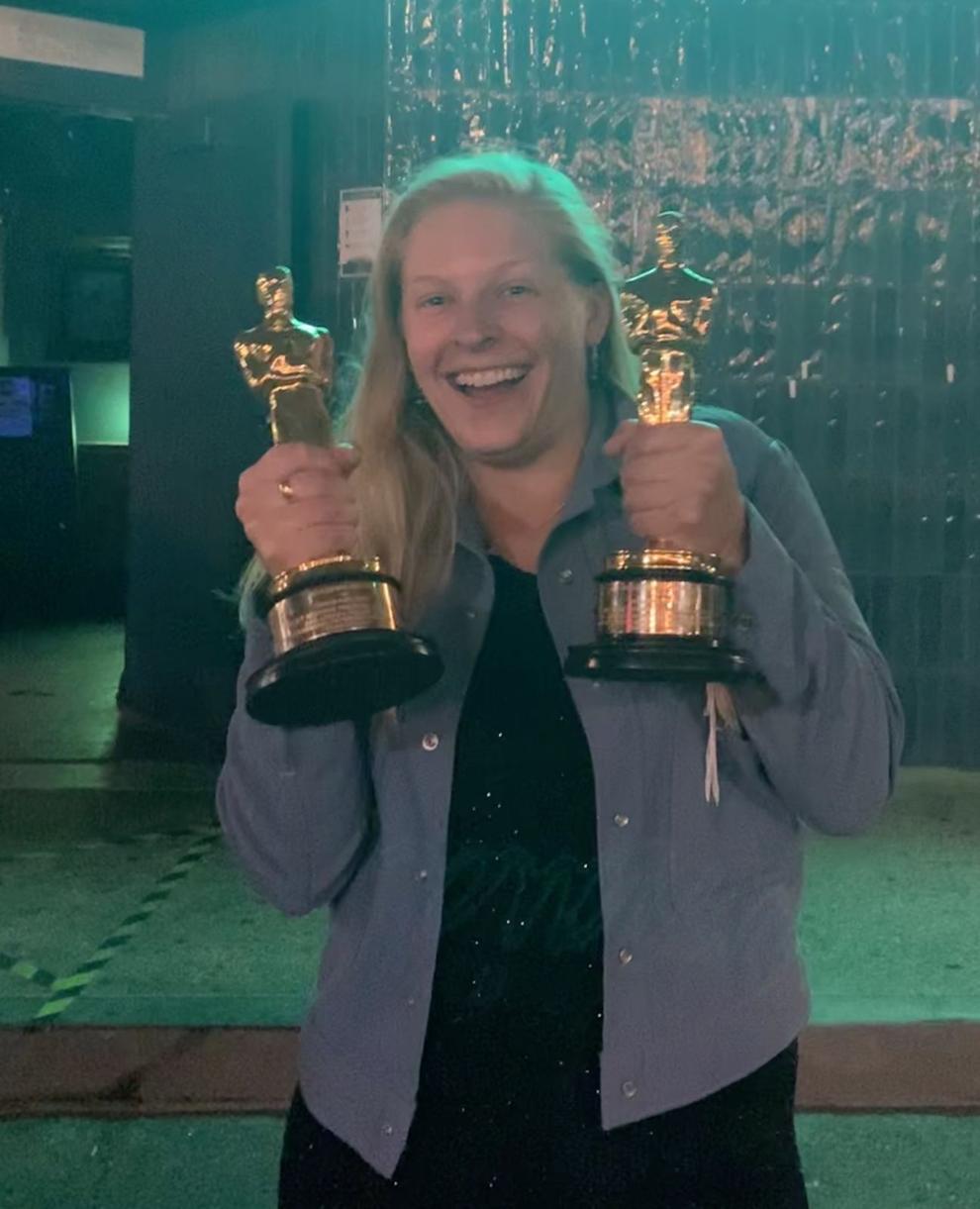 "They wanted everyone to get a chance to feel the glory of holding one," Kerrigan said. "It has so much meaning to all of us. It's like the end-all-be-all of awards. It was so funny to have everyone go crazy over this material thing. I was so excited by it. I obviously took a ton of pictures."
The night was bittersweet, too, she said, because the Oscars are the end of the awards season and the close of a chapter.
She was filled with pride as the producers walked to the stage to pick up their Oscars. The movie was considered the frontrunner, but Kerrigan said she wouldn't let herself believe it until it became a reality.
"I pictured everyone back in the desert with dirty clothes, dust on our faces, in the thick of a very challenging production. Carrying equipment and hiding from the camera. And then fast forward to them in tuxedos on the stage, smiling. They just won an Oscar. Everyone aspires to that."
The award is likely to have a positive effect on both of their careers. Kerrigan has signed with an agent and expects to be considered for more jobs after the success of "Nomadland." If she can steer a project toward Nebraska, all the better.
"I'm really happy this movie happens to be an Oscar award-winning film that got shot in Nebraska. Nebraska is the best place ever. I was trying to hype up the whole state to everyone," Kerrigan said. "The film at its core is the essence of the Midwest and Nebraska and the values that Nebraskans are brought up with. I'm so proud we shot in Nebraska."