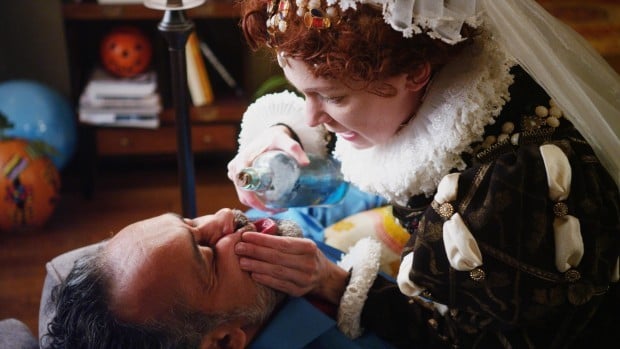 "Vino Veritas" takes its title from the Latin proverb that is literally translated "in wine, the truth," turning that notion into a dramatic unveiling of the "truth" between two couples under the influence of a Peruvian wine.
That bright blue concoction is a souvenir of a trip by the very down-to-earth Phil (Brian Hutchinson) and free-spirited Lauren (Heather Raffo) in an attempt to re-energize their tired, 15-year marriage.
It comes out on Halloween night when their next-door neighbors, physician Ridley (Bernard White) and his stay-at-home wife, Claire (Carrie Preston), come over for a drink before an annual party at which Claire is determined to win the costume contest again.
So she's dressed as Queen Elizabeth. Ridley's in a doctor's smock with stethoscope, claiming he's on call while Phil dresses up as a cowboy, and Lauren a saloon girl.
The snobbish Ridley passes on the blue wine. The other three have a drink. As they take pictures in Phil and Lauren's photography studio, the truth talk starts, initially innocently — "what's the best movie you've ever seen"" — then moves into ever more personal and painful territory.
That's all there is to Sarah Knight's film. But that's plenty, because the Lincoln native gets solid performances from her cast and a great turn from Emmy nominee Preston who balances humor and angst as she reveals more and more about Claire.
"Vino Veritas" was adapted for the screen by David MacGregor from his play — leading to the movie's single building confinement — it takes place inside and on the porch of Phil and Lauren's home — and the four-person cast.
But beyond a few scenes of unrealistic dialogue — there are some bantering conversations that just wouldn't happen in real life — "Vino Veritas" never feels "stagey." That's a measure of the quality of MacGregor's adaptation, Knight's direction, John Beymer's cinematography and the acting.
Even though it was shot in the Dale Photography studio in the Near South, there's nothing particularly tied to Lincoln in the film beyond an early nod to Glacial Till wines and a joke that Nebraska will become the new Napa Valley.
That makes "Vino Veritas" a more universal picture, which should be good for the prospects for this solid, effective independent film.
Stay up-to-date on what's happening
Receive the latest in local entertainment news in your inbox weekly!