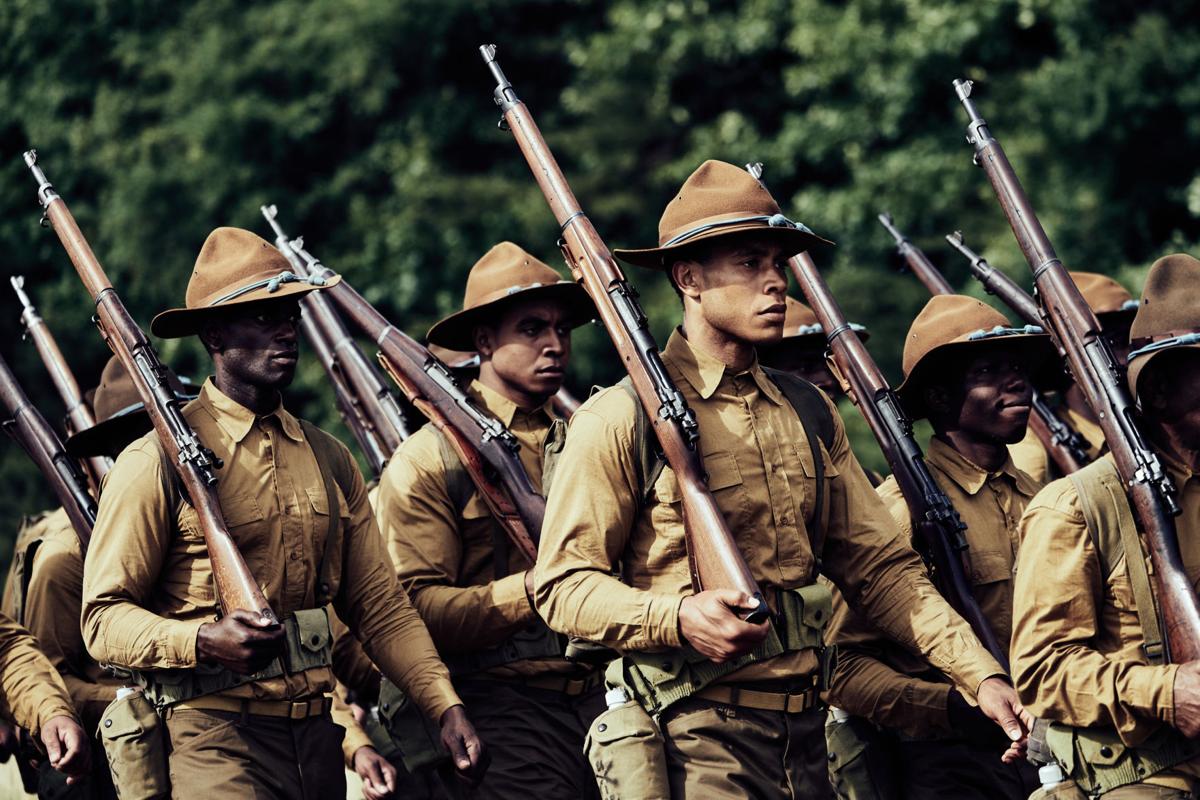 In 1917, the U.S. Army's all-Black 24th regiment was denied the chance to go to fight the Germans in France in World War I and was assigned to guard the construction of a fort outside Houston.
Encountering Jim Crow laws, racist residents and police injustice of the highest order, the members of the 24th became embroiled in a series of conflicts that led to the "Houston riot" that left more than 20 people dead and the largest murder trial in American history.
That is the basic story of "The 24th," a powerful historical drama that, sadly, still resonates today.
"The 24th" comes from writer/director Kevin Willmott, who co-wrote "BlacKKKlansman" and "Da 5 Bloods" with Spike Lee. As a director, he has delivered the satiric "C.S.A.: Confederate States of America" and "Jayhawkers," a powerful accounting of basketball star Wilt Chamberlain's time in Lawrence, Kansas.
With "The 24th," Willmott even more directly takes on racial hatred, segregation and unrest while vividly capturing early 20th-century Houston through well-framed cinematography, period costumes, sets and vehicles and the speech and mannerisms of the characters.
At the center of the story is William Boston, a light-skinned, Sorbonne-educated private who has returned from France to serve his country and, in doing so, his race. He's played with passion and dignity by Trai Byers of TV's "Empire," who co-wrote the script.
Challenged by tough guy Walker (Mo McRae), who thinks Boston is "mulatto" and by bitter 1st Sgt. Hayes (Mykelti Williamson), Boston is eventually admired by his comrades and Col. William Norton (Thomas Haden Church), the regiment's white commander, who offers him the chance to become an officer.
Boston turns him down on principle, is made a corporal and put in charge of the regiment's MP unit, setting him directly in the middle of the conflict with the white community.
"The 24th" is, without question, historical fiction.
Boston is loosely based on William Baltimore, and the film sticks closely to the events of the Houston riot. But it is wrapped inside some standard film tropes, including a romance between Boston and the piano-playing preacher's daughter, Marie (Aja Naomi King).
Similarly, the racist antagonists are straight out of central casting — especially Sheriff Jimmy Cross (Cuyle Carvin), whose actions trigger the riot, and Capt. Abner Lockhart (Jim Klock), the second-in-command to and polar opposite of Norton.
Conventionality, however, is Willmott's secret weapon. When the story line flips, it's dramatic.
In the end, "The 24th" packs an unexpected, devastating punch that tells a poignant tale as the camera scans a row of coffins in the final scene.
Reach the writer at 402-473-7244 or kwolgamott@journalstar.com. On Twitter @KentWolgamott  
Stay up-to-date on what's happening
Receive the latest in local entertainment news in your inbox weekly!