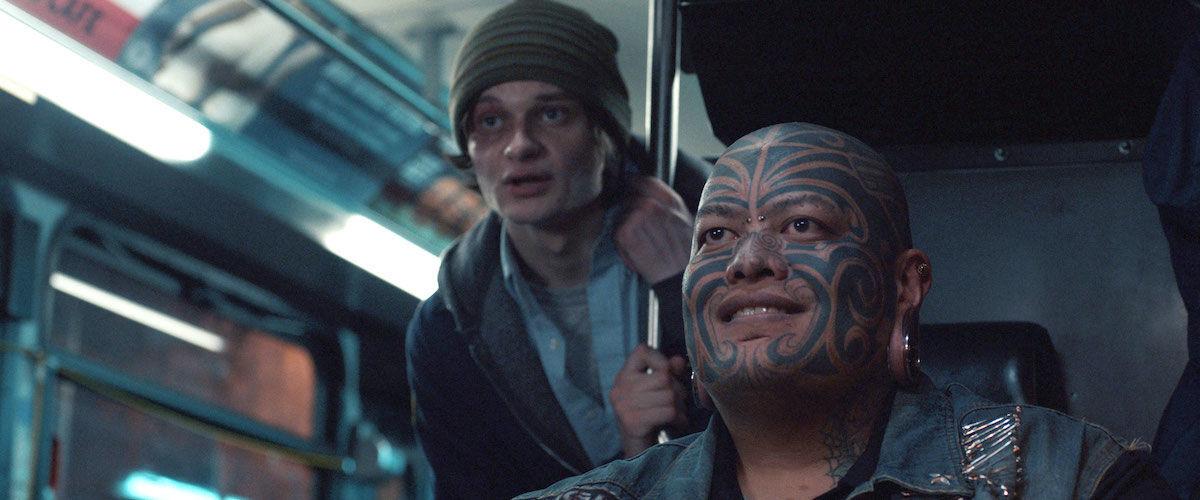 The "Drunk Bus" is commonplace around college campuses, a shuttle that takes a loop past residence halls, fraternities and sororities through the town's bar district and back. By the end of each weekend night, the buses are filled with inebriated collegians getting a safe ride home -- hence the name.
Directors John Carlucci and Brandon LaGanke and their co-writer Chris Molinaro use the "Drunk Bus" at a fictional school in Kent, Ohio as the setting for their based-on-true-events comedy about a lonely bus driver who's rescued from the repeating loop of his life by giant Samoan punk rocker.
The driver is Michael (Charlie Tahan), a recent graduate who, heartbroken after his longtime girlfriend broke up with him and moved to New York, has kept his job driving the drunk bus -- repeating the same routine each night.
That starts with a fraternity bombarding the bus with rotten fruit, extends to convincing "FU" Bob (Martin Pfefferkorn) to drive his wheelchair onto the bus to save him from freezing in the snow, then dealing with the drunks, who harass Bob and, often anoint the bus with vomit -- and worse.
One night, however, Michael tries to shut down the badgering of Bob and a passenger punches him in the face. That prompts the bus company to hire a bodyguard -- and bus security.
Enter Pineapple (Pineapple Tongaroa), the leather-jacket-clad Samaon giant with Maoir tattoos over his face, a pierced septum that can hold a pen and a hold beneath his lower lip where he sticks out his tongue.
Pineapple does that demonstration for Kat (Kara Hayward), a bus regular and one of Michael's few friends, and her gay companion Justin (Tonatiuh).
The rest of the film follows Pineapple as he gets the withdrawn Michael to break some rules and really live college life, introducing him to his pot dealer Devo Ted (Dave Hill), sending him to parties and into battle with the schmuck Todd (Jay Devore).
That sounds like standard coming-of-age college comedy fare. But "Drunk Bus" is too clever to be cliched, jumping in an unexpected direction each time a predictable situation occurs.
In large part, that's because Pineapple, fully embodied by Tongaroa, is such a unique character -- wise, funny and physically imposing -- who perfectly triggers Michael to do both the right and wrong things.
The supporting characters are well drawn and funny, including a goth girl with night terrors and Michael's boss, a disembodied voice on the radio.
Most of the film takes place on the bus, which could have been claustrophobic. But the filmmakers make the bus come alive. It's almost another character in the surprisingly effective, smartly crafted comedy that, with some major promotion, could have been a sleeper summer hit.
Reach the writer at 402-473-7244 or kwolgamott@journalstar.com. On Twitter @KentWolgamott