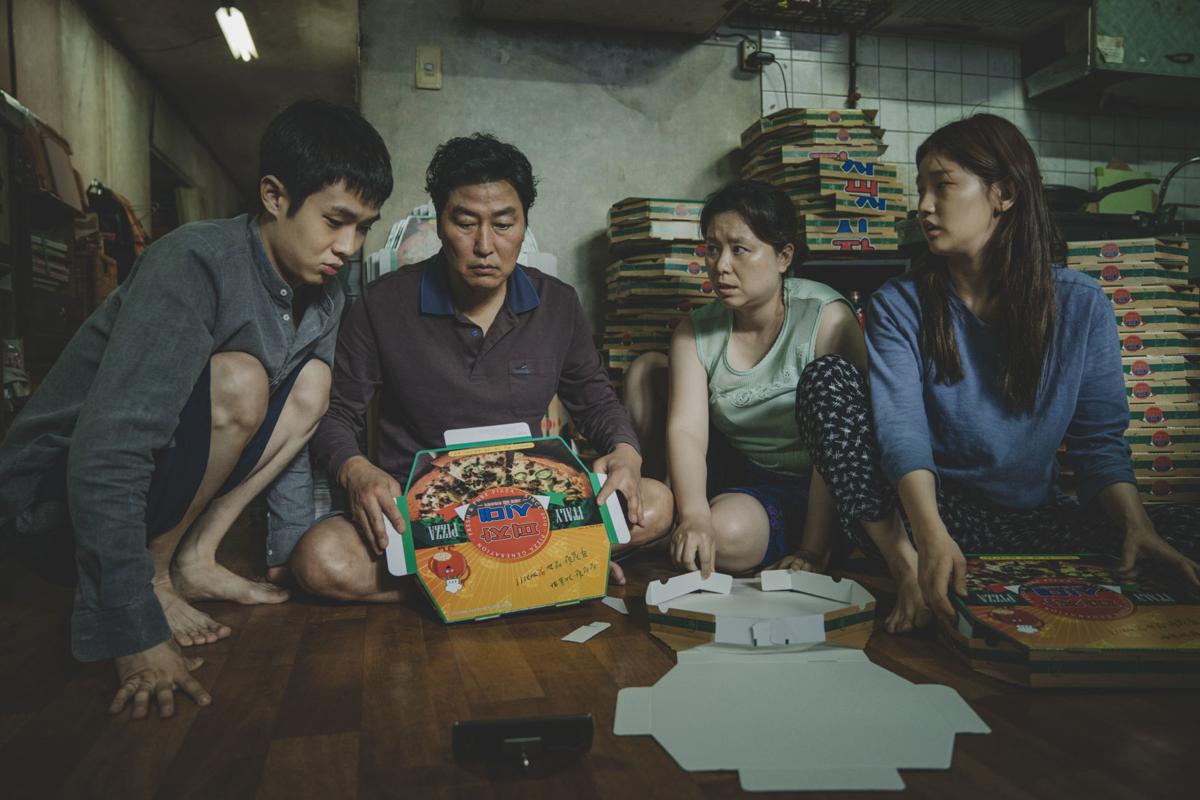 Bong Joon Ho's audacious new picture, "Parasite" begins as a satiric class-conflict fable, morphs into a pointed grifter tale, then explodes into world-gone-crazy darkness that will leave you stunned, shaken and amazed by a masterwork from a master filmmaker.
Bong, who has connected with American audiences with his monster movie "The Host" and his 2013 English-language debut, the sci-fi action picture "Snowpiercer" is back in his native Seoul here, first finding the cameras in a sub-basement.
That's where an unemployed family is searching to find a replacement for the free Wi-Fi they were stealing from a neighbor.
They succeed, a small victory for Kim Ki-Taek (Song Kang Ho), his wife Chunk Sook (Jang Hye Jin) and their grown children, son Ki-Woo (Choi Woo Shik) and daughter Ki-Jeong (Park So Dam).
Scuffling for money, the family takes on -- and fails at -- folding boxes for a local pizzeria. But they catch a break when a friend of Ki-Woo's turns up with a scholar's rock -- which, by legend, brings prosperity, and an offer of a job.
He wants Ki-Woo to take over teaching English to the daughter of a wealthy couple while the friend is studying overseas. Ki-Woo agrees. Ki-Jeong, who's an artist, forges a university diploma, and he's off for a job interview with the Park family.
Specifically, he talks with the naive Yeon-Kyo (Cho Yeo Jeong), the ultra-privileged wife of Mr. Park (Lee Sun Kyun), a tech entrepreneur who has ensconced his family in a lavish, famous architect-designed, garden-surrounded home -- the ultimate contrast with the Kims dank underground dwelling.
After a first lesson for the teenage Da-Hye (Jung-Hye), who immediately falls for the new tutor, Yeon-Kye offers Ki-Woo the job.
You have free articles remaining.
When she mentions the need for an art tutor for her hyperactive son Da Song (Juny Hyeon Jun), a light goes off inside Ki-Woo's head (you can almost see it on screen). He's knows just the person for it: the sister of a friend who studied art in Illinois.
He, of course, knows no such person. He's bringing in Ki-Jeong for the job -- and the grift is on.
That's all the plot you're going to get here. "Parasite" will work best going in cold. This, in fact, may be a shade too much information to set up the film. But there are no real spoilers here.
Suffice it to say the first half of the picture is filled with satiric barbs and biting contrasts between the poor Kims and their 1% employers, as Bong revisits the clash of classes that has been at the heart of many of his films.
In its second half, greed and desperation, privilege and deception, arrogance and resentment come together in striking fashion, going out of control and beyond the pale -- society, by extension, tearing itself apart.
There are, smartly, no obvious good guys and bad guys in "Parasite." The Kims are grifters, ripping off the Parks. The Parks are exploiters, taking advantage of those whom they clearly see as their lessors.
And it is there, that "Parasite" becomes a film for our time, be it in South Korea or the U.S.
All the usual superlatives -- universally well acted, superb cinematography and smartly written, ever more grippingly paced and masterfully edited -- apply to the film as well.
"Parasite" took the Palme d' Or, the top prize at the Cannes Film Festival, this spring. Don't be surprised if, next year, Bong takes home the Academy Award for Best Picture -- for it, indeed, is the best movie I've seen this year.
Reach the writer at 402-473-7244 or kwolgamott@journalstar.com. On Twitter @KentWolgamott