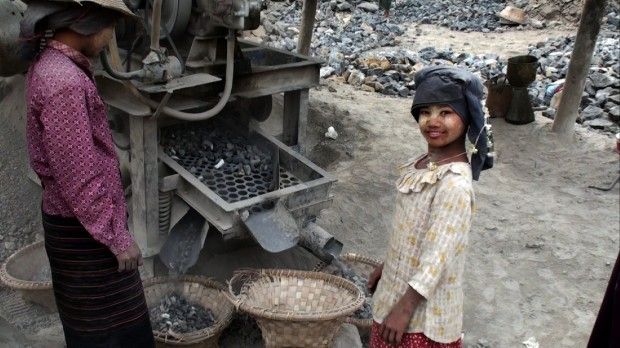 "They Call It Myanmar" is an extraordinary documentary that does exactly what its subtitle states -- "Lifting the Curtain" to provide a glimpse inside the Southeast Asian nation formerly known as Burma that has been cut off from the outside world for five decades.
Best-selling novelist, science teacher and filmmaker Robert Lieberman, who was in the country to teach young filmmakers and work with a nongovernmental organization, shot the film clandestinely over two years, secreting his shooting from a repressive military government, who he is told would take his film and subject him to questioning and, perhaps, worse.
Because of the possibility of reprisal from the government to the documentary's experts, observers and ordinary interviewees, the only speaker identified in the film is Aung San Suu Kyi, the Nobel Peace Prize winner, who only recently was released from nearly two decades of house arrest.
"They Call It Myanmar" details her efforts at bringing democracy to the country, putting it in historical as well as personal context. But that doesn't take place until the end of the captivating film that shows a beautiful country, its culture and religion while pulling no punches about the poverty, inadequate medical care and political repression there.
What the film reveals is a country of deep contrasts: Megarich living in mansions across from shanty towns filled with the poor who make less than $1 a day; a deeply religious people who believe in Buddhism's message of peace, who are ruled by a cadre of uneducated generals that will use any means necessary, including shooting demonstrators to maintain control;and a place largely untouched by Western corporations and products that yearns for modernization and, perhaps, the freedom that exposure could bring.
It also is a beautiful place, with stunning Buddhist pagodas and temples, a 1,000-year-old ruined city and resorts that draw Western tourists who most often do not encounter the poverty and repression that is daily life for most who live there.
There's a deep sadness throughout the film. It's heart-rending to watch a little girl being treated for tuberculous ulcers at a free clinic because her family cannot afford medical care and almost as hard to see little kids working in quarries, restaurants and selling stuff on the streets rather than going to school, which, again, is unaffordable for the majority of the population.
But there also is a sweetness and resilience among the people, who paint their faces with a mud mixture to fight off the tropical heat, joyously celebrate their faith and seem happy under nearly every circumstance.
That, perhaps, is the legacy of a nation that has been ruled by despotic kings, been an English colony, was invaded by Japan and, since 1962, has been ruled by the military.
When Aung San Suu Kyi was overwhelmingly elected president in 1988 -- a sign that the people had their fill of the repression -- the military cracked down, put her under house arrest and closed up the country, even refusing aid after a devastating typhoon.
Myanmar, according to the film's narration, is the second most secretive country in the world, behind, I'm guessing, North Korea. "They Call It Myanmar" is an important, must-see film, sheds some light on the country and offers a little bit of hope that things could get better there.