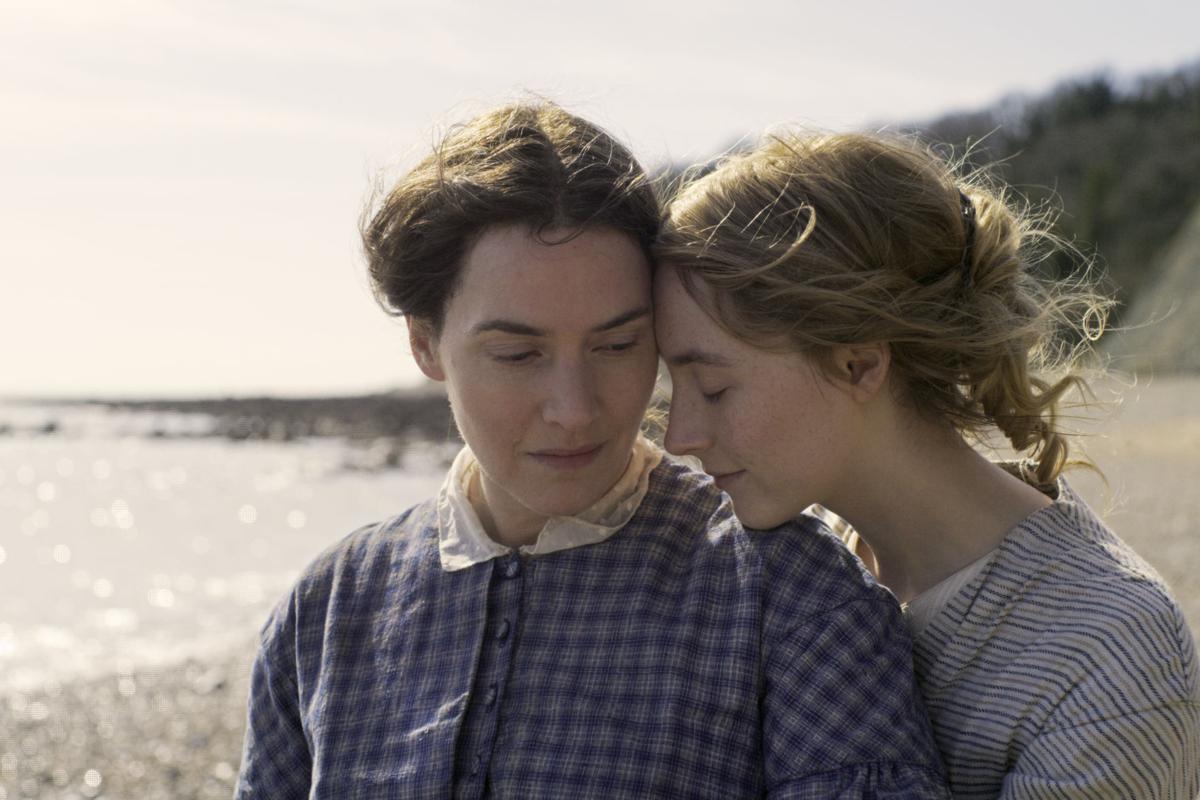 "Ammonite" opens with the deposit of a fossil in the British Museum — and the changing of the name of the fossil hunter who found it to that of the man who purchased and donated it.
Two hours later, the film ends with the fossil finder, a woman named Mary Anning, looking at her find in a glass-enclosed cabinet, trying to deal with the changes in her life that have transpired over the previous few months.
That's the frame of director Francis Lee's exquisite 19th-century period piece, a film that slowly, often silently looks at Anning and her relationship with Charlotte Murchison, the wife of a rich man who travels from London to the seaside village of Lime.
Anning (Kate Winslet) lives there with her mother Molly (Gemma Jones), who runs a fossil and seashell shop that caters to tourists while Mary wanders the rock-strewn beach and climbs the seaside cliffs in search of relics that can either be sold or, in the case of major finds, make their way to scholars and museums.
That lonely, isolated life is interrupted when Roderick Murchison (James McArdle) turns up at the shop and buys his way into spending a day hunting fossils with Mary, who is famous in the paleontology community, if not the world.
Then it's off to an overseas exploration, but he leaves Charlotte (Saoirse Ronan) behind, saying she needs to rest and bathe in the sea to regain her health. And, he pays Mary to let Charlotte spend time with her.
The taciturn, withdrawn Mary wants little to do with the finely dressed, social Charlotte. But when Charlotte falls ill following an ocean path, Mary is forced to care for her in the shop's living quarters and a relationship begins.
That relationship takes the English art house picture into sexually explicit territory — not in exploitative fashion, but in an honest portrayal of the passion unleashed when Mary finds love, lust or something like it with Charlotte.
A note here, Anning was a real fossil hunter who made discoveries that moved the field forward and found their way to museums. But there's no historical evidence that she had any sort of relationship like that depicted in the film.
So "Ammonite" isn't a biopic. Instead it is a deeply touching film about, to quote Lord Alfred Douglas' 1894 poem, "love that dare not speak its name" in the 1840s.
And it wouldn't work without the superb performances of Ronan and Winslet.
Ronan has been nominated for four Oscars since 2008, Winslet has seven Oscar nominations and a win for 2008's "The Reader." So good performances could be anticipated. But the duo takes them to the highest level.
That's particularly true for Winslet, who spends long passages on screen not speaking, but expressing everything Mary needs to convey through her eyes, face and body language. It is one of the best performances of the career of one of our finest actresses.
Given its subjects, the setting and time and Lee's use of symbolism — pay attention to the insects that turn up on screen — it's not surprising that "Ammonite" moves very slowly. It frankly would be shocking to see the picture fast-paced, Hollywood style.
But that pace, the perfect period reproduction of costume, makeup and hairstyle, city and town, and the performances are what make "Ammonite" absorbing and a film that deserves the designation of "art house" fare.
Reach the writer at 402-473-7244 or kwolgamott@journalstar.com. On Twitter @KentWolgamott