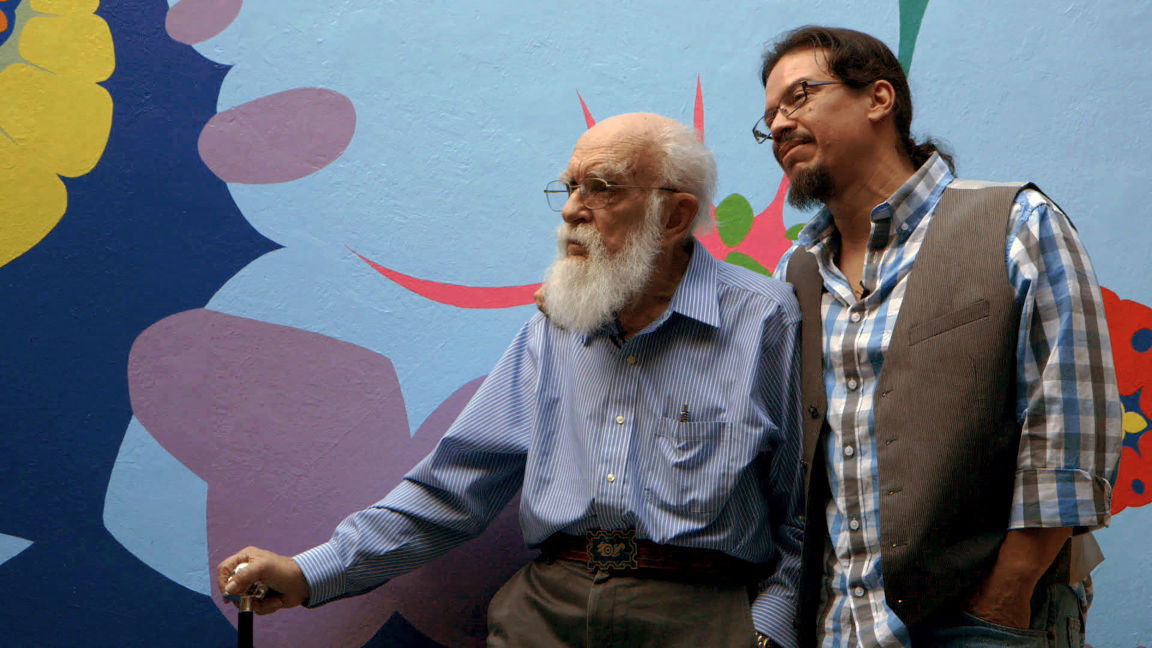 James "The Amazing" Randi -- escape artist, magician, skeptic, debunker of psychics and faith healers and, above all, a showman -- is the perfect subject for a documentary.
An admitted cheat and charlatan, expert at fooling others -- for entertainment purposes, only --  Randi is "An Honest Liar," the title of Justin Weinstein and Tyler Measom's entertaining film about him.
Divided into titled segments, "An Honest Liar" details a pair of  Randi's most famous "cases" -- his unmasking of and continuing conflict with spoon-bending "psychic" Uri Geller and the investigation of the trickery used by faith healer Peter Popoff -- both of which were revealed on "The Tonight Show" in front of Johnny Carson, who, like Randi, began his career as a magician.
It also looks at a couple of the elaborate hoaxes he created. One, called Project Alpha, was to debunk research into parapsychology. It's told with the recollections of the two, then-young followers who put Randi's deceptions to work in a St. Louis lab, exposing the research as "willing to believe" fraud.
The second, which took place in the '80s, was designed to expose "channels" like Ramtha, who claimed to be speaking with ancient voices.
To do so, Randi enlisted Jose Alvarez, a young Venezuelan artist he'd met in his home area in Florida. Alvarez became "Carlos." Randi made up a backstory, complete with appearances at nonexistent venues and clippings from nonexistent papers, sent "Carlos" to Australia, where he became a media sensation and drew large crowds to his public event.
Then Randi unveiled the fraud on Australian "60 Minutes," effectively debunking all the channelers and zapping the uncritical media for blindly creating the hype.
At the end of the "Carlos" episode, Randi and Alvarez became a couple, setting the stage for the film's last segment in which Alvarez's past returns to, very possibly, destroy his life and force him and Randi to split apart. There's no reason to be more specific about how, why or what happens -- that drama should be saved for the screen.
That segment, however, makes one of the film's most telling points: that when pulled into a personal crisis, even the most "honest liar" might lose that honesty, bending the truth and using deception for his own purposes.
That view is raised by, surprisingly, Geller, who agreed to be interviewed for the film about his nemesis. He's still a psychic hustler, now selling crystal jewelry on QVC. Geller's not the only famous contributor. Penn & Teller turn up (no Teller doesn't talk). So does Alice Cooper, who employed Randi to set up the illusions in his stage show, including his much-ballyhooed beheading.
The Cooper connection is part of the Randi biography in "An Honest Liar," a recounting of his childhood, where he decided to become a magician after seeing a master in a Toronto theater, running off to join the carnival in high school, never returning home and, through some film clips, showing him as an escape artist, likely the best since his hero, Harry Houdini.
Reaching middle age and injuring his back, and nearly dying during a trick, Randi gradually gave up the escapes -- he might still wiggle out of handcuffs, but no more straitjackets and safes -- and began his ongoing career as a skeptic and debunker of psychics, the paranormal and other "supernatural" frauds.
As for being a showman, well, suffice it to say that Randi's a natural in front of the camera, whether seriously intoning his skeptical observations, wittily detailing his exploits, meeting with fans or doing a little Jackie Gleason dance while hanging out on a sidewalk.
Randi's showmanship is one of the elements that makes "An Honest Liar" far more entertaining than most documentaries, right along with his stories, the revelations of his hoaxes and frauds and, of course, the magic.