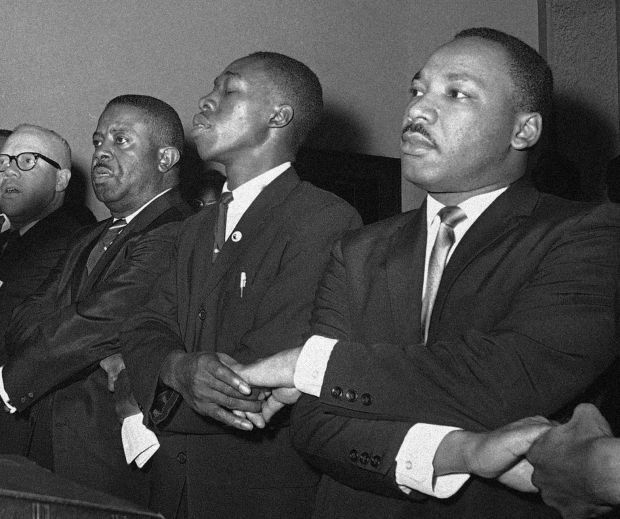 In 1963, FBI director J. Edgar Hoover began his efforts to spy on and discredit Dr. Martin Luther King Jr., using the pretense that one of King's advisers had been associated with the Communist Party in the 1950s to convince Attorney General Robert F. Kennedy to authorize the surveillance.
Five years later, William C. Sullivan, the bureau's head of domestic intelligence, was revising its files on King to try to make them even more damning and make that information public, stopping only when King was assassinated.
That's the chronological framework of "MLK/FBI," director Sam Pollard's gripping documentary that details the FBI's war on King, putting a new perspective on his actions and the weight he carried through the last five years of his life.
Taking off from "The FBI and Martin Luther King, Jr.," Pollard and the book's author David Garrow, gathered new information for the documentary, pouring through more FBI records and witness accounts to flesh out the story of what former FBI director James Comey calls the bureau's "darkest hour."
In a stroke of brilliance, Pollard doesn't show Garrow, Comey or any of the other professors, historians, King advisers (like Andrew Young) and former FBI personnel whose comments carry the film. Rather he has them talk over mostly black-and-white film clips and photos of King, Hoover and events in the civil rights movement, like the march to Selma, Alabama.
That technique keeps the viewer fully in the movie while visually setting it in time, pivotally to understand what is going on and why.
At its most basic, Hoover and the FBI were largely digging up information on King's sex life. That he had multiple affairs is common knowledge now. But in the '60s, Hoover saw the sexual information as explosive enough to eliminate King as a civil rights and anti-Vietnam War leader.
But Hoover couldn't get the press to print it, nor would the ministers who he sent tapes and other information make it public. At its lowest, the FBI even sent a tape to King's wife, Coretta, who listened to it but stood by her husband.
After figuring out he was under surveillance and, especially after the tape, the FBI's assault wore on King to the point where in watching the film, even the most famous pictures of King take on a different resonance.
And "MLK/FBI" does include some of those famous pictures, from his "I Have a Dream" speech during the March on Washington to his Nobel Prize acceptance, marches in Southern cities and appearances with Presidents John F. Kennedy and Lyndon Johnson.
That Hoover's war on King complicated his relationships with Kennedy and Johnson is an understatement. But it also influenced many of King's actions and that of police agencies, right up to the fateful day at Memphis' Lorraine Motel, where King was shot despite being under constant police surveillance.
It is perhaps most telling that Monday we will celebrate Martin Luther King Jr. Day and a monument to King stands near the Lincoln Memorial and Washington Monument while Hoover has been relegated to the ashbin of history.
The FBI tapes, set to be released in 2027, will undoubtedly be as scurrilous as Hoover intended. But that release of tapes confirming that King was, like all of us, a flawed human, won't damage his legacy.
That is the consensus of those who speak in the film, and to some measure, the final message of the documentary that, while set in the '60s, is just as timely today.
Reach the writer at 402-473-7244 or kwolgamott@journalstar.com. On Twitter @KentWolgamott