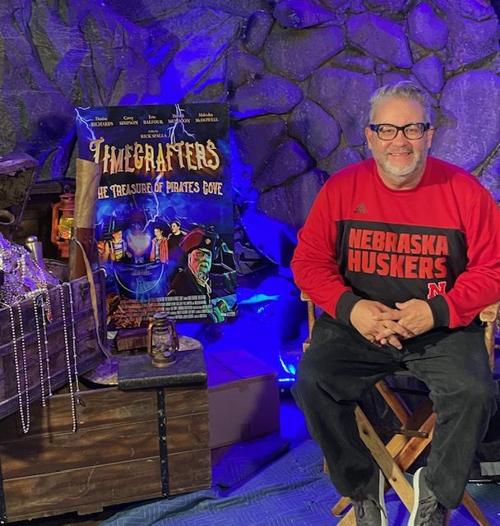 Craig Albrecht's big-screen dreams that drew him from Nebraska to Los Angeles nearly three decades ago are about to come true.
"Twenty-seven years ago, I decided to move to Hollywood to pursue my dreams," said Albrecht in a moment of self-reflection.
Through perseverance and building some strong relationships, he was the executive producer for five feature films, which set the table for him to produce his own movie, "Timecrafters: The Treasure of Pirate's Cove," which opens Saturday.
"It is the best feeling in the world," he said.
That movie will screen in about 500 theaters across the country, including the AMC Council Bluffs 17, where it will be shown Saturday, Sunday and Tuesday.
The film, which stars Denise Richards, Patrick Muldoon, Eric Balfour and Malcolm McDowell, is a family adventure about four kids who discover an ancient map and find themselves having to outsmart pirates who have traveled 300 years through time to recover the lost treasure of Captain Kidd.
The picture is a culmination of a lifelong ambition for Albrecht, who grew up in Clay County and attended Sandy Creek High School.
"As a kid I was fascinated with film," Albrecht said. "I always dreamed about going to Hollywood. After college, I lived in Omaha for a couple of years and one day I just decided to pursue my dream and I packed up and moved."
However, unlike most who go to Hollywood, Albrecht didn't want to act, write or direct.
"I decided to pursue the hardest position, which is executive producing, that is finding funding for the films," he said.
Starting out as a production assistant, Albrecht got his first credit as an executive producer in 2006 and, most recently, was the executive producer in 2016's "Don't Kill It."
Then, he moved into producing, overseeing the entire production of "Timecrafters" — from casting to keeping the picture on budget, hiring crews and, as the film was being shot and edited, "putting out all the fires," he said.
Albrecht and work partner Rick Spalla, who also directed the film, bought the "Timecrafters" script three years ago, then "developed" the picture. They shot it in the spring of 2019 — one week in Los Angeles and two weeks in the coastal city of Mendocino, California, "which we called Pirate's Cove," Albrecht said.
The movie is being distributed by Fathom Events, a company that brings limited-run pictures — from concerts to movies like "Timecrafters" — to a national network of theaters.
"Because of the pandemic, we're very fortunate that the movie is coming out in theaters in limited release," Albrecht said.
Early in the new year, Albrecht said, it will be released on video on demand.
"Timecrafters: The Treasure of Pirate's Cove" is intended to be the first movie in a franchise as well as the basis for a television series.
But it's not the only thing that Albrecht is producing.
"I'm in the middle of shooting my next movie," he said. "... We're totally compliant (with COVID-19 protocols), and we get tested every three days."
The film, which can't be specifically named because of Albrecht's nondisclosure agreement, is scheduled to come out in the summer of 2022. 
Albrecht expressed gratitude for the support he's received from Nebraskans, especially Dan Black, owner of Black Shirt Bar in Deweese, Tim and Carol O'Keefe, Laurie Richards of the Nebraska Film Office and the Nebraska Coast Connection, a group of Nebraskans in the movie industry.
He said they all helped a small-town Nebraska kid realize his boyhood dream.
"I grew up in Fairfield and Deweese, literally 65 people," Albrecht said. "To all the kids in rural Nebraska, if you have a dream, pursue it, because dreams do come true."
Reach the writer at 402-473-7244 or kwolgamott@journalstar.com. On Twitter @KentWolgamott