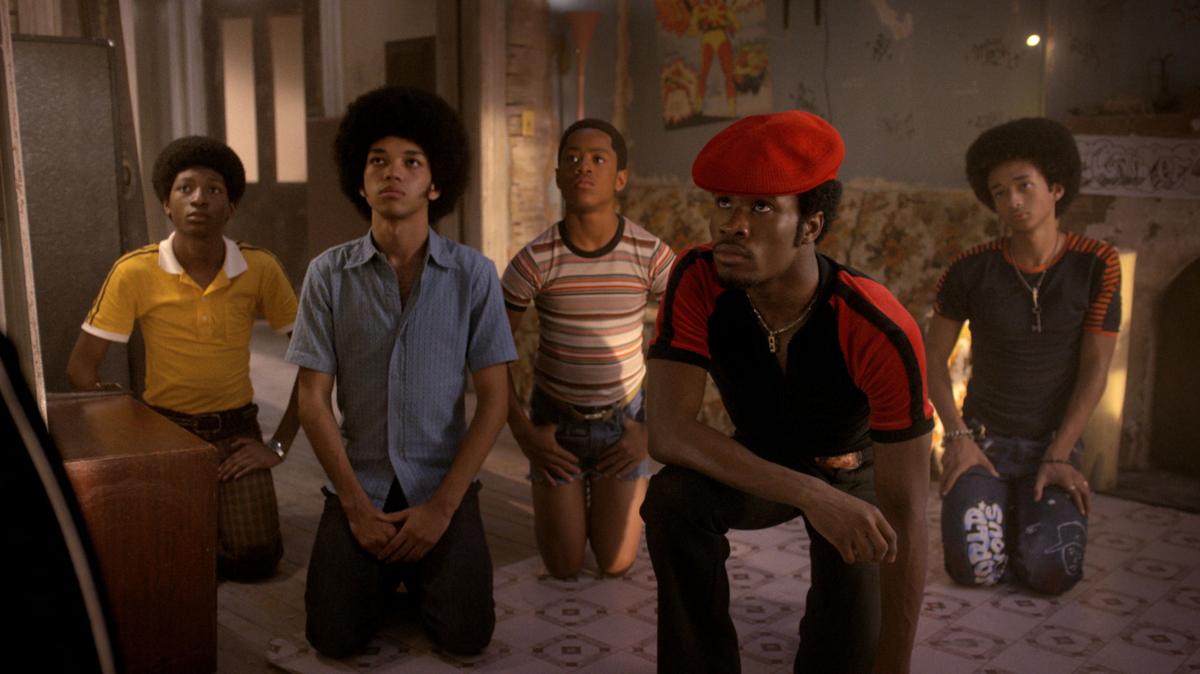 The first time Yolonda Ross appears in "The Get Down," her hair is straight and pulled back, she's wearing a printed blouse, large dangling earrings and big tortoise shell-rimmed glasses, the epitome of a '70s high school teacher.
Well, maybe a shade more fashionable than the typical '70s teacher.
"Ms. Green (Yolonda Ross), Ezekiel's teacher, who -- with her printed blouses, emerald green eye shadow and oversize glasses -- really does look like she'd be at home on a Gucci runway," writes Fashionista.com.
That's getting noticed in a supporting part -- which is what the Omaha native plays in the Netflix series that debuted its first six episodes Friday.
Ross, who studied fashion merchandising and worked in the fashion industry in New York before beginning her acting career, loved wearing the '70s era costumes in the series that takes "West Side Story" and flips it to recount the story of the birth of hip-hop. The series costume designer is Jeriana San Juan.
"I love that stuff," Ross said. "It's (the '70s) my favorite time for everything, film, TVs, fashion. I have so much stuff of my own from that period. I used to shop at the second-hand stores all the time. I love the style from that time. Overall, everything was more artistic. People had more individuality."
Landing a part in the series -- she appears in five of the first six episodes -- is another step forward for Ross, who played a small role in "Antwone Fisher" back in 2002, worked in TV and short films, then broke through with "Go For Sisters," the 2013 John Sayles movie, which earned her an Independent Spirit Award nomination.
Last year, she played Whitney Houston's lover in the Lifetime TV movie "Whitney" and a detective in "Kiss Me, Kill Me." But none of those pictures have had the visibility and hype of "The Get Down."
"I can truthfully say I haven't been more excited to be a part of a project," Ross said. "I'd say 'Stranger Inside' my first one and this one. It's the time period. The movie, it's like '70s TV. You get the feeling of watching TV from then. It's not a show from the 2000s set in the '70s. It feels like Archie Bunker should come on after it.
"And it is working with Baz. He's all about the details. You do your work. He allows you to do your work as an artist and he's enhancing it. You know you're going to be taken care of. So you're able to do what you do. Seeing these young kids who are the main characters, they're unstifled, which is wonderful to see. It's natural, it's raw, it's real."
Baz would be Baz Luhrmann, the Australian director of "Moulin Rouge!" and "The Great Gatsby," who created "The Get Down" and directed the 90-minute first episode.
As anyone who's seen a Luhrmann production can instantly see, he doesn't deal with raw realism.
Instead, Luhrmann pumps up the musical form, this time by incorporating  footage from the '70s into the story that swirls around young "wordsmith," Ezekiel (Justice Smith), the preacher's daughter and aspiring disco diva he loves Mylene (Herizen F. Guardiola), wannabe DJ Shaolin Fantastic (Shameik Moore) and graffiti artist Dizzie (Jaden Smith).
There's a gang terrorizing the borough, a dance club run by a woman drug pusher, church choirs and underground hip-hop shows from Grandmaster Flash (Mamoudou Athie), who's a Yoda-like figure for Shaolin and Ezekiel. The real Grandmaster Flash, aka Joseph Saddler, is a "The Get Down" associate producer who opened up his crates to provide much of the music that permeates.
Add in a corrupt but seemingly caring neighborhood politician, played by Jimmy Smits, and his brother, Mylene's abusively strict preacher father, played by Giancarlo Esposito, spin in a couple more subplots and the disco/hip-hop soundtrack and you've got a sprawling, kaleidoscopic picture that takes most of the first episode to come together and becomes more narrative in succeeding installments.
"To me, it's taking reality and making it hyper reality in some ways," Ross said of the series, which she had not seen in its entirety at the time of the interview. "In my shorts (films she's directed), when you are a young person you take the moment in, everything is heightened for you. That's what this feels like."
Ross, however, isn't playing young people anymore. She's now a serious grown-up as Ms. Green, a role unlike any she's played before.
"It's a totally different role for me," Ross said. "I really appreciate him putting me in the role because I represent the single woman during that time, which was a very important time for women with feminism getting going. Everyone else, all the other women, seem to be coupled off."
"The Get Down" was shot in the Bronx and in a Brooklyn studio last year and earlier this year. Ross is hoping that Netflix will greenlight another season of what is reportedly the most expensive television series ever made at an estimated $180 million.
But she's not sitting around waiting for that call. She's working on getting funding for a film she's written and will direct that, she says, will have an A-list cast. "Hopefully, by the end of the year, we'll be shooting it," she said. "I'm ready to go now."
Ross has already been seen on lots of TV channels this summer. She's the driver in "Lost & Found" a Cadillac commercial -- "I'd never done one before. It's a great product. For such a short time, one weekend, it was fun. I enjoyed the experience."
She's also continuing to make paintings like those she exhibited at a New Orleans gallery earlier this spring.
"I'm creative, that's all it is," Ross said. "That's how I function. I paint. I write. I do a lot of thing. I sing. We had to sing to get on the show. I'm not singing this season. But it could end up with me singing next season. That would be great."
Stay up-to-date on what's happening
Receive the latest in local entertainment news in your inbox weekly!