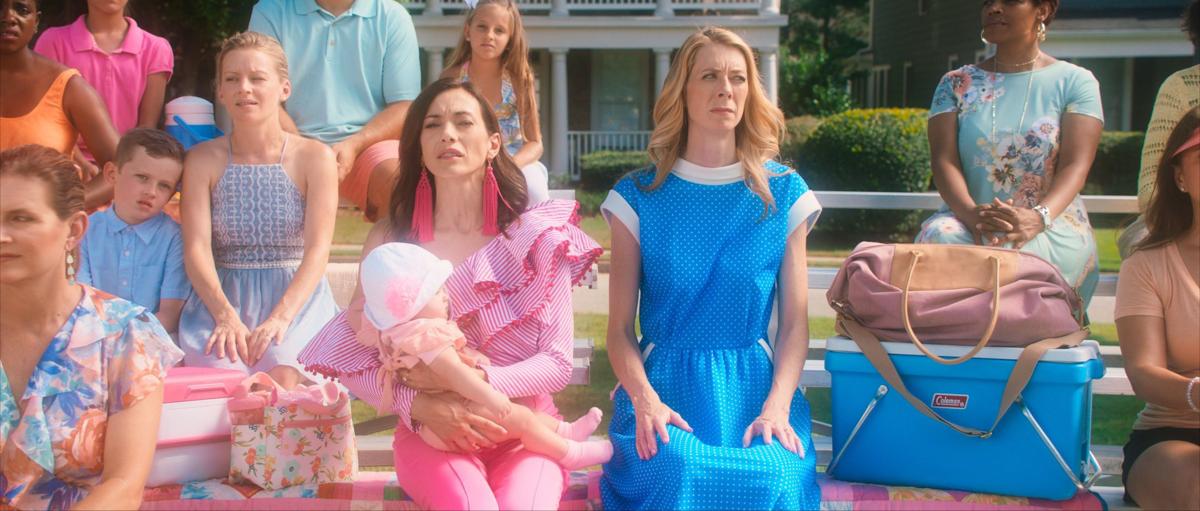 Weird is the first word that comes to mind to describe "Greener Grass," the suburban satire from co-directors/co-stars Dawn Luebbe and Jocelyn DeBoer.
After all, it's not often you see a picture in which all the adults have braces on their already straight teeth, everyone drives golf carts rather than cars and kids turn into pets.
The good news is that "funny" is the second word that has to be used to describe the picture that puts a surreal day-glo spin on the standard soccer mom comedy and is way more than a little darker than its bright colors and cheery performances would indicate.
Lincoln native Luebbe plays Lisa, a soccer mom, who we first see watching her son Bob (Asher Miles Fallica) at a game where he's on the field with Julian (Julian Hilliard), the unathletic, nerdy son of Jill (DeBoer), whose insecurity creates a desire to please that's, shall we say, odd and self-destructive.
So when Lisa asks Jill if she can have her baby Madison, Jill hands over the little girl. Lisa renames the baby Paige and starts raising her as her own. Strangely, Jill's husband Nick (Beck Bennett) doesn't object too much to the loss of the child.
And that's just the first of the changes that come to Jill and her family -- largely pushed on them by the manipulative Lisa.
You have free articles remaining.
There's no point in giving much more away except to note there's a killer on the loose in the closely manicured community -- a supermarket bagger who knocked off a yoga teacher. He's hiding in plain sight, but that comes later in the wacky proceedings.
It's a measure of the creativity of Luebbe and DeBoer that it's hard to find an exact comparison for "Greener Grass." There's clearly an element of "Stepford Wives" but for the entire population, not just the women.
And the film has to have been influenced by John Waters, both in its offbeat satiric tone and its suburban locale, ala his "Serial Mom."
But it's weirder than Waters, which is saying something, and when it really hits its stride midway through the 90-minute running time, funnier.
The humor comes from all directions -- Jill gradually shaking down into a mess, Lisa faking a pregnancy with a soccer ball, Nick falling in love with swimming pool water, the boys' second grade teacher, Miss Human (D'Arcy Carden) concentrating on the macabre in her classroom, singing songs about her murdered parents ...
That gives "Greener Grass" an episodic feel and not every joke works. But the picture is so strange and visually captivating with its color-coordinated outfits for each family and attention to bizarre details, like an oddly painted Pied Piper figurine that even when a joke misfires it holds the interest.
"Greener Grass" pokes some serious fun at suburban conformity -- there's bowling parties, school performances, neighborhood gatherings and, of course, the soccer games. It might be a warning about the downside of a desire to please.
But mostly, it's just weird and funny, which is always a very good thing.