The top eight biggest box office movies of 2019 are, not surprisingly, either comic book/superhero movies or Disney animated sequels and remakes -- and that's not counting "Star Wars: The Rise of Skywalker."
You won't find any of them on this list -- with the exception of "Joker." They're all examples of the technology-driven, formulaic, risk-free movie-making that led Martin Scorsese to dis them for not being "cinema."
All 10 movies on my list certainly meet Scorsese's definition of "cinema," even if only three made the box office top 30 -- proof again that quality and popularity have little to do with each other.
1. "Parasite": The less said about the plot of South Korea's Bong Joon Ho's family thriller, the better. Suffice it to say, this tale of two families -- one very wealthy, one very poor -- that become inextricably intertwined is a stunner. And in its examination of class, scams and the roots of violence, it's a perfect film for its time and one that won't soon, or ever, be forgotten.
2. "The Irishman": Martin Scorsese's final gangster film is a masterwork that reunites Robert DeNiro and Joe Pesci and brings in Al Pacino to tell the story of real-life mobster Frank "The Irishman" Sheehan, a hit man who became Jimmy Hoffa's confidant and bodyguard. The performances are magnificent -- and cover decades, thanks to "de-aging" computer work. The film, as always with Scorsese, is exquisitely shot and perfectly edited -- even with its 3-hour, 40-minute run time. It is, to use Scorsese's term, pure cinema in the comic book movie era.
3. "Pain and Glory": Spanish filmmaker Pedro Almodovar's semi-autobiographical look at an aging filmmaker trying to bring his life together while unable to work eschews Almodovar's usual melodrama or comedy in favor of straight-up drama. And he gets a moving, restrained performance from Antonio Banderas as the filmmaker.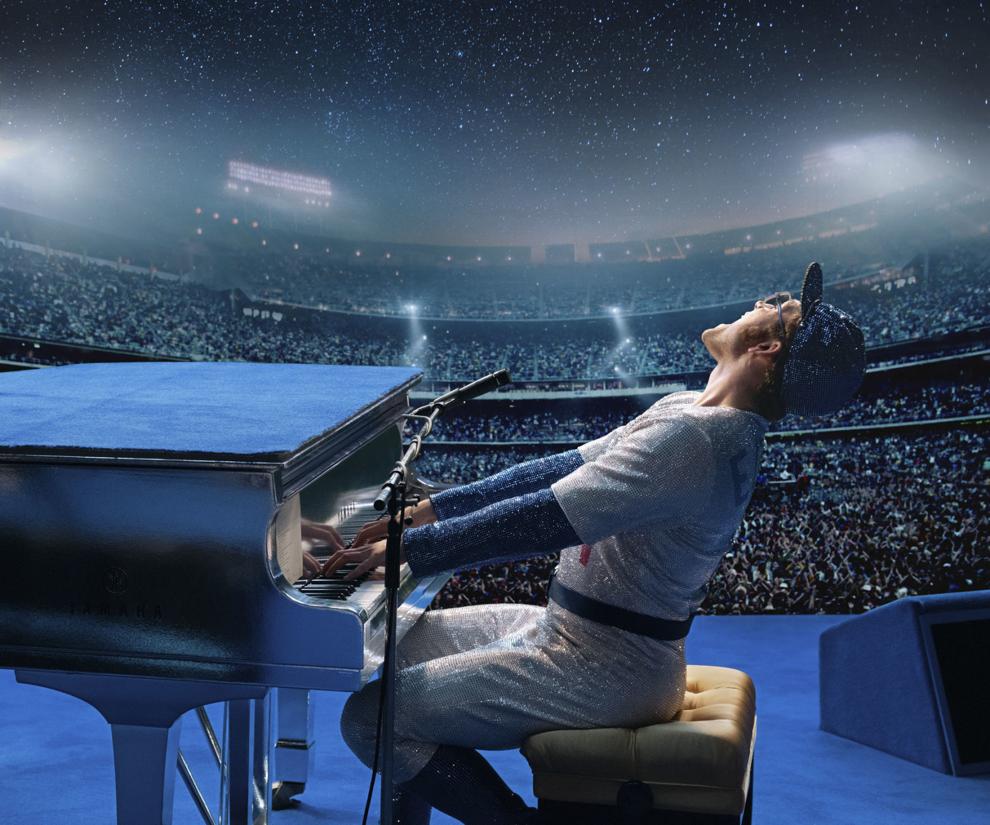 4. "Rocketman": This one didn't make a lot of Top 10 lists -- or maybe any others. But I loved director Dexter Fletcher's innovative Elton John biopic that incorporates his famous songs into the story, musical-style (out of chronological order and sung by star Taran Edgerton) and goes into straight-up fantasy -- he literally takes flight during a famous show at L.A.'s Troubadour -- and still manages to capture the essence of the first half of Sir Elton's career.
5. "Once Upon a Time … in Hollywood": Director Quentin Tarantino pays homage to the Hollywood he grew up loving with an old-school movie that pairs Leonardo DiCaprio as a fading Western movie star and Brad Pitt as his stuntman. Mostly a series of vignettes that follow the duo, the film is set in Manson-era L.A. and is historically accurate until it isn't. For Tarantino, it is surprisingly restrained. Its painstaking recreations of landmarks, advertising, costumes and its almost nostalgic tones make it Tarantino's warmest movie and one of his very best.
6. "Transit": German director Christian Petzold adapted a 1944 novel into a Kafka-esque, time-shifting nightmare of shame and desperation that follows a Jewish man, played by Frank Rogowski, who fears being swept up by "the fascists" in Paris and heads for Marseille to, hopefully, escape. Echoing World War II and resonating today, the film is a deeply unsettling existential cautionary tale in our era of rising authoritarianism and anti-immigrant sentiment.
7. "Ford v. Ferrari":  I've been a sucker for car race pictures since I saw "Le Mans" at the McCook Drive-In back in the '60s. And director James Mangold has made a great one about that very race. Actually, it's about how Ford tried to overtake Ferrari by developing a car that could win the race. That task fell to Texan Carroll Shelby (Matt Damon), who brought in an English driver (Christian Bale) to help him battle the Ford bureaucracy and then take on Ferrari on the streets and roadways of the 24-hour race.
8. "Apollo 11": Utilizing only archival footage, much only recently unearthed, Todd Douglas Miller crafted a documentary about the 1969 mission to the moon that tells the story more effectively -- and accurately -- than any feature film ever could. The movie does take a few liberties with the mission's timeline, but not enough to make any difference in the storytelling. The visuals throughout are stunning.
9. "Jojo Rabbit": New Zealand director Taika Waititi's anti-hate satire is a high-wire act, as it follows a young German boy near the end of World War II who has a secret friend -- Adolf Hitler -- and is devoted to the Nazi cause, which he clearly doesn't understand. Quirky, filled with fine performances and packing a powerful punch -- which won't be hinted at here -- "Jojo Rabbit" is also surprisingly entertaining.
10. "The Two Popes": Director Fernando Meirelles has created a captivating film that's almost all talk -- often instantly sinking a picture -- and, while based on real people, is a work of pure imagination. That imagined conversation takes place in 2013 between Pope Benedict XVI, played by Anthony Hopkins, who summons Argentinian Cardinal Jorge Bergoglio, played by Jonathan Pryce, to the Vatican. The actors are brilliant as they verbally knock about thorny philosophical topics making the film riveting and enlightening.
Ten contenders (in alphabetical order): "A Beautiful Day in the Neighborhood," "Ad Astra," "Blinded By The Light," "Dolemite is My Name," "Her Smell," "Knives Out," "Marriage Story," "The Last Black Man in San Francisco," "The Souvenir," "Varda by Agnes."
A final caveat: I've not seen "Little Women," "1917" or "A Hidden Life," which, based on other rankings, could very well appear on a revised version of this list after I've seen them.
Reach the writer at 402-473-7244 or kwolgamott@journalstar.com. On Twitter @KentWolgamott