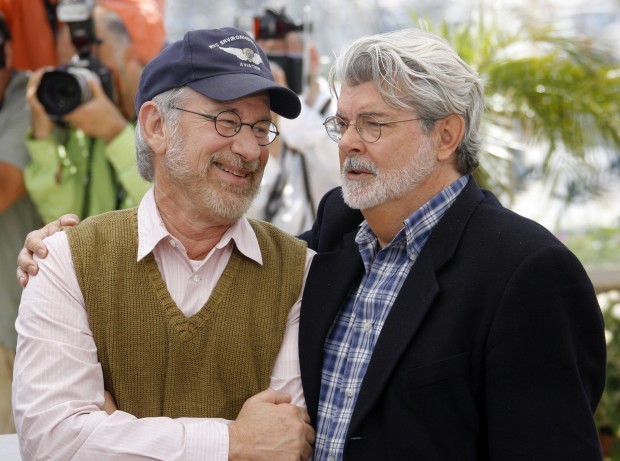 It's the end of the movies as we know them.
That's the view from Steven Spielberg and George Lucas, who last week predicted implosions for blockbusters, a tiered ticketed system and, at the extreme, movies becoming like Broadway shows.
The two filmmaking giants — who between them have pulled in billions at the box office and invented the summer blockbuster with "Jaws," pioneered pop culture-altering franchises with "Star Wars," brought CGI to theaters in a big way with "Jurassic Park" and pushed full digital filmmaking with "Star Wars: Episode 1: The Phantom Menace" — made their predictions during a panel discussion at the University of Southern California.
They essentially said the system that made them rich and powerful was on its last legs. That appears to fly in the face of ever-escalating box office returns, with, for example, "Man of Steel" setting a June box office opening weekend record of $125 million.
But Spielberg said it was just a matter of time before digital effects-driven pictures that cost hundreds of millions to make and almost as much to promote hit a wall.
"You're at the point right now where a studio would rather invest $250 million in one film for a real shot at the brass ring than make a whole bunch of really interesting, deeply personal — even maybe historical — projects that may get lost in the shuffle because there's only 24 hours," Spielberg said. "There's going to be an implosion where three or four or maybe even a half a dozen of these mega-budgeted movies are going to go crashing into the ground, and that's going to change the paradigm again."
Part of that change, Spielberg said, will be a tiered ticket pricing system.
"Eventually, there's going to be a price variance where you'll pay $25 to see the next 'Iron Man' and only have to pay $7 to see 'Lincoln.' There's going to be that in our future as well."
Taking that idea to the extreme, Lucas predicted that every day, ordinary moviegoing soon will come to an end.
"You're going to end up with fewer theaters, bigger theaters with a lot of nice things," Lucas said. "Going to the movies will cost $50 or $100 or $150, like what Broadway costs today, or a football game. It'll be an expensive thing. (Movies) will sit in theaters for a year, like a Broadway show does. That will be called the 'movie' business. …
"Everything else … is going to look more like cable television on TiVo. It's not going to have cable or broadcast, it's going to be Internet television."
There's been plenty of disagreement with the blockbuster implosion prediction — "John Carter" tanked and it didn't seem to damage Disney much, if at all — and Lucas' Broadway-like presentation seems to be way out there and far from a sure thing.
But the move to the Internet and pay cable for smaller, more personal pictures and films aimed at an older audience already is well underway. In fact, Spielberg said "Lincoln" was "that close" to going to HBO. That's right, the best film of 2013 almost wasn't a movie at all. Or at least a theatrical film.
Lucas, who sold his LucasFilm company to Disney, now is going to make smaller films, and he knows where those movies are headed — to Netflix, to cable and to "simultaneous release," where pictures open in theaters at the same time they're available digitally.
"Cable television started to go niche, and now we're really in that situation where all you need is a million people, which in the aggregate of the world is not very many people," Lucas said. "And you can actually make a living at this, whereas before you couldn't. We need to have these quirky things, and the quirky world is getting bigger and bigger. Because you can put your movie in little houses, put it on Netflix or something and actually make some money out of it."
Sadly, for those of us who believe that movies should be seen in theaters and experienced as they long have been, Lucas probably is dead-on with that prediction.