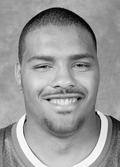 Even sitting down, Otis Key looks enormous.
A bit hunched over, Key dwarfed the spindly legged chair he was sitting in at the The Mill, 800 P St. His arms alone took up half the table.
Being 6-foot-9 is a standard trait among Key's kind. He's a Harlem Globetrotter, and that kind of talent tends to run tall.
Sunday at 2 p.m., the Globetrotters will bring their famous red, white and blue uniforms to the Pershing Center, 226 Centennial Mall South, to show off their legendary basketball skills.
Playing basketball was simply what you did back in his native Kentucky, Key said.
"High school basketball is tremendous (in Kentucky)," he said in an interview Tuesday. "They take it seriously. If you're not cutting down the nets every year, you're not doing a good job of coaching."
And, Key said, being around 6-foot-4-inches tall in high school made basketball a natural choice.
Now in his ninth season with the Globetrotters, the forward said it was fate that led him to the team. Then 23 years old, Key was supposed to go to another basketball training camp after one with the Globetrotters, but he never left.
"It was a feeling of accomplishment," he said. "I was definitely pleased with where I was at and what I was doing. To me, it was just the icing on the cake."
He visited 12 countries his first month.
"That, to me, was the best," Key said. "I love to travel, I love playing basketball, and I just couldn't find anything to beat that. … I've played everywhere I've ever wanted to go and seen everything I ever wanted to see, and I've had wonderful experiences the whole time."
As part of the Globetrotters' mission to give back to the community, Key shares those experiences by visiting schools and talking with students.
"We want kids to understand that, yeah, sports are fun, but education is what carries them through life," he said. "We want them to show just as much if not more attention to that as they do on sports. …"
Key graduated from Lincoln University in Pennsylvania with a degree in psychology, but if he weren't playing basketball, he said, he'd probably be teaching or coaching.
"I enjoy broadcasting, too, so who knows. I could be an on-air therapist," he said, laughing. "There are so many things I'd love to have my hands on."
In addition to being a basketball player, Key speaks fluent Spanish and some French, Portuguese and Italian.
"I love different cultures," he said, leaning forward in his chair. "I love exotic things, places and people. Languages have always sort of come to me. I find them very easy, and I like to be able to communicate with people and not have to impose the Americana style on someone else, but let them be comfortable in their own cultures."
Key said there's nowhere he wants to play that he hasn't. His list of memorable experiences stretches on and on.
"Going to Australia," he said. "Sleeping through an earthquake in New Zealand. Being in Beirut, Lebanon, Budapest, Hungary … landing for the first time and going through Scandinavia …
"So many trips," he said fondly. "So many trips."
 After he's done playing with the Globetrotters, Key said he'll probably go into coaching collegiate basketball. Until then, however, he'll continue playing with one of the oldest basketball teams in the world.
"If you haven't seen it, you missed an event," he said with a laugh. "You've missed an experience.
"And if you have seen us," he added, "things have changed. We've evolved over time, and the game has evolved with us. It's still great fun, but the athleticism, the showmanship and the overall skill of the guys has improved."