Herbie Husker, Nebraska's familiar mascot, made his debut in the final game of coach Tom Osborne's first season. He debuted in Nebraska's 19-3 victory against Texas in the Cotton Bowl on Jan. 1, 1974.
Age has treated Herbie well. In fact, one could say he's reversed the aging process entirely. Over his nearly 45 years of service to Nebraska athletics, he's slimmed down from his origins as a portly farmer, bulked up to fill out a form-fitting polo shirt and saw his hair darken, going from a light blond hidden by a cowboy hat to a dark brown — without any Just for Men, at that.
But Herbie wasn't the first Husker mascot. Nor was Li'l Red — his goofy, inflatable sidekick — his only partner in crime during Nebraska sporting events.
Here's a quick history of how the Herbie of today came to be:
Corncob Man (1955-1960s)
Nebraska's first on-field mascot wasn't Herbie Husker. Nor was it human, for that matter.
A tall ear of corn with human features, which came to be known as Corncob Man, graced the sidelines of Memorial Stadium for just shy of a decade. With tassels as a hat and green shirt and overalls, the character was designed to look like a corn stalk.
However, it's hard for a mascot — even a stalk of corn — to embody being a Husker when the husk was still on.
Huskie the Husker (1960s-1970)
After retiring Corncob Man, Nebraska had its first human-looking mascot. Huskie the Husker was the forerunner to Herbie Husker, with his farming get-up.
The 10-foot-tall mascot was the likeness of the day's farmers, with a plaid shirt beneath denim bib overalls and a straw hat.
Mr. Big Red (1970-1988)
After NU acquired the rights to a cartoon Husker fan drawn by artist Bill Goggin, a new mascot patrolled the sidelines of Nebraska sporting events. But his solo reign would be short.
For one, his large fiberglass head — which the Nebraska Alumni Association reports was 5 foot, 8 inches tall and weighed 70 pounds — could barely fit into a bus. Mr. Big Red was officially retired in 1988.
That mascot, who was also known unofficially as Harry Husker, would soon be joined by one with a bit more staying power — and a similar-sounding first name.
Herbie Husker (1974-today)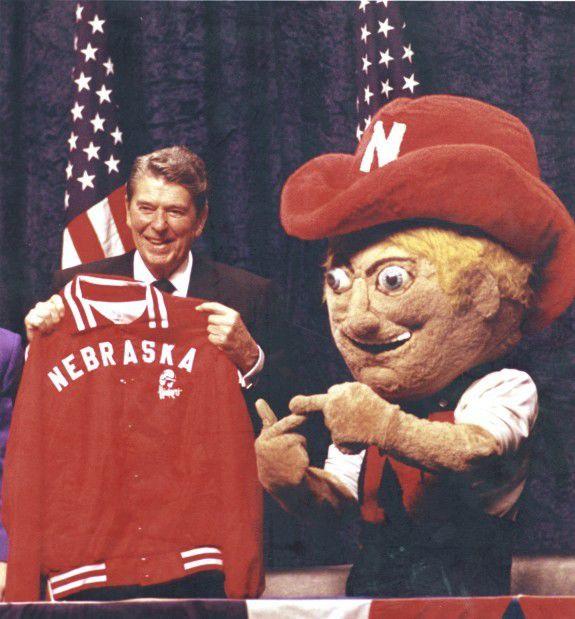 As was mentioned earlier, Herbie debuted on the field during the 1974 Cotton Bowl. But his first appearance for the university was actually earlier that season — in two-dimensional form, adorning the cover of the 1973 media guide. The university bought the rights to the character designed by Lubbock, Texas, artist Dirk West.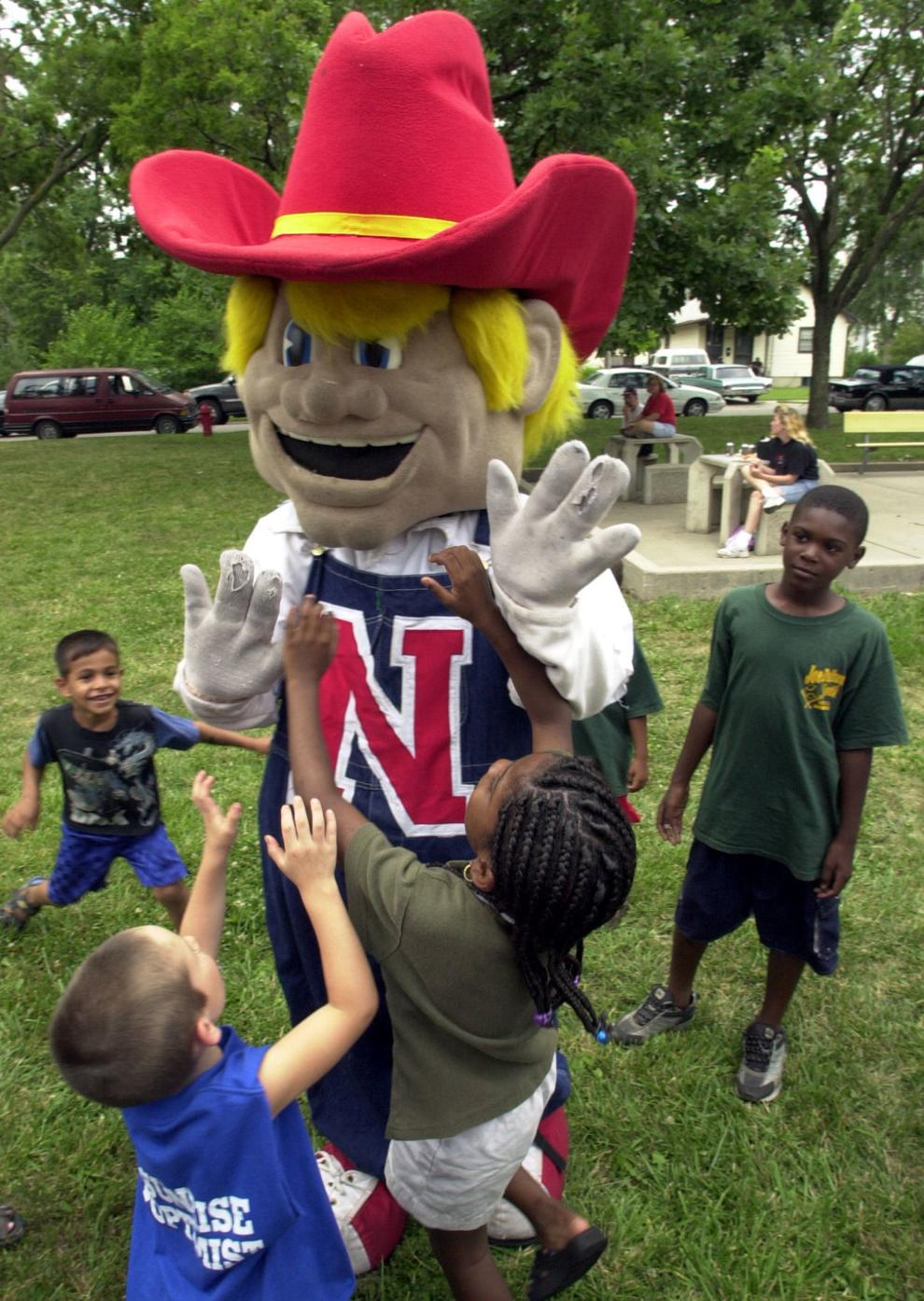 Under the direction of then-Athletic Director Steve Pederson, Herbie got a dramatic makeover before the 2003 season. (One may also remember that season for the adjustment to Nebraska's football uniforms — a thick, contrasting stripe down the sides of the jerseys and pants — that was gone the next year.)
Throughout the spring and summer of 2003, a series of lighthearted posts and photos on Huskers.com detailed his transformation through workouts around the athletic complex, including a trip to the barber. The site noted he was down 70 pounds of fat and up 50 pounds of muscle when the slimmer Herbie of today debuted that fall.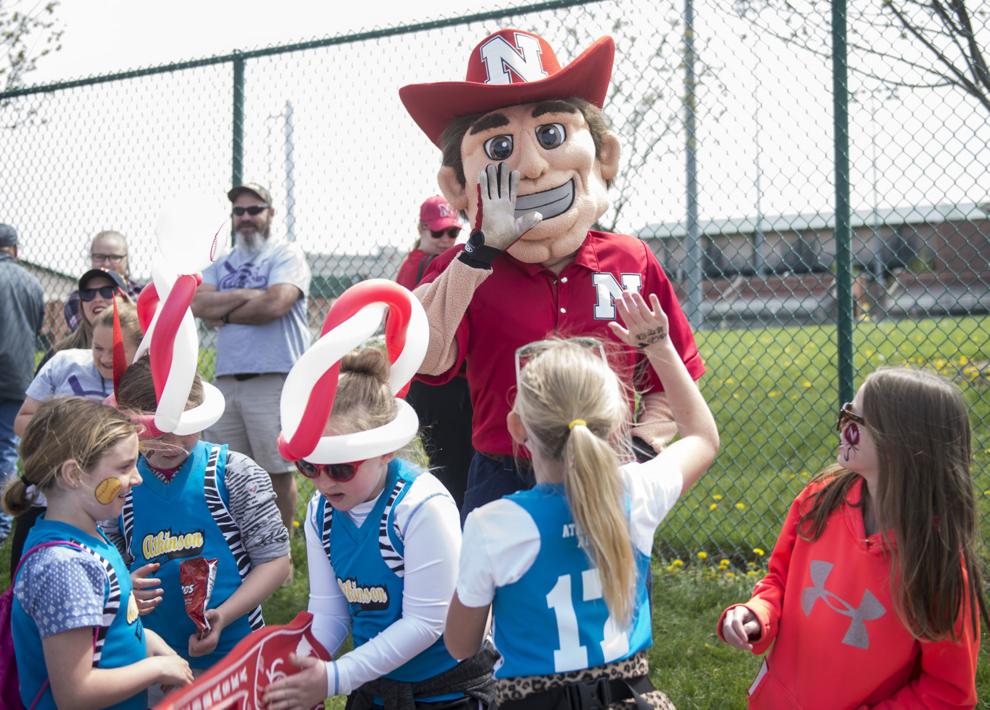 Gone were the overalls, white button-down shirt and blond hair, replaced by blue jeans, a polo and dark brown hair. The red cowboy hat and boots stayed the same. At the time, the update was classified as making Herbie look more like Nebraska's present-day agricultural workers. (No word whatever of what happened to the ear of corn he'd carried around for decades.)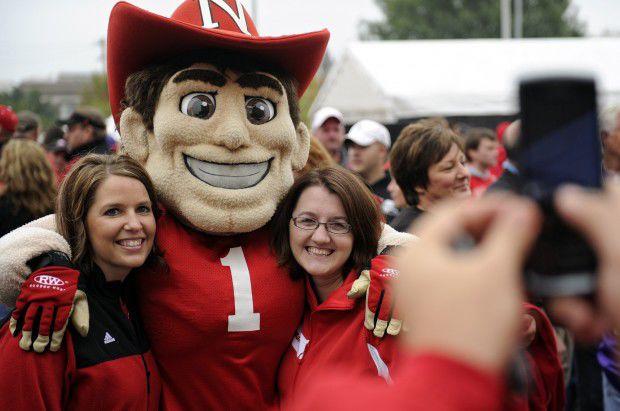 Every now and then, Herbie drops the familiar red shirt he's worn for the last 15 years. Sometimes, he goes with a jersey.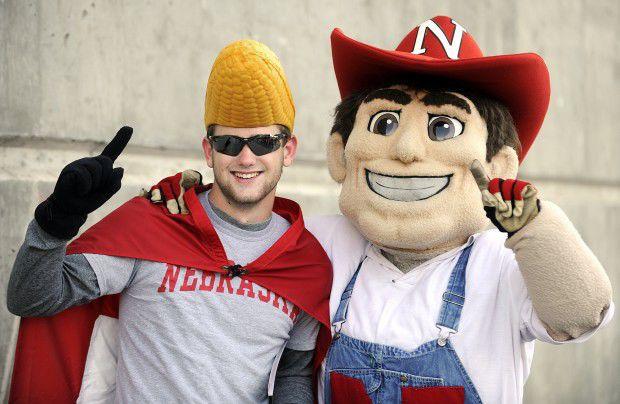 Other times, he goes for the throwback white shirt and denim overalls. However, dyeing his hair blond, as it previously was for nearly three decades, is apparently a nonstarter for him these days.