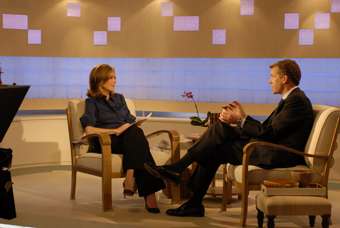 NEW YORK — A $105 million lawsuit brought by a woman who claims a sex sting by "Dateline NBC: To Catch A Predator'' drove her brother to kill himself can go to trial, a federal judge ruled Tuesday.
In a scathing ruling, U.S. District Judge Denny Chin said a jury might conclude the network "crossed the line from responsible journalism to irresponsible and reckless intrusion into law enforcement.''
Louis William Conradt Jr., a suburban Dallas prosecutor, fatally shot himself after he was accused of engaging in a sexually explicit online chat with an adult posing as a 13-year-old boy, according to a lawsuit filed by his sister.
In the lawsuit, Patricia Conradt said NBC "steamrolled'' police to arrest her brother after telling police he failed to show up at a sting operation 35 miles away.
NBC was working with the activist group Perverted Justice on the sting, in which officers impersonating underage girls establish online chats with men and try to lure them to a house, where they are met by TV cameras and police.
Chin said the lawsuit contained sufficient facts to make it plausible that the suicide was foreseeable, that police had a duty to protect Conradt from killing himself, and that the officers and NBC acted with deliberate indifference.
Amanda Leith, a lawyer for NBC Universal, had no comment on the ruling. The company previously called the lawsuit "completely without merit.'' A spokeswoman for the company did not immediately return a telephone message.
Bruce Baron, a lawyer for Patricia Conradt, said: "This decision shows no one is above the law, no matter how powerful.''
Chin tossed out many of Patricia Conradt's claims but said her principal claims could proceed to trial.
In his ruling, Chin said the network "placed itself squarely in the middle of a police operation, pushing the police to engage in tactics that were unnecessary and unwise, solely to generate more dramatic footage for a television show.''
Chin wrote that a reasonable jury could find there was no legitimate law enforcement need for a heavily armed SWAT team to extract a 56-year-old prosecutor from his home when he was not accused of any actual violence and was not believed to have a gun.
He said a jury might conclude it was done solely to sensationalize and enhance the entertainment value of the arrest.
"A reasonable jury could find that by doing so, NBC created a substantial risk of suicide or other harm, and that it engaged in conduct so outrageous and extreme that no civilized society should tolerate it,'' Chin said.
Before issuing his ruling, Chin said he reviewed a copy of the Feb. 20, 2007 episode. In her lawsuit, Patricia Conradt claims a police officer at the scene of the shooting told a "Dateline'' producer: "That'll make good TV.''