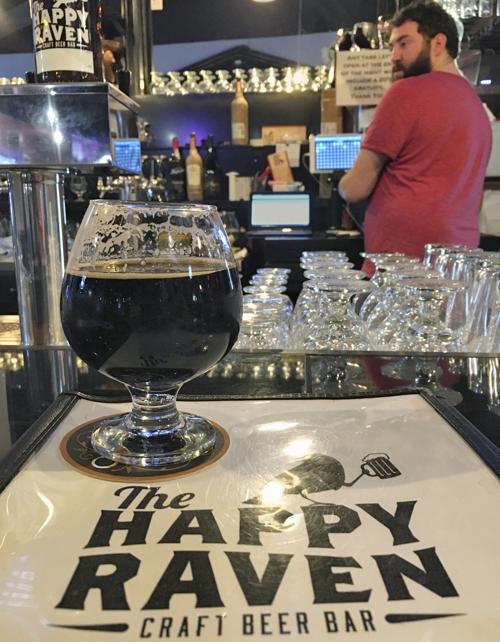 Everybody loves a party, especially if there's something big to celebrate -- like at The Happy Raven, which Tuesday was named Nebraska's Best Beer Bar for 2017 by CraftBeer.com.
The downtown bar at 122 N. 11th St. will celebrate Friday with a special tapping of four "Bettys" from the Nebraska Brewing Co., including the brand new MOAB (Mother of All Bettys). Festivities begin at 5 p.m.
"Typically, these (awards) go to Omaha bars," Happy Raven owner Matt Myers said.
CraftBeer.com asked readers to nominate their favorite craft beer bar. Voting took place in November and December.
Myers, who opened The Happy Raven in November 2015, asked his patrons via Facebook to vote, but he didn't think his taproom had a chance since he posted his request at the end of CraftBeer.com's survey period.
"To win it … it's a pretty good thing," he said.
Myers came to Lincoln two years ago as general manager of Miller Time Pub & Grill. He's originally from Baltimore, Maryland, the home of author Edgar Allan Poe. The bar's name is a tribute to Poe -- there's a giant poster of him inside the taproom -- and his poem "The Raven."
Myers spent several years in the food and beverage industry in Morgantown, West Virginia, before moving to Lincoln. He opened his taproom because he "saw a demand for it." He's not kidding. Lincoln's seen a craft beer explosion of sorts, with taprooms opening all over the city, with some of them making their only beer.
The Happy Raven keeps around 20 different beers on its taps. Myers uses a brightly colored, electronic menu board -- designed by DigitalPour of Portland, Oregon -- to display its ever-rotating menu.
On Tuesday night, Myers had 18 beers available, with five of them from Nebraska brewers.
The bar, since its inception, also is known for its loyalty program, with participants recognized on a giant chalkboard facing the bar.
"We have a bunch of regulars," Myers said.
He guesses they may be part of the reason for Happy Raven's recent honor. The beer selection may have something to do with it, too.
Stay up-to-date on what's happening
Receive the latest in local entertainment news in your inbox weekly!