When it comes to food, Cameron Smith has always been curious and fearless.
It's tough being the boyfriend when it's time to "meet the parents," and Smith was no exception when it came to his wife Amy's. When that time came, he had plenty to prove to the active members of Lincoln's Vietnamese community.
"There was some walls we had to break down because she was dating outside the Vietnmaese community and that and there had always been a feeling that I had to prove I wasn't trying to take their daughter out of her culture," he said.
And rather than keep his mouth shut and nod along, he found a way to connect with them the only way he knew: by helping in the kitchen.
"Maybe even if we didn't have a lot of stuff to talk about, my curiosity would take me into the kitchen," Smith said. "I watched her mom work with grilled pork and pickled carrots and daikon radish and helped where I could. It showed my reasons for being there were genuine."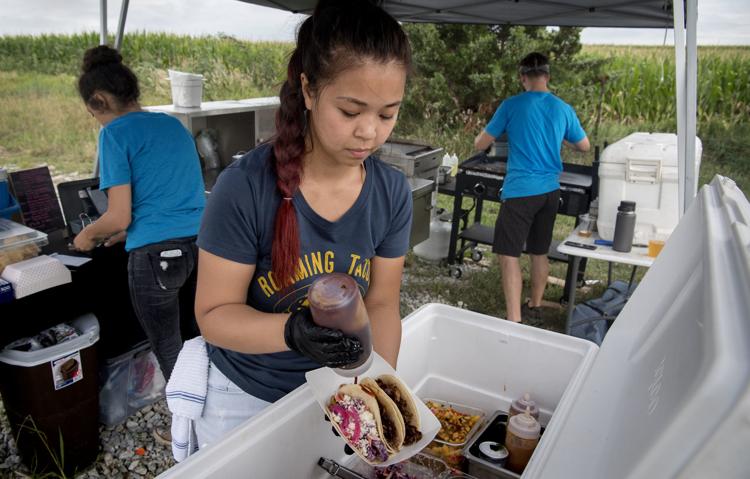 Her parents' blessings came eventually. And with it came both a marriage and some newfound cooking chops that have been the foundation for Smith's food trailer business, Roaming Tacos.
It's a little different than a food truck, which sees cooks working inside of a covered trailer or literal truck. Instead, Smith prepares large batches of the food ahead of time so he can throw it on an outdoor grill when it's time to serve.
And given the strict regulations the city of Lincoln imposes on food trucks, lugging around the trailer grill gives Roaming Tacos more freedom than working within the confines of a truck. Smith said having a trailer provided a quicker path to serving food with fewer bureaucratic restrictions
"Lincoln laws on food trucks are extremely strict. Food trucks can't actually be public in the city without some understanding with another business. But with food trailers you can get sidewalk vending permits," Smith said. "We have the flexibility to be setup on O Street even though our bread and butter is partnering up with the breweries around town. At this point, with food trucks you can do more output, but it pigeonholes you into only doing parking lots and special events."
You might be wondering what makes Roaming Tacos any different than any other taco vendor in town. After all, the taco truck is essentially the enduring staple of food truck history.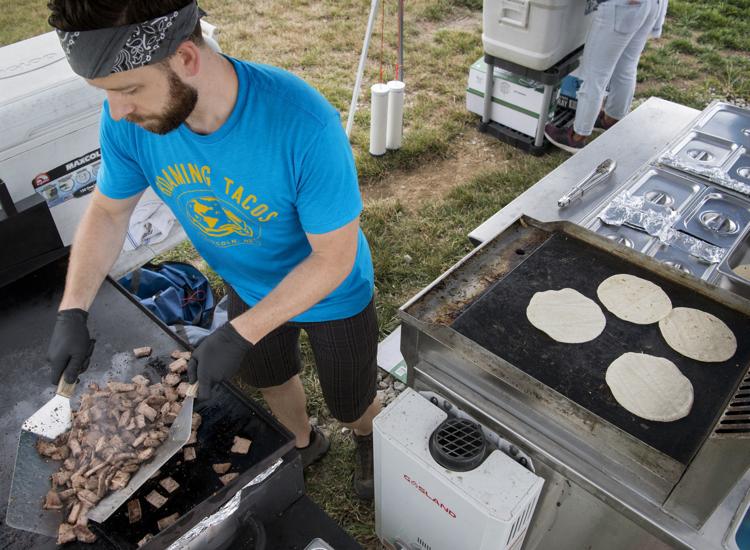 "I have always been so interested in different cultures and their food. I would find myself studying their origins and where they come from," he said. "I think people in Lincoln are looking for something new, and we're packaging different cultures in a way that people who might not ever have tried before, but it's familiar because of the taco, but it might be unfamiliar to them because it comes from a different subculture."
An early favorite was the Bahnmigo, a popular item that cycles on and off the menu throughout the season, featuring lemongrass grilled pork, pickled relish and daikon.
Think you can figure out where he found his influence?
The current must-try is the Fukuhara, named after Smith's grandfather, and is a blend of traditional Hawaiian-Japanese food. Inside a warm tortilla comes Hawaiian pork carnitas, pineapple pico de gallo topped with teriyaki sauce and a toasted seaweed sesame seasoning.
"When I was trying to come up with my concept, I wanted to choose something that was open-ended that would never put me in a box," Smith said. "I'm always being influenced by different things and different cultures as far as food goes. I wanted a blank canvas that I could do new things and bring new influences to."
Smith and his wife travel frequently, something he said helps him find ideas for the next great Roaming Taco as well as being exposed to new culture and group of people.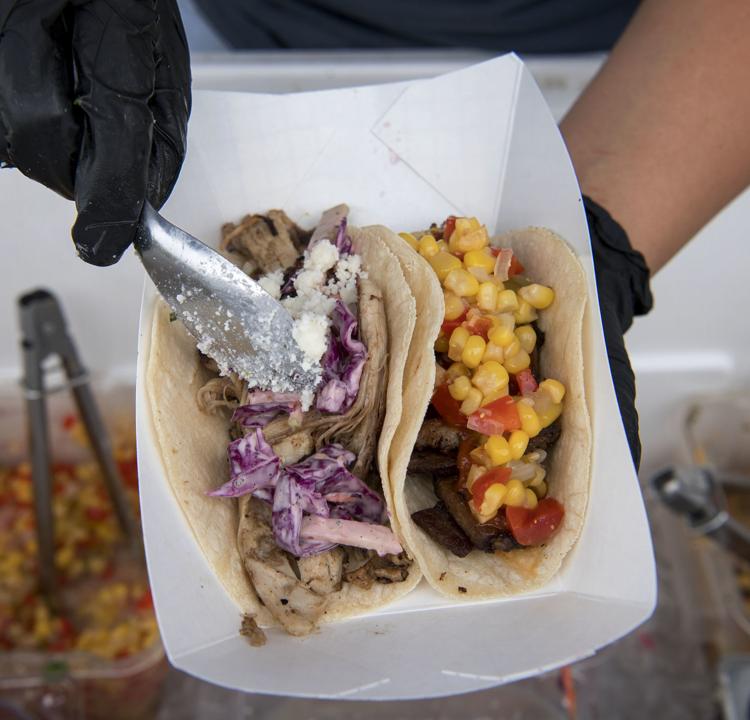 "We've done quite a bit of traveling and when you understand the origins of a places' food, it's the quickest thing to break down barriers for people you don't know," he said.
It's a life of excitement and exploration, and not the life Smith originally expected when he was working IT in the computing services department of Lincoln Public Schools with almost zero food-service experience.
But it was during this time that Smith fell in with the original owners of the Badang food cart and began working with them as a side project. It was here he began Roaming Tacos three years ago, and began thinking about his future outside of IT.
"Deep down I knew that if it started to work, I knew it was my motive to get out of IT and do it full time," he said.
And he did just that in January 2018, taking on his Roaming Tacos work full time. He said it came as a welcome change.
"Tech was something I've been naturally good at. It was an easy job to be good at, but it wasn't fulfilling," he said. "I felt young enough and my wife and I didn't have kids, so I decided that if it was time to take a chance on something, it was going to be now."
And the first step took Smith and his father on a 10-hour trip to Flint, Michigan for a $4,000 trailer.
"That's a long boring drive," he said.
But it's paid off, according to the diners around town.
"We've gotten so much love and great feedback from Lincoln it's been kinda overwhelming. We serve at a lot of different places. We go into a lot of different subgroups and the amount of positive feedback of liking something completely different," Smith said.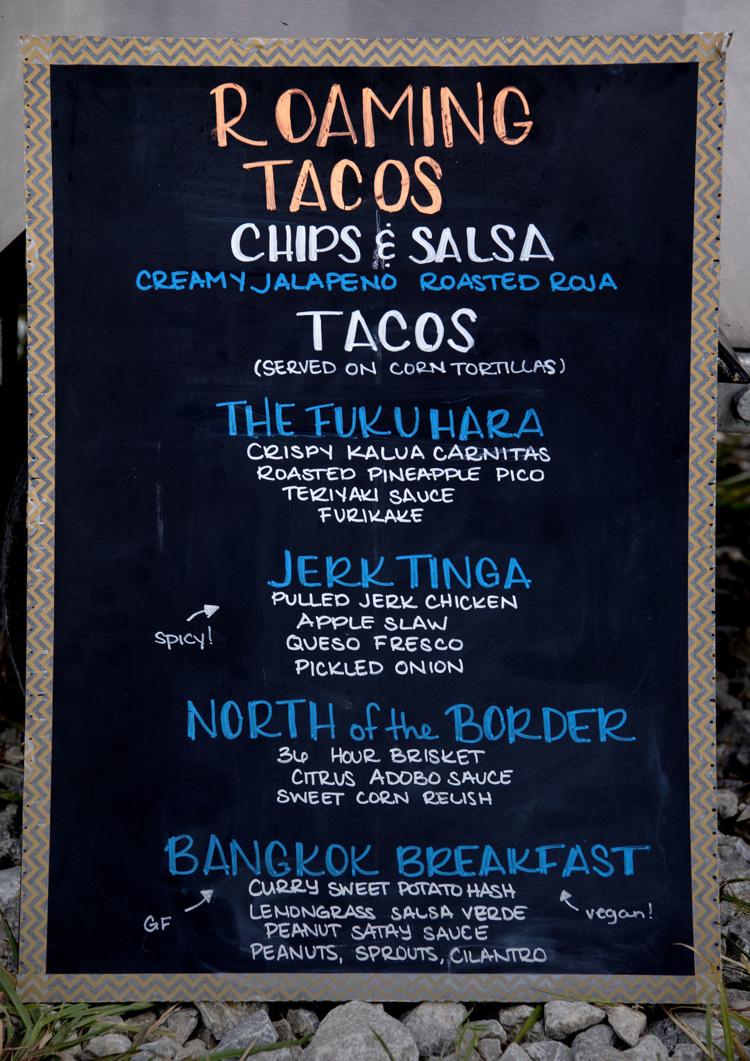 Now it's all about looking forward to expanding the business. Smith is currently keeping an eye out for a brick-and-mortar restaurant setup, and he said he would like to experiment with popup kitchens.
"We were in the ground level with the Marz bar kitchens. If something were to present itself where we could still do the mobile thing but have part-time residency somewhere, that'd be a cool way to dabble. I think it'd be fun," he said.
Roaming Tacos is all about the curiosity and fearlessness that created the foundations for the trailer.
"The most satisfying thing is putting out a taco that has flavors that that person may have never been exposed to," he said. "You watch them go in with a little bit of hesitance and then see their whole opinion completely change. That's amazing."
Lincoln food trucks and mobile dining options