Starbuck Natcher, general manager at the new McAlister's Deli, didn't hesitate when asked what's been a popular seller since the new sandwich shop opened.
"The Reuben and the New Yorker," he said. "You can tell Nebraskans are big on corned beef."
No surprise really, since just about every sandwich store in Lincoln has a Reuben on its menu.
But McAlister's offers one Lincoln diners should try. Its Reuben is 8 ounces of in-house sliced corned beef with sauerkraut, Swiss cheese and thousand island dressing on marbled rye. Not to be outdone, the New Yorker, which I enjoyed on my evening visit, is a whopping 10 ounces of corned beef and pastrami with Swiss cheese and spicy brown mustard on marbled rye.
Each sandwich is paired with a side and a pickle. And each costs $8.99 — a reasonable price for a well-portioned meal.
McAlister's opened May 11 at 500 N. 48th St. (48th and Vine streets), where Boston Market used to be. The Lincoln location, the second in the state, is owned by Dallas-based franchise group The Saxton Group, which owns and operates McAlister's restaurants throughout Texas, Oklahoma, Kansas, Missouri and Iowa.
The restaurant is 4,000 square feet, seats up to 128 people and has a drive-through. It also offers a mobile phone app and online ordering.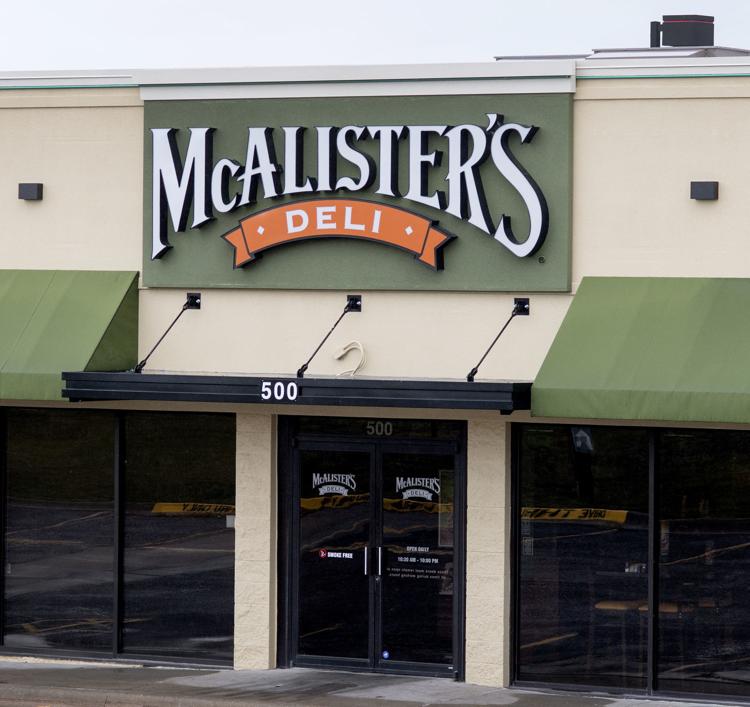 Food
There used to be a sandwich place in the Haymarket called The Manhattan Deli. I enjoyed eating there because it piled the corned beef high on its sandwiches. Well, McAlister's does the same thing. The New Yorker and Reuben are big, meaty sandwiches worth ordering.
McAlister's hangs its hat on its sandwiches — some quite unique — baked potatoes and sweet tea. Pricing is fair. No menu item exceeds $10. Sandwiches include a side, such as cheesy macaroni and cheese, mashed potatoes and gravy, and a dill pickle.
The best deal is the "choose 2" option. For $7.49, patrons can pair half salads, half spuds, half sandwiches, half shareables (nachos) or a cup of soup. "Premium" entrees, such as the New Yorker and Reuben, will cost you an extra dollar in the "choose 2."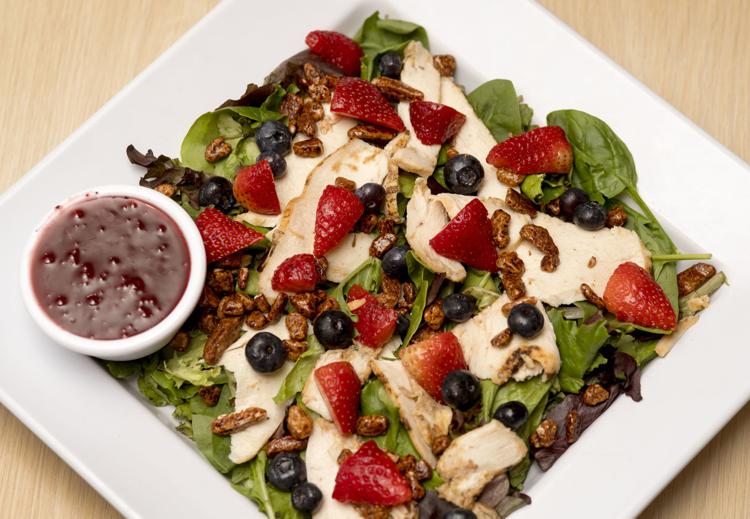 You have free articles remaining.
McAlister's sandwich menu is extensive, with nearly 30 selections. Among the unique sandwiches was the one my wife tried, the Sweet Chipotle Chicken ($6.99). The spicy chipotle peach sauce drew her to it. She said she really enjoyed the sauce, which turned an ordinary grilled chicken sandwich into something more. Grade: B+
Service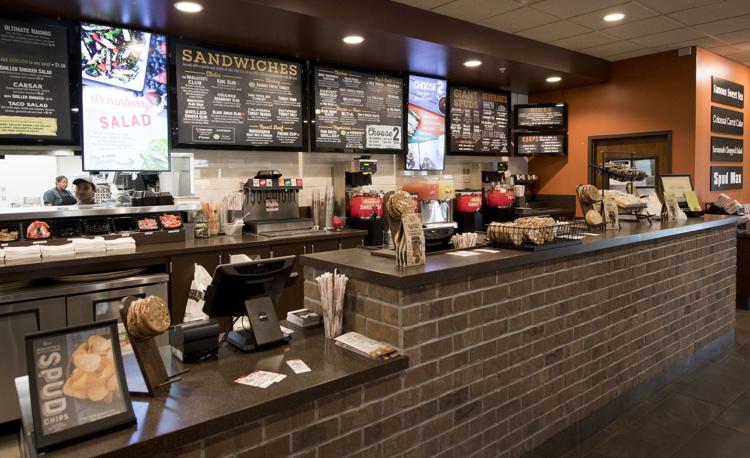 McAlister's is fast casual, meaning there is no table service. Patrons order at the counter and receive a number which they display via the table tent/card holder on the table. The wait is not long, usually 3 to 5 minutes depending on how busy the deli is. The uniformed staff is made up primarily of young adults. There is a drive-through, but since sandwiches are made to order, it's quicker to go inside. Even faster is using a phone app or ordering online. That way the food will be ready when you arrive. Grade: B+
Atmosphere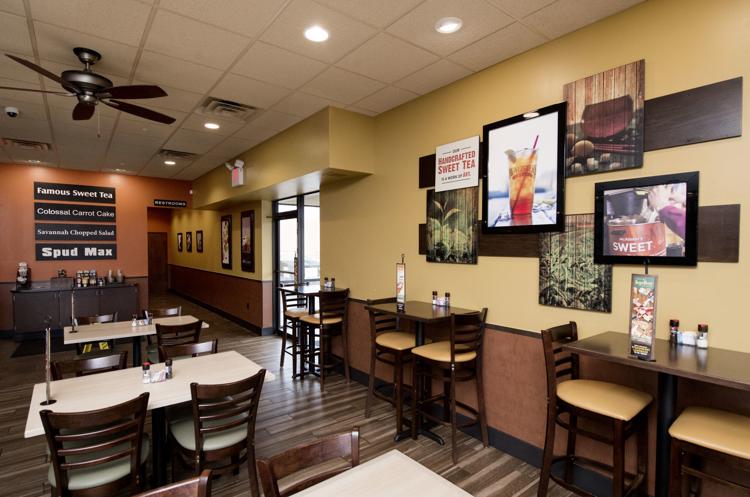 The atmosphere is what you would expect from a fast-casual chain, with most of the decor touting menu items and restaurant slogans. The spacious dining room is filled with booths and tables. The kitchen and ordering counter, highlighted by the splashy menu on the wall, is at the back of the restaurant. The restaurant is well designed and serviceable. Grade: B
Specialty diets
Kudos to McAlister's for using symbols to denote gluten-free and vegetarian menu items. Saves time. The deli, which specializes in meat-based sandwiches, has a fair share of veggie items, including salads, soups ($3.49 cup, $4.79 bowl, $5.79 bread bowl) and baked potatoes.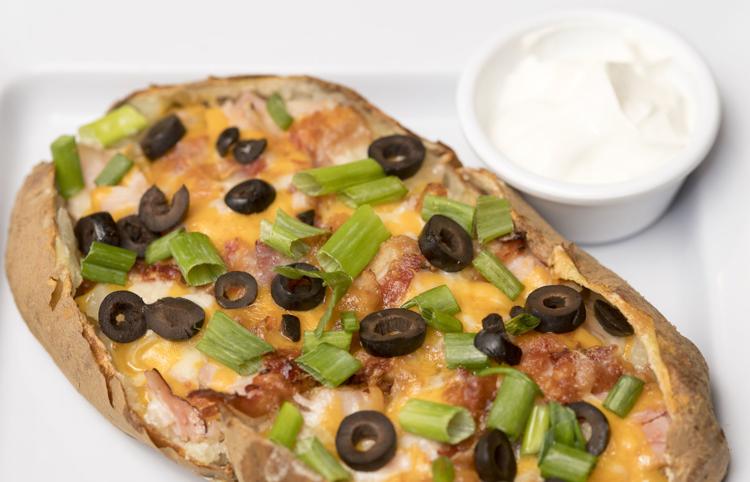 The sandwich menu includes two options: a Four Cheese Griller (provolone, American, Parmesan and Swiss with tomato slices) and The Veggie (spinach, tomatoes, cucumbers, balsamic red onions, roasted peppers, avocado and herb mayo on nine-grain bread). Gluten-free selections are pretty much limited to baked potatoes and sides (potato salad, fresh fruit, coleslaw, applesauce and steamed veggies). Grade: B
Top sandwich shops