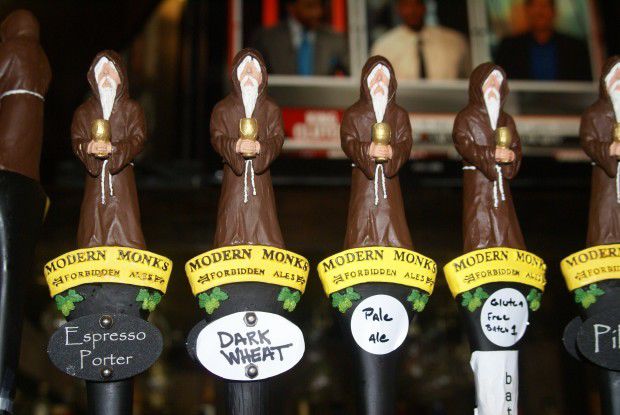 Misty's is out of the beer brewing business.
The steakhouse discontinued brewing operations at its downtown restaurant about three months ago and expects to run out of the last of its Modern Monks beers in mid-February, according to co-owner Chad Carlson.
He said expensive equipment upgrades, including the need for a new boiler, and diners' preferences for more variety led to the decision.
"It was one of the hardest decisions to make to close it," he said. "We have some of the best brewers around. But it's always been an amenity. We never made money at it."
David Oenbring, Misty's co-head brewer, said he was "obviously, sad to see it go," but "understands the reasons."
"We had a lot of fun there," said Oenbring, who's brewed Modern Monks beer at Misty's with Josh Ames for the last 3½ years. Modern Monks, as a group, had been brewing at the steakhouse since May 2010.
You have free articles remaining.
"We made a lot of great beers, made a lot of friends and really enjoyed being a part of the beer community in Nebraska," Oenbring said.
Misty's inherited the beer operation from Crane River when it took over the space at 11th and P streets in 2003. Crane River opened as the city's second brew pub in 1992. Lazlo's Brewery & Grill is the city's (and state's) oldest brew pub, opening in the Haymarket in 1991.
Carlson said making beer added a "nice feature," but "there are so many brewers now."
"It got to the point business-wise that we should carry all kinds of local beers," he said, noting the current menu is a mix of Modern Monks and other craft beers.
"Misty's is first and foremost a steakhouse," he said. "The beer thing was sort of peripheral."
Carlson said he's not sure what he will do with the equipment. Ideally, he would like to sell it all together. Selling the upstairs tanks, displayed behind glass windows, would give him the option of turning that area into a private dining space, he said.